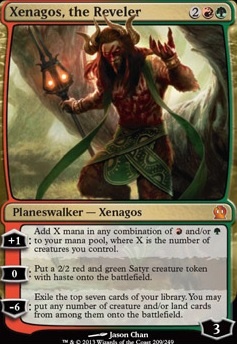 Legality
| | |
| --- | --- |
| Format | Legality |
| Tiny Leaders | Legal |
| Noble | Legal |
| Leviathan | Legal |
| Hero | Legal |
| Magic Duels | Legal |
| Canadian Highlander | Legal |
| Vintage | Legal |
| Modern | Legal |
| MTGO | Legal |
| Vanguard | Legal |
| Legacy | Legal |
| Archenemy | Legal |
| Planechase | Legal |
| 1v1 Commander | Legal |
| Duel Commander | Legal |
| Unformat | Legal |
| Casual | Legal |
| Commander / EDH | Legal |
Tokens
Xenagos, the Reveler
Planeswalker
+1: Add X mana in any combination of and/or to your mana pool, where X is the number of creatures you control.
0: Put a 2/2 red and green Satyr creature token with haste onto the battlefield.
-6: Exile the top seven cards of your library. You may put any number of creature and/or land cards from among them onto the battlefield.
Have (38)
ironax , Justinaut , dexxter7 , HydraOoze , NobleSlay3r ,

V

a

s

b

e

a

r

1

,

F

u

l

l

m

e

t

a

l

m

a

g

e

,

D

r

e

d

g

a

r

, gildan_bladeborn , angesoir , lolpatrol ,

D

E

E

R

, Shiromakuro , rikertchu , kpral , JasYper ,

N

i

v

S

t

o

r

m

f

r

o

n

t

, MattN7498 , a_murpheus , mycheze ,

W

o

l

f

e

b

l

a

d

e

e

l

i

t

e

,

s

a

j

0

2

1

9

, Lander , 7vennum7 , AcidZephyr , Xunfor6iv3nX ,

K

I

n

g

W

i

g

g

i

n

s

,

C

a

s

t

l

e

S

i

e

g

e

,

p

e

r

r

i

n

5

1

5

, warcry02 , tragic_slip , REV666 , robbnoble ,

R

o

a

d

h

o

g

, pokemate0 , Friedrice24 , cryptoplasm , thetechzombie
Want (37)
adb_slayer , Blue_Otaku_No.1 , gusk001 , Insequent , Pulseman , ryuzaki32667 , Maliande , Bushtastic3 ,

W

h

i

p

J

r

, zachi , imapuncha , corys , Artius , Dismortis ,

X

x

C

a

t

a

c

l

y

s

m

i

C

x

X

, teslacoil7992 , kovellen , obitus , relyks16 , Elementalism , king0fclubs ,

b

r

o

k

e

n

d

w

a

r

f

, PatmanXXVII , bradyofportdetroit , CaptianClueless , Turtlelover73 ,

E

s

c

h

a

m

a

l

i

, ItaPuma , Dantheman18 , Legoman18 , ryaniskool , Gryffix , jonnyfive82 , plumptons , Atavistic , KB2187 , SphinxChi
Xenagos, the Reveler Discussion
3 days ago
Looking for cards that can help me bring out Dragons for free. So any card that does this sort of thing, really.
I know a small list already, but I was wondering what else there is so I can try to narrow and hone in on the best cards.
Here's what I already know of that do this sort of thing, in one way or another. In no particular order, because I'm lazy.
I'm trying to stay away from graveyard tricks, so please keep those suggestions to a minimum. Thank you.
As I said, I'm trying to stay away from Graveyard tricks but if it is cheap enough and easy to pull off, I guess it works. I'm looking to constantly grow my boardstate every turn, not try and rebuild it from scratch.
Yes I know Dragon Broodmother and Utvara Hellkite will grow the boardstate as well. I plan on including them. I just wanted to know what else I might be missing :)
Thanks! :D
1 week ago
My opponent scooped during my Lord Windgrace game yesterday and I'd just like to share because it was absolutely insane.
So context first: I had a T1 Sol Ring and ended up bringing out Gruul Turf and Temple of the False God rather early. I had a small assortment of creatures out, but nothing quite so impactful. However, I was able to bring out an Avenger of Zendikar which net me 5x 0/1 Plant tokens and an Omnath, Locus of Rage along with Xenagos, the Reveler and Lord Windgrace whom was up to a decent amount.
It got to my turn:
My opponent's biggest threat was a 9/9 Predator Ooze which he was relentlessly assaulting me with. I was not wanting to attack because I was building up a creature base to try and overwhelm him first. He had a lot of small creatures and I had nothing with trample. I felt that if I full-assaulted, he would just let it all through and swing for game. Plus, anything he blocks with PO will just make it stronger, meaning more damage to me later.
His typical strategy is to bring out a ton of small creatures and get Craterhoof Behemoth out and swing for game. So I knew I had to act quick because I felt like he was setting up for that win.
---
So it gets back to me and I feel like the clock is ticking away. I decide that I no longer need Xenagos' ramp so I opt to crack off his ultimate.
I end up bringing out the best possible assortment of cards.
Caustic Crawler, Swamp, Bloodstained Mire, and Jund Panorama.
So right there I see I am about to finally nail this Predator Ooze to the F-ing wall. I tell him I'm about to kill that SOB, and he's like "How?! It has indestructible!" -- "Yeah, but -1/-1 isn't damage ;)"
So since Caustic Crawler entered with those three lands, something immediately gets -3/-3. Pin that on PO.
Keeping Track:
3x Lands entered this turn
Predator Ooze is at -3/-3 (Recall, he's a 9/9)
Plant Tokens are currently at 6/7
Currently have 7x Elemental Tokens
I tap Sol Ring and sac both Bloodstained Mire and Jund Panorama for a Swamp and a Mountain.
5x Lands entered
Predator Ooze is -5/-5
Plants are now 8/9
9x Elementals
He gets mad, but I'm not done yet ;)
-3 Lord Windgrace to bring back 2x lands to the field: Bring back Bloodstained Mire and Jund Panorama >:)
7x Lands entered
Predator Ooze is at -7/-7
Plants are at 10/11
11x Elemental Tokens
So with Bloodstained Mire and Jund Panorama. With the remaining that is floating from Sol Ring earlier, I sac both lands and search for a Mountain and a Forest.
9x Lands entered
Predator Ooze is -9/-9 and dies to SBA
Plants are at 12/13
13 Elemental Tokens
Now at this point my opponent is furious and begins untapping their things, thinking I am done with my turn.
"WOAH WOAH WOAH, I'm still in my main phase!"
"OH FOR F-S SAKE!" ... "Longest turn in Jund history, much?"
So, I play my land for the turn. Lol a Swamp.
10x lands entered this turn
-1/-1 to something else, I don't recall.
Plants are 13/14
14x Elemental tokens
I tap for , play a Burnished Hart and end my turn.
So he taps out, brings out some more creatures - no Craterhoof Behemoth, and passes reluctantly.
I end up topdecking Stitch Together and laugh like an idiot.
---
Forest for my land for the turn.
1x land entered this turn
-1/-1 from Caustic Crawler
Plants are 14/15
15x Elemental tokens
Then I sac Burnished Hart for for 2x Forests.
3x lands entered
-3/-3 in total from Caustic Crawler, all of which is taking out some of his smaller guys. Remember, I'm trying to clear the board of small creatures so that in the event of a Craterhoof Behemoth, the impact isn't so strong.
Plants are now 16/17
17x Elemental tokens
I then -3 Lord Windgrace and say I'm going to bring back Bloodstained Mire and Jund Panorama again.
At this point my opponent is fuming. He begins to swear under his breath and scoop.
"Woah, what are you doing?!" I laugh.
"You gonna let me finish? I still need to sac these lands and play Stitch Together to bring back Burnished Hart for two more lands!"
Haha yeah. Good times. Lol.
2 weeks ago
Nice deck! You might consider some haste-enablers such as Anger, Bloodsworn Steward, Xenagos, God of Revels, Fervor, Concordant Crossroads, Mass Hysteria, Lightning Greaves, or Fires of Yavimaya to get huge amounts of burst damage with Prossh and OTK opponents out of nowhere. Also with the amount of tokens you generate, cards that have synergy with armies of tokens (e.g. Parallel Lives, Doubling Season, Overwhelming Stampede, Triumph of the Hordes, Harvest Season, and Second Harvest) could be very effective, especially if you area able to curve out with Parallel Lives or Doubling Season into Prossh the next turn. Also, cards that can turn your many tokens into mana could have a lot of potential as well. You've already included Cryptolith Rite and Growing Rites of Itlimoc , but the addition of Ashnod's Altar, Thermopod, Pawn of Ulamog Cards like Green Sun's Zenith, Chord of Calling, Heroic Intervention, Damnation, Crux of Fate, Sylvan Library, Vampiric Tutor and Demonic Tutor could provide the the deck with additional consistency, utility, and power. If you wnt to add another mana-doubling card, Mana Reflection would fill that role. It looks as if you have a bit of a 'sacrifice stuff' subtheme as well, so more cards to add for that could be Barter in Blood, Birthing Pod, Blood Divination Attrition, Awakening Zone, Bloodspore Thrinax, Disciple of Bolas, Eliminate the Competition, Mazirek, Kraul Death Priest, Sidisi, Undead Vizier, Sadistic Hypnotist, Goblin Bombardment, and Razaketh, the Foulblooded. Other considerations might be Sprouting Thrinax, Goblin Sharpshooter, Atarka, World Render, Grave Titan, Oracle of Mul Daya, Dragonlair Spider, Stalking Vengeance, Tempt with Vengeance, Xenagos, the Reveler, Poison-Tip Archer, Avenger of Zendikar, Fecundity, and Pitiless Plunderer. Those are just a few suggestions, and good luck with the deck!
4 weeks ago
Nesting Dragon should really be in the deck since each land gives you two Eggs which become four Dragons, or if you have both Parallel Lives and Doubling Season, four Eggs which become sixteen Dragons.
Some stuff to sacrifice the tokens like Ashnod's Altar, Phyrexian Altar, Viscera Seer, Altar of Dementia, Greater Good, Attrition, Emrakul's Evangel, or Descent of the Dragons could be pretty good. Pitiless Plunderer also gives more mana whenever your creatures or tokens die.
If you're running Doubling Season, Realm Seekers becomes even bigger (and is already useful to find important lands). Path of Discovery will also make your creatures even bigger or draw you more lands. Eternity Vessel would also double your life and make you very hard to kill. You could try planeswalkers like Liliana Vess, Garruk, Caller of Beasts, Nissa, Genesis Mage, Nissa, Vital Force, Xenagos, the Reveler, and Chandra, Flamecaller for their abilities and ultimates.
4 weeks ago
So it sounds like these are the card I should put in the deck: Glorybringer, 2x Demanding Dragon, 2x Scourge of Valkas,1 Dragon Tempest,1 Utvara Hellkite,1 Ryusei, the Falling Star,1 Dragon Broodmother,1 Birds of Paradise, 4x Generator Servant, 4x Dragonlord's Servant, 4x Savage Ventmaw, 4x Xenagos, the Reveler,1 Blood Moon,1 Destructor Dragon,1 Atarka, World Render, 1x Shaman of the Great Hunt,1 Elemental Bond,1 What types of cards should I use for filler? Or is this enough? Thank you soooo much for your time and help, I greatly appreciate it. Any other cards/concepts I should stay away from?
4 weeks ago
So, Dragons cost a lot. They are very expensive. They also see a ton of removal if able. Because of this, in my experience, you want enough Dragons to sustain the brutal attacks that will be made against you. However, you also need a means to get them out onto the field.
You want to look for Dragons that act like Sorcery cards. That is to say, a Dragon that benefits you other then just being a 4/4 flyer.
Cards like Glorybringer and the new Demanding Dragon are beautiful examples. They force extra hurt for their cost. This means your resources aren't diminished for nothing. Even if your opponent kills the Dragon, you at least got something out of it for your effort.
Along with these, Scourge of Valkas is an amazing and brutal beast, especially when paired with Dragon Tempest. You need to pay attention to the wording because I've seen people miss this, myself included. EACH of your Dragons will be dealing X damage, where X is the TOTAL number of Dragons your control.
I've seen players think that since one Dragon entered, and they had three already out, then 4 total damage is being dealt. This is because ONE Dragon entered, and it deals damage equal to the number of Dragons you control. This is correct. But if you have two Dragons enter together, BOTH of those are going to be dealing X damage.
The Dragon that entered is the one dealing the damage, not Scourge and not Dragon Tempest. Be careful of that. It could win you a game without you realizing it.
Aside from those massive cannons, a really good Dragon is Utvara Hellkite, but it's a bit of a trap card. Only run 1 in a deck because it costs 8 to play and you won't benefit unless you have enough Dragons to make it worth while. Combo'd with Scourge / Tempest and you run a serious powerhouse.
As for protection, Destructor Dragon is great. As a 4/4 Flyer, in my experience, if an opponent does not have removal it acts as a deterrent similarly to Phyrexian Obliterator. That is to say, if they attack and they kill it, you punish them. Note that it does say noncreature, which a lot of people look at and think it sucks. But the real hidden power here is that by saying nonCREATURE, LANDS can be targeted instead.
Ryusei, the Falling Star also acts as a powerful deterrent. If they kill it, they can potentially wipe themselves out.
Another beautiful Dragon that'll piss off anyone is Dragon Broodmother. I'll get more into her in a moment.
Honorable mentions are also Flameblast Dragon and Steel Hellkite.
But all of this means nothing if you can't get any of them into play. That's where the beauty of the Gruul Dragon decks comes in.
Gruul Dragons wants to, ultimately, do three things. Ramp, burn, and swing. But you only have so many cards to do it with? So how do you balance these?
Here's how: Dragons that act like Sorceries.
You're going to want a playset of the following:
Birds will give you access to either color immediately. GS will give you and if spent on a creature, that creature gains Haste. and DLS reduces costs by .
Now, here's the REALLY fun part! Generator Servant's mana can be spent on TWO different creatures! You can do and , and BOTH of them gain Haste! :D
If you have a GS out on the field and two in your hand with in mana you can use, you could literally sac GS, gain , tap , and pay out as and and sac those two immediately for .
Let me explain to you just how insanely fast this design can ramp. I do it all the time. Gruul Dragons is my favorite deck of all.
T1: Forest, Birds
T2: Mountain, GS
T3: Land, tap all 3 lands, tap Birds, sac GS, play Savage Ventmaw, swing for 4, add , play Xenagos, the Reveler for ,

+1

, add for Birds & Ventmaw, float the additional left over from Ventmaw's cost, cast something else like, say oh I don't know, Dragon Egg, target with Infernal Plunge, kill Egg, get a 2/2 Token, add , play something else.
Gruul Dragon's is an insanely complex combo ramp & burn deck that catches everyone off guard. But you need to balance what cards do with how they interact.
Glorybringer and Demanding Dragon are cards you'll only want 2x of each, with 1x of each in your sideboard so you can flex as needed. This'll protect you against things like Meddling Mage and, God forbid, Surgical Extraction.
Then you'll want one of your two punishments. Ryusei, the Falling Star for weenie decks, Destructor Dragon + Blood Moon for more of a control-ly aspect. Sideboard whatever you're not playing.
Stay away from Dragonlord Atarka. 7 CMC for 5 damage is a terrible payout. Stick to Atarka, World Render as she gives all Dragons you control Double Strike. That's a hell of a lot more than 5 damage.
Hellkite Charger nets you additional combat phases, which is sweet. A single Birds of Paradise + Savage Ventmaw = extra combat phase. There's other combos for INFINITE COMBAT PHASES, such as 2x Savage Ventmaws or even a Savage Ventmaw + Grand Warlord Radha. Don't use Radha, Heir to Keld as she must attack to get the mana and if she is blocked and killed, your combo ends.
Bleh. This is a lot. Wow.
SO MOVING ON... Dragon Broodmother, she combos with Xenagos, the Reveler and Utvara Hellkite. I'll let you figure out why ;)
So all of this mana and what can you spend it on??
Flameblast Dragon's ability, Steel Hellkite's ability, or even go big with Ugin, the Spirit Dragon and use HIS -X ability!
Let your Dragon's carry you. Don't add things in like Lightning Bolt or Fog or anything like that. You don't need Atarka's Command, Savage Twister, Rolling Thunder, Gruul Charm.
You're up in the air. Just go over everything and hit for tons of damage, then replenish your resources with the mana you've acquired each turn.
You'll want to play hyper aggressively. Swing, even if you don't want to. Force your opponent to block. Clear their board because you'll always be able to rebuild yours. Explore, Explosive Vegetation, and Khalni Heart Expedition and what your filler cards will be. Things of those natures.
Lastly, a beautiful card for this type of deck is Shaman of the Great Hunt and Elemental Bond. That's your draw engine for this type of deck.
There's other tricks like how to get insane amounts of life, as well. But I think this is enough to set you off on the right path :)
Good luck! Seriously, Gruul Dragons is my #1 favorite deck of all time. <3
Load more
Latest Commander