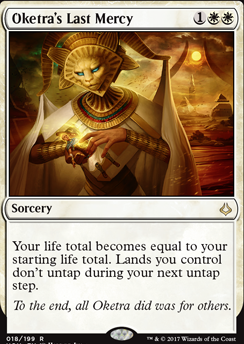 Oketra's Last Mercy
Sorcery
Your life total becomes equal to your starting life total. Lands you control don't untap during your next untap step.
Browse Alters
View at Gatherer
Legality
| | |
| --- | --- |
| Format | Legality |
| Tiny Leaders | Legal |
| 1v1 Commander | Legal |
| Magic Duels | Legal |
| Canadian Highlander | Legal |
| Vintage | Legal |
| Modern | Legal |
| 2019-10-04 | Legal |
| Block Constructed | Legal |
| Pioneer | Legal |
| Leviathan | Legal |
| Legacy | Legal |
| Duel Commander | Legal |
| Oathbreaker | Legal |
| Unformat | Legal |
| Casual | Legal |
| Commander / EDH | Legal |
Oketra's Last Mercy Discussion
1 month ago
For myself and others, how to optimally pilot the deck
Philosophy behind the deck, ideally should be played with 2+ other players.
You are a hard to kill end game boss, blue is boring busted and broken and is also expensive. Try to go for cards that will keep your hand healthy since we are not running blue so think how much you can squeeze out of one card for maximum value.
11 months ago
@emask Just to add a final point of clarification, because I feel the subject isn't fully cleared. So to recap - you cast Angel's Grace or Phyrexian Unlife and now can't lose the game. Then as you are at 40 life cast Pain's Reward and bid a million life, which resolves and your life goes to minus 999 960 life. Saccing Children of Korlis now will gain you million life and set you back to 40 life, which was your life total before the bid. So the only way to achieve the million life dream is to add additional effect into this equation which is what I originally suggested.
Lets come back to the example - your life total is minus 999 960 life and you cast Oketra's Last Mercy or Resolute Archangel so set your life to back 40 which also gains you a million life, which is important if Sanguine Bond is present. And now finally you sacrifice Children of Korlis , which makes you gain a million more life and make your life total 1 000 040.
The same effect can be achieved with 2 Children of Korlis but I find it hard to make a copy in black/white deck and you'd have to run reanimate effects like Reanimate or Necromancy to pull it off.
Cheers! :)
P.S. For extra umph activating Tainted Sigil , after you have gained a million life with Children of Korlis and killed someone with Sanguine Bond will net you 2 million life and then make someone lose 2 million life as well. Some might call it overkill, I call it style points ;)
11 months ago
I couldn't help myself but look for a few cards that would make this million life dream to come true but sadly the only thing I managed to find was adding a forth piece to the combo with the lowest CMC being Oketra's Last Mercy at 3CMC, but that one comes at a cost. Next one start at 6-7CMC like activating Angel of Grace from the graveyard, Providence , Resolute Archangel and Form of the Dinosaur , but at that point I'd just use Repay in Kind to just win(that would require replacing Angel's Grace with Phyrexian Unlife tho), but that would make the combo very different from what was originally intended :/.
Hope this helps you mate, cheers!
1 year ago
Alright did a few games (play tested 5 so far)
I did not like Oketra's Last Mercy, Adaptive Automaton, Kalitas, Traitor of Ghet, and Obelisk of Urd. For the ones mentioned they didn't help the board state at all and most of the time I was swinging so I wouldn't want to use the convoke for Urd. Kalitas was subpar whenever I drew him, he is decent near mid to late game but not enough oomph when it mattered. Another one I am iffy about right now is also Iroas, God of Victory, he is good evasion and prevents damage to your vamps, but doesn't trigger Edgar in the going wide. Most of the time the vamps are at least 3/3 and when your swinging with 15 damage on board it doesn't really matter as they are forced to block or they will take a chunk of life.
What cool synergy I found though is that I love Smothering Abomination and Bloodghast, if you can consistently drop lands, you have an engine going on. Same with Mentor of the Meek, it gives you an accessible CA engine, albeit a tad slow it works great. I do feel the need to mention to add in a Sensei's Divining Top or another CA engine/filter. Every game that I start that tutors for one or at least start with something that gives you CA, goes a long way due to the fact that the curve is so low, that your constantly dropping 1-2 spells per turn in the early-mid game.
Try play test a little and lets compare notes, what do you think?
1 year ago
Compared to the sigil, I would say no, because the sigil can scale higher than mercy and doesn't have a drawback for playing it (other than how specific the effect is). In addition to this, the main reason one might use Oketra's mercy, I imagine, is either from wanting to stabilize in a dragged out game, or to combo off with life gain doublers.
And that last part also points towards the sorcery not actually being good for your deck (thus proving my own suggestion bad). Your 3-color build has access to more powerful life gain combos than just doubling the life you gain, and resetting your life total as a means of gaining life isn't as impactful then with the other cards you have access to.
In short, your deck is already the type to play Tainted Sigil since you sacrifice your own health so freely, but Oketra's Last Mercy is better for decks that simply play aggressive and need a shot of adrenaline to stay in the game. And so saying, if you want to cut at the top end of your curve, you probably should drop Resolute Archangel (unless it has been performing well of course).
1 year ago
ReaperDrek Agreed on the armor but Gisela costs so much. the CMC of this deck is already to high.
TheKing8426 Thanks for letting me know about Necropotance. I was probably thinking of using it before playing the lich but it doesnt combo, you are correct.
goldieH Thanks!
TheRedGoatYou are correct about the Hekma, Urza's armor is back in. As for life restore, I usually switch totals with my opponents. But another restore card wouldnt hurt. That way if I have to Ad Nauseam, Worship or Stunning Reversal then it would be easier to bounce back from. Do you think Oketra's Last Mercy would be better than Tainted Sigil?
1 year ago
I love the creature base! But I don't like the sorceries too much. 3x Harvest Season seems like too much, won't be that helpful since you can only use it efficiently in the late game. I think Oketra's Last Mercy should be in the sideboard since it's good against red decks but not so much against other colors, you also have a lot of lifelink already. Rhonas's Last Stand doesn't fit the theme and slows your deck down too much imo. I'm not a big fan of Prepare / Fight but maybe it works here.
Some good replacements for these could be: Seal Away, great defensive card for only 2 mana. Blossoming Defense both protects a creature and makes it deal more damage. There's probably good alternatives if you don't want to run Kaladesh or Aether Revolt cards but I'm not very familiar with standard sry. Vanquisher's Banner gives you drawpower you may need in the lategame.
Load more