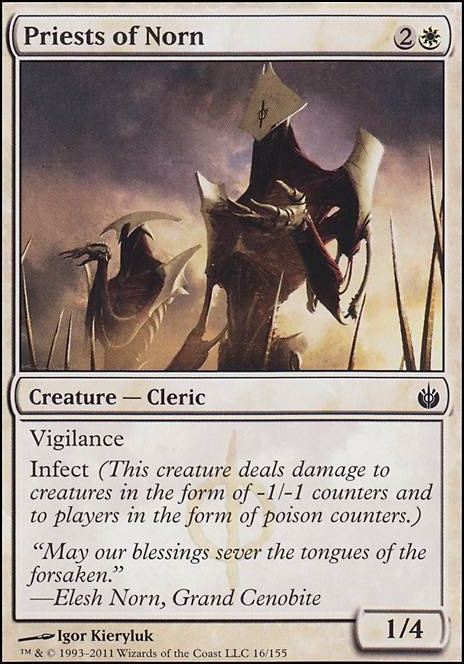 Priests of Norn
Creature — Cleric
Vigilance
Infect (This creature deals damage to creatures in the form of -1/-1 counters and to players in the form of poison counters.)
Latest Decks as Commander
Priests of Norn Discussion
1 year ago
If you decide to go with Atraxa, Praetors' Voice

, you could add Wanderer's Strike, Huatli's Raptor, Priests of Norn, and Valor.
It would also give you access to Gavony Township, True Conviction, and Vault of the Archangel.
2 years ago
bushido_man96, thank you so much for the feedback!
I'm trying to figure out what shade of orange would be best, because the page's "theme color" is burnt orange, specifically hex #cc5500. It's a good color, but in my opinion it shouldn't be all over the page. I want to stick with white for the words - maybe make the letters "off" white? Specifically - White Smoke #f5f5f5 (slightly darker) or Gainsboro #dccdc (which is slightly brighter-ish). What do you think?

I've considered Champion of Lambholt in the past, but my inner Vorthos just kept screaming "She doesn't fit the aesthetic of Phyrexia!". Which has been the primary limiting factor on all my decks. I do agree with you that it's a great card that does fit the Stax subtheme. I'll have to see if I can get ahold of one in a trade to give it a try. What would you cut for it?

I was so excited that I actually pre-ordered one off of Card Kingdom for $5. Turns out there was a price drop down to about $3. But warning - there's a $3 Shipping and Handling fee.
MrXilas, thanks for the comment and +1, onward to your comments.
Tainted Strike does seem a bit niche in it's use, but i've had better success with it by playing it on other players' creatures. Typically what would happen during a game is that my infect sources would get removed early on, and I won't be able to deal infect combat damage to the entire table (usually 1 or 2 players get infected before i'm stopped). But, when a player is swinging in with a 5/5 or more for a "harmless" bit of damage to get a trigger or a get a bargain on a deal that's when this little instant shines.
I do like the suggestion of Unnatural Predation especially though, as it pleases my inner Vorthos. I'll consider it, but for now Tainted Strike just gives me so much value.
I've never heard of Elephant Grass - that's a really cool enchantment. Originally, this deck had a build that ran Propaganda , Norn's Annex , Crawlspace , and Ghostly Prison . But eventually I moved away from that position because Infect draws so much hate that players typically find a way to circumvent my pillow fort tactics.
You're right about Priests of Norn though, it's really just there as another decent infect source. Personally, i'd prefer just a better mono-white infect creature. Maybe one with evasion at a decent cost. Tine Shrike is just a piece of common hot garbage. Wish we could get a color shifted white Skithiryx, the Blight Dragon at a lower cost with only some evasion or something.
p.s. I also love Michiko Konda, Truth Seeker . Didn't know she existed either. She's very much in the same boat as the previously mentioned Champion of Lambholt - excellent card that I could use, but doesn't fit the aesthetic of Phyrexia. Still, if I see one for trade i'll definitely scoop it up. Thank you for the suggestions!
2 years ago
So lifemtg doesn't feel like they have to pick-up my slack, here is what I managed to come up with:
Given the amount of infect creatures you have, wouldn't it make more sense to run something that gives trample instead of Tainted Strike ? Is it mostly there so Atraxa can swing in if she needs to? There are three one drop instants in green that grant trample that might push your infect creature through. I was thinking Berserk , Vigorous Charge , or Unnatural Predation . Ditto, but on white cantrips that grant flying.

On the stax front, due to the amount of hate Atraxa Infect draws, you might want more things that deter your opponents' from going after you such as Elephant Grass or Propaganda . Another oddball choice to that effect would be Michiko Konda, Truth Seeker . I honestly don't see Priests of Norn doing much work other than being a deterrent, so maybe that is what can get the boot.
Hopefully I answered your plight this time. I'll be mindful in the future.
2 years ago
When you want to mix control and an aggro strategy your best bet is what we call a Tempo deck. You want to slow down your opponent a littlen while speeding yourself up. Otherwise you find yourself slowing yourself down, to also slow them down Law-Rune Enforcer is a good example of you slowing yourself down as much as it slows the opponent, whereas Dovin, Hand of Control supports your tempo advantage.
I like the white splash for Giver of Runes and being in WU would allow you cool stuff like Teferi, Time Raveler (also a tremendous tempo play), it is missing too much of it's aggro side.
It wants Scale Up (note: the creature keeps infect, just gets better stats), it wants Glistener Elf , it wants to protect it's threats with Blossoming Defense . It wants Green. It wants Might of Old Krosa , it wants Mutagenic Growth (even if you do not add green.
Take out the stuff that does not actually help your control or your aggro and are just cute tricks: Grateful Apparition , Law-Rune Enforcer , Priests of Norn , Viral Drake and focus on making cheap threats, making them big fast, getting them through and protecting them.
3 years ago
This is a slightly grinder infect build. We toss out some cards that help the early game, but gain some extra effects. T1 glistener elf with a bunch of pump spells is really dangerous, a lot of decks can re move him before your protection is up. White lets us play Lost Leonin as another 2 drop to stay aggresive, and I prefer him over rot wolf, because you need 4 mana to cast and protect rot wolf. Then if you want to play a 3 drop you can use Priests of Norn which are very good vs the removal in the meta, i.e. bolts and such. With more white I get to run more copies of Sejiri Steppe confortably, and I really like the effect. Finally I like using double strike with infect, as it can help you deal 10 damage in 1 less card or 1 less attack. I have a red-green version as well.
Mono green is fine, it's just really linear and boring imo. I use weird cards like Adventuring Gear because it gives defense on the attack, can add 10 damage in some scenerios, and is strong vs counter magic being only 1 mana and an equipment rather than an aura.
There is probably an argument for a mono green version that just plays like 3 steppes with the crop rotation package, but at that point you want to have 1 bounce land at least so slotting in a second color is pretty natural.
3 years ago
I agree, there may be potential in other colors. Red's double strike effects could make a nasty deck, but the meta would have to change a lot. Red/Green Infect would lose to one or two kills spells, which really isn't that great as of now. There is a Youtuber named T1GlistenerElf who was testing White/Green Infect for a while after the banning of Git Probe that packed more removal such as Path to Exile, Oust, and Condemn, but it was playing Priests of Norn, which in the Modern format I think is too slow. Speaking of which, there are lots of subpar cards in your actual list. I think including cards like Slitherhead and Fiery Justice may be confusing for some players, because no Infect deck would actually play those cards. What I might do is just make the cards on this list the actual playable cards, then have a separate list linked here that has other cards for people to work with. Also, I'd love to help out with anything you need with improving and sharing this primer and helping bring back Infect.
Load more