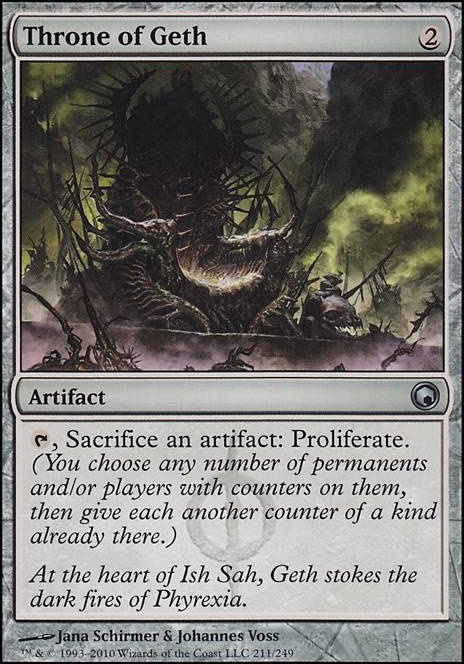 Legality
| | |
| --- | --- |
| Format | Legality |
| Vintage | Legal |
| Duel Commander | Legal |
| Commander / EDH | Legal |
| Legacy | Legal |
| Modern | Legal |
| Tiny Leaders | Legal |
Throne of Geth
Artifact
Tap, Sacrifice an artifact: Proliferate. (You choose any number of permanents and/or players with counters on them, then give each another counter of a kind already there.)
Throne of Geth Discussion
2 weeks ago
Karn Liberated Was left out mainly because I don't have one but I personally dislike him. Currently the prison theme in the deck is to mitigate damage to my walkers allowing me to keep them on the board as long as possible so Ghostly Prison didn't make the cut as it only taxes opponents attacking me. The rest are all good suggestions that I will bear in mind as I redraft the deck after I get a feel for how reliably I can sac tokens to Throne of Geth. Will probably be able to cut down on artifact token generators or include Mycosynth Lattice to sacrifice the tokens produced by the walkers.
1 month ago
Like the deck! I saw the spoiler on this, and I was super pumped about an EDH deck, as well. Something I noticed about The Scorpion God is that even if it's a centerpiece to the deck, you probably don't need the hexproof or shroud from the shoes. You can have it go to your graveyard, instead of command zone, and you can cast it from your hand for 5. If your library is exiled, you have to pay commander tax, but that's the only scenario, so it's really not that bad if it dies. You've got a ton of card draw, and you'll probably kill Anger with your own cards the turn or two after it comes down, so I'd replace both Lightning Greaves and Swiftfoot Boots with Anger. I haven't put together a decklist, but some of my considerations I didn't see here are Everlasting Torment, Cauldron of Souls, Grief Tyrant, Harbinger of Night, Hateflayer, Puppeteer Clique, Sickle Ripper, Soul Snuffers, Soul-Scar Mage, Thunderblust, Tourach's Chant, Throne of Geth, Volt Charge, Archfiend of Ifnir, Fang Skulkin, Fevered Convulsions, Rattleblaze Scarecrow, and Serrated Biskelion.
1 month ago
I am planning to build an EDH deck with Atraxa, Praetors' Voice as the general, and I know that she is an immensely popular EDH general, but I still wish to make a deck with her, because angels are one of my favorite creature types in this game and Phyrexia is one of my favorite factions in this game.
The idea that I have for my deck will, naturally, be to use Atraxas ability to place additional counters on my permanents: specifically, +1/+1 counters on my creatures and loyalty counters on my planeswalkers.
First, for other proliferation cards beyond Atraxa, I am planning to use Contagion Clasp, Contagion Engine , Fuel for the Cause , Inexorable Tide, Spread the Sickness , Steady Progress , Thrummingbird , and Viral Drake; I will not use Volt Charge, because my deck will not support the color red, Core Prowler , because it simply is too weak, and neither Plaguemaw Beast nor Throne of Geth , because my deck will not be generating large quantities to tokens to sacrifice to the abilities of those permanents. I am currently uncertain about Grim Affliction and Tezzeret's Gambit, so I shall await feedback from other users here regarding those cards.
Second, I will need a method for placing +1/+1 counters on my creatures initially, before I can multiply them, so I am planning to use the following cards to achieve that goal: Archangel of Thune, Ghave, Guru of Spores , Daghatar the Adamant , Kalonian Hydra, Forgotten Ancient, and Echoes of the Kin Tree . If anyone has any suggestions for further cards, I will greatly appreciate them.
Third, for planeswalkers, I will be seeking to use planesawalkers with powerful ultimate abilities, preferably those that grant emblems, and some of the planeswalkers whom I am considering are Tamiyo, Field Researcher , Ajani Steadfast, Ajani Unyielding, Narset Transcendent , Elspeth, Knight-Errant, Elspeth Tirel, and at least one version of Sorin. It is not a high priority, but I would like to ensure that all colors are represented equally, or nearly equally, among planeswalkers in my deck.
Fourth, I have a number of wild cards, cards that do not contribute to the overall theme of the deck but are still very nice to use. Thus far, every EDH deck of mine has both a Gilded Lotus and a Thran Dynamo, but, with a deck that uses the proliferate mechanic, perhaps I could use Astral Cornucopia and Everflowing Chalice in their places, since I will be able to increase the number of counters on them. I believe that every green EDH should contain a Seedborn Muse, so mine shall, as well, especially because she will work well with contagion clasp and contagion engine. I have a Mirari's Wake and Privileged Position in each of my green/white EDH decks and a True Conviction in every white deck, so this one shall, as well. Would Lux Cannon work in this deck? I am considering it, but wish for feedback before I actually purchase it. Also, a deck such as this should definitely have Doubling Season, but that card is currently very expensive, so I shall need to wait either for it to be reprinted or for me to have a great amount of surplus money to spend.
What does everyone else say about this? What ideas can you offer me for an EDH deck centered around Atraxa?
2 months ago
Thanks flapjackwars for the suggestions. Let's discuss the ideas. Let me start by saying that this deck was built for a multi-player chaos environment. Speed isn't so much of a concern in my usual meta game. This deck was built more for endurance. At least that was the idea I was trying for.
Scrap Trawler and Pia's Revolution are in the deck to work in situation where someone has played Declaration of Naught naming my Commander. Yep, that has happened. So, in my view, I have 3 cards in my deck that recur artifacts for me instead of just one.
I've played Extruder in an artifact based deck before. It's ok. I thought about it for this deck. I guess I'm still on the fence about this one. I have the Bosh, Iron Golem, Krark-Clan Ironworks, Viscera Seer, Throne of Geth, and Trading Post for sacrifice outlets. Not sure if that is enough or the route I want to go with this deck. Ashnod's Altar is a good choice that I'm going swap out the Ironworks for. It does provide a wider range of sacrifice options.
In the maybe board I had before I posted this deck, I had the some of the cards you mentioned.
I cut the Time Sieve, which is a great card, because I felt that it painted too much of a target on me in table politics. It may still end up in the deck at some point. Not sure on this one. Tough choice for now. I'll probably have to play the deck some more to really get a feel for it.
I cut the Trinket Mage, Trophy Mage, and Treasure Mage because I didn't want this deck to really be about tutoring. Another reason I cut the tutor creatures was that I felt that they didn't syngerize with the +1 counters theme. I can't use them as Modular targets. They don't help as much once they are on the field except as blockers. And I can't recur them like I can with the other artifacts. Thopter Engineer suffers from some of the same problems. I like the 'artifacts gain haste' aspect, but I have Exava, Rakdos Blood Witch to provide haste. Exava gets seen by Marchesa where the Engineer does not. Pia and Kiran Nalaar, and Pia Nalaar are good cards but I just felt that they didn't syngerize as well as some of my other choices. They have the same sort of down sides that the tutor creatures do.
I didn't use the Sol Ring because I didn't think that I needed that kind of mana acceleration. Also, once I cut the Trinket Mage I didn't have a way of tutoring for it early enough in the game for it to be useful.
Thada Adel, Acquisitor is used in another deck I have and doesn't get to stay on the table very long, rarely long enough to be very effective. Check out my Aboshan, Cephalid Emperor deck.
Marionette Master felt to mana costly for what it gave me when i first read it. Reading it again, it might fit. I'll have to think about that one for a while.
Treasure Keeper, Phyrexian Metamorph are really good cards that I overlooked. I am swapping the Cogwork Assembler for Phyrexian Metamorph based on your suggestions since it cost too much mana to make the copies with the Assembler. The Treasure Keeper is another card I'll need to think about for a bit. I like the free cast aspect. I'm not so fond of the reveal my deck to opponents aspect. Tough call.
I need to go through the new cards in Amonkhet to see what can fit into my EDH/Commander decks.
Load more