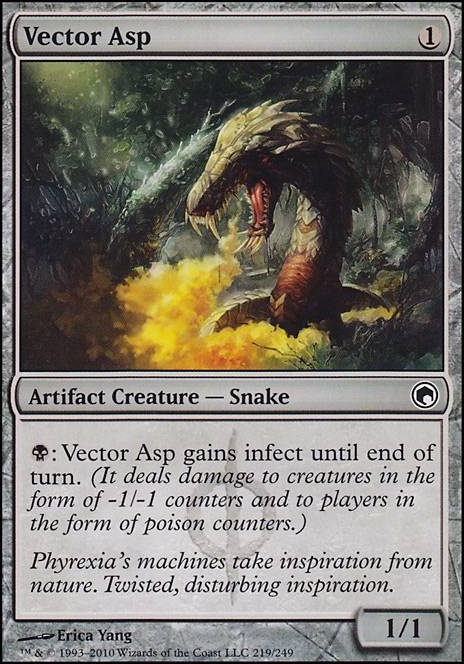 Vector Asp
Artifact Creature — Phyrexian Snake
{{B}}: Vector Asp gains infect until end of turn. (It deals damage to creatures in the form of -1/-1 counters and to players in the form of poison counters.)
Latest Decks as Commander
Vector Asp Discussion
1 year ago
Mainboard Cuts: Worn Powerstone kinda sucks. I'd rather pay one more for Hedron Archive or even Sisay's Ring.
Cathartic Reunion is just better Tormenting Voice in your deck. Run Chandra hugging mom instead of Tormenting.
Cuts from the Sideboard listed cards:
Prismatic Geoscope: Running 18 basics means you might not always get 3 mana from it, more like 2. Eitherway I feel it's bad as a rock and lackluster as a cage target.
25 cards I'll suggest for <15$ (EDHREC TCGPLAYER listed prices, may be higher or lower):
21/22. Isochron Scepter/Dramatic Reversal: With enough mana rocks infinite mana and with that you can win for sure. (Price for both: 5.30). I think it's a worth it investment.
Whispering Madness: Wheel that can be repeated. With GY synergies it's amazing. 10/10 (Price 0.57)

Chain Reaction: Boardwhipe most of the time. You need some mass removal. (Price: 0.67)

Pyroclasm: Clears tokens easily. (Price: 0.16)
Total Price: $12.94
Some pump activated abilities may be a good other add.
1 year ago
Most of my experience with infect comes from playing simic, but I have played the mechanic in all 5 colors. In terms of power, green is the most effective color to play by a very VERY large margin. You get access to the best infect creature in Glistener Elf (along with the slower and safer option of Blight Mamba), you get trample sources to push through damage with Ichorclaw Myr such as Rancor, Predator's Strike, and Larger Than Life, you get protection bundled with buffs in the form of Vines of Vastwood, Ranger's Guile, and Blossoming Defense, and you get the largest pool of very strong power boosts in the form of Mutagenic Growth, Invigorate, Scale Up, Might of Old Krosa, Berserk, Become Immense, Groundswell, Phytoburst, Noble Hierarch, and Pendelhaven. Since infect is an all-or-nothing sort of archetype, even when running the less aggressive versions, the most important characteristics that you need are speed, protection, and evasion. Green offers two of those things in spades but can struggle with evasion. This is why blue is generally considered the next best color to run. You get the insane threat of Blighted Agent, unblockable buffs with Distortion Strike and Aqueous Form, and protection from spells via Spell Pierce, Dispel, Turn Aside, and the odd Spellskite. Black is the next best. Plague Stinger's flying isn't as good as the unblockable on a Blighted Agent but it's still very powerful evasion as illustrated by the ubiquity of Inkmoth Nexus in every non-budget infect list ever made. Black also nets useful control tools like Thoughtseize, Inquisition of Kozilek, Fatal Push, Dismember, and Assassin's Trophy. White was considered the worst infect color for a very long time since its best option (Apostle's Blessing) can be used in any deck, but the recent introduction of Giver of Runes has breathed some life back into the color. Additionally, I've seen a lot of equipment lists popping up that use Colossus Hammer, Kor Duelist, Sigarda's Aid, and Kor Outfitter to see some success. Unfortunately, that leaves red as the current worst color to run in infect. It has some decent buffs but they pale in comparison to green's offerings. The result is that most red infect decks rely on gimmicks like using Razor Swine's first strike to wither enemy creatures, generating infinite mana to pump into an unblocked Ogre Menial, or putting Phyresis on something like a Spikeshot Elder to bypass combat altogether. Your instant tricks definitely fall in this category. That's not necessarily a bad thing though. If your meta is casual enough, red should still work and it will be much more interesting to play with / fun to play against than a more traditional deck. How competitive you want to be is always up to you.
To answer your specific questions, I would probably start by cutting a few creatures. Most lists run about 12 infect sources (and that's including a playset of Inkmoth Nexus). With Hand of the Praetors on your top end, running 16-20 isn't that unreasonable, at least as long as all of them are good. Infect creatures usually become "bad" when they cost more than 2. That's why I wouldn't usually recommend running Ichor Rats or Septic Rats. Both Necropede and Plague Myr are perfectly acceptable inclusions with very similar power levels. They'll rarely be better than Plague Stinger or Ichorclaw Myr but that's okay if you just want more guys to play. As for Vector Asp, it's honestly a pretty bad choice in most circumstances. While you usually won't need to activate it more than 2 or 3 times to win the game, that mana would be better spent elsewhere, and it doesn't even trigger the Hand. However, given the choice of it and a 3-drop, I'd probably take the snake, especially since it would be your only proactive play on turn 1 (barring the inclusion of Glistener Elf or Inkmoths). Better though would just be to run neither and invest in more buff spells to assist in combat and trigger Livewire Lash. I do like the idea of those spells having cycling in theory, but in practice, the mana needed to cycle can short you of the resources needed to close out the game. Plus, cycling spells tend to cost more to account for the added ability. Cycling lands on the other hand should be fine as long as they come in untapped, although it looks like that only describes Ash Barrens and Blasted Landscape. Just like with creatures, I wouldn't run any spells that cost more than 2 unless they can win you the game like Soul's Fire can. This will also allow you to run 20 lands or fewer, opening up even more slots for gas. I apologize if I'm repeating myself about the low-cost-high-speed thing but that is basically the reason the infect mechanic exists. If you prefer a slow and more controlling style, Rakdos wither built around Necroskitter is a fun option that has some overlap with infect.
1 year ago
Thanks for all the suggestions. I was wondering about a lot of the things your brought up.
I haven't played this deck yet, but I'm already concerned about not having any creature protection. I originally tried to have some defensive capability in the deck, but it felt like the intent and capability of the deck became too diluted as I added those sorts of things. There must be some sort of balance there, but I'm not sure how to achieve it.
I also wasn't sure exactly how many creatures to add and which ones. I'm wondering if I should run fewer creatures overall to make room for more defensive spells. I did have Plague Stinger in at one point but replaced it. My thinking was it would be more useful to have a creature that could give itself +/+. The utility of a flyer is a good idea though, so I probably will put that back in. I had considered adding Vector Asp, but decided against it, since you'd have to pay a any time you wanted it to have infect. This seems counter productive, but I must be not fully seeing the benefit of the asp. Could you elaborate on it? Another creature I was wondering about is Plague Myr. Its intended use is as a mana dork, but I'm wondering if it wouldn't be better to replace it with something that fills the role a little better. If it's just a mana dork, does it really even need infect?
I had trouble deciding what spells to include. In my play testing, I found that my hand could easily get bogged down by spells that weren't useful early game. That's why most of the ones you've suggested replacing have cycling. If it's not useful yet, I can just dump it until I find something I need. I think your suggestions to replace those and also lower the cost of creatures would probably solve that issue though. With cheaper creatures AND spells, I'd be able to do more per turn.
Wild Defiance is very intriguing. I'm definitely not opposed to splashing in another color and was actually considering switching black out for green. I do generally prefer playing decks with black in them though. Do you have any other suggestions for a green splash?
1 year ago
Rakdos infect is pretty tough to work around, but you have some cool things going on here. i'd try to have as few creatures above 2 CMC as possible. Hand of the Praetors is strong enough as a finisher in slow games, but the rats should probably be Plague Stinger and possibly Vector Asp. Budget permitting, Inkmoth Nexus is a fairly obvious upgrade. I'd also try to lower the cost on your instants and sorceries. This is especially helpful when playing around Livewire Lash (which should probably be at 4 copies). Reckless Charge, Assault Strobe, Brute Force, Virulent Swipe, and Temur Battle Rage are all options that work better with Lash than Footfall Crater, Dirge of Dread, and Memory Leak. Ways to protect your infect creatures can be very helpful, especially after sideboarding. Apostle's Blessing is probably the best in your colors. I really like Outmaneuver and Soul's Fire as ways to take advantage of infect in red. If you're willing to splash other colors, Wild Defiance provides nice redundancy for the equipment, not to mention the other benefits of having green in the deck.
Anyway, good luck with the deck!
1 year ago
Mutate is a really interesting mechanic that I expect to find a place in modern, even if it never reaches tier 1. Modern already has some wild 1 drops, and attaching, say Parcelbeast to a Steppe Lynx can start looking cool- its just a question of the right combination being found to power the deck.
I'd focus on low cost mutate cards, 1 drops to mutate them on that either protect a powerful mutate effect or multiply it, and mana dorks as backup mutate targets.
Auspicious Starrix will likely win you the game if your opponent cannot remove it. Gemrazer to back that up will offer a lot of blowout potential. Most of the lower tier mutate creatures could work with the right synergy picks in the rest of the list.
In terms of 1 drops to examine, Glistener Elf and Slippery Bogle for efficient voltron, as well as less conventional voltron like Spikeshot Elder or Vector Asp, Young Wolf returns all its creatures seperated to the battlefield with +1+1 counters, Blistercoil Weird and legendary spell recursion point to a jeskai spellslinger, Signal Pest+ a white go wide list, Arcbound Worker/Servant of the Scale/Simic Initiate/Hardened Scales and +1+1 counters could get pretty out of hand.
Hedron Crab land drop mill is a cute option, Permeating Mass will make people call for the judge, but isn't actually any good. Some +1+1 counter synergies will likely let you abuse some mechanics like Devoted Druid's untap, if you can find the combination.
Keyword piles like Banehound Healer's Hawk, abilities like Figure of Destiny or 'conditional' P/T boosts like Scute Mob could make for a decent beatstick if you can spend two cards on it - Gnarlwood Dryad, Toolcraft Exemplar Wild Nacatl, Loam Lion could all find places in some lists,as they are already efficient and pushing them out of kill range for lightning bolt/anger of the gods may be relevant.
Mortician Beetle with the bat strapped to it is a great casual clock.
None of these are crazy effecient, but building a list of sixty cards that all sorta work together is the heart of brews like this.
All told though, its a bit of a mess where the best bet is to pick two colours with 2/3 mana mutates, and throw them on creatures which protect them while hunting for stirix. Trying to stretch into more colours will pressure a budget manabase very hard. Keeping to mostly green with basic searching to fix for a second colour will ease that process a lot- especially with dorks like Avacyn's Pilgrim or Elves of Deep Shadow.
1 year ago
No Vector Asp? Do you think it would work well?
Load more