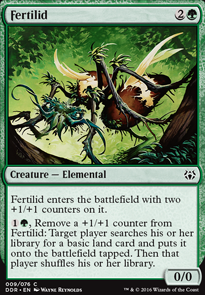 Legality
| | |
| --- | --- |
| Format | Legality |
| Vintage | Legal |
| Duel Commander | Legal |
| Commander / EDH | Legal |
| Legacy | Legal |
| Modern | Legal |
| Tiny Leaders | Legal |
| Pauper | Legal |
Fertilid
Creature — Elemental
Fertilid enters the battlefield with two +1/+1 counters on it.
, Remove a +1/+1 counter from Fertilid: Target player searches his or her library for a basic land card and puts it into play tapped. Then that player shuffles his or her library.
Fertilid Discussion
1 day ago
So I have an Ezuri, Claw of Progress build, myself. You should check it out! I'm gonna give you some ideas, as I may have a few more experience counters than you xD
The suggestions I make are from my list, but I won't mention any cards outside of your budget. Let's get started!
This is alphabetical, not in order of relevance:
This is kinda alphabetical... but not really. _()_/
Whew! Well I gave you a lot to think about, there. feel free to ask questions about anything I've suggested; I'd be happy to give you examples from games I've played, etc. Good luck, and happy deck-teching!
1 week ago
Hi Rzepkanut, thank you very much for your comment and upvote. I love your Fertilid suggestion; I have this card and I overlooked it. I'm going to make the change now. I'll give your other suggestions some thought; not sure what I'd remove for em either :)
1 week ago
I see 4 obvious ways to build Atraxa:
Good stuff. You have an insane card pool and a keyword-heavy Commander. Pick a general direction and play all the solid-to-busted cards that support it.

Counter shenanigans. This can be building up huge beaters with +1/+1 counters, huge mana engines with stuff like Fertilid, Gyre Sage, Everflowing Chalice, etc.

Infect. Pretty cutthroat--some groups will hate it--but totally legal and not as broken as much as people believe. But with Atraxa it is very dangerous. Ichor Rats and pillow fort (Ghostly Prison, Propaganda, Spike Weaver, etc.) or just plain aggro.

Planeswalker super-friends. Absolutely not my style (nor, in my opinion, very good) and not budget. But if you want to show off an overpriced and unfocused pile of mythics, at least the Commander is directly synergistic.
For building out from the pre-con, your deck will likely fall somewhere between the first two. There are a ton of respectable budget cards that will do work with such a powerful card in the Command zone. Fertilid, Spike Weaver, Carnifex Demon, Black Sun's Zenith, and so on.
2 weeks ago
+1/+1 Counters and big creatures can be fun to play but this deck is not structured enough to really use/abuse the +1s.
First you need to decide how you want to use the +1s.
1) You could do voltron with boosting your commander. In which case the rings you have, Hardened Scales work well. You would flesh out the deck with enchantments/artifacts to help deliver the commander/+1s.
2) You can token swarm with +1s on creatures along the lines of how Ezuri, Claw of Progress likes to run. Cathars' Crusade, Tuskguard Captain, Abzan Falconer work really well.
3) You can do the hydra thing. Put in a bunch of X cost hydras and go that way.
Any of the above can be satisfying but the reason why your probably getting handed your head recently is the deck doesn't optimize what it really wants to do.
Now onto the Mana Base:You have the right number of lands and in roughly the right balance so I do not think that is your issue. For some lands to add Rogue's Passage would seem to be a natural fit for what you want to do.
I think what you need is ramp. I would try to add at least a few more cards that pull lands out of your deck. Fertilid fits the counter theme and searches for ramp. Tempt with Discovery can be awesome but it is one of the more costly $$ wise. If you are going voltron style I would put in Sword of the Animist.
If you need more recommendations let me know and I'll try to help out.
Tree
2 weeks ago
Great looking deck, lots of cool ideas! Small comment, you can't have Rakdos Riteknife in here because the color identity is red unfortunately.
Random suggestions: You can't have a counters deck without Doubling Season! Fertilid seems like it'd be great in this deck for repeatable ramp, Wickerbough Elder as repeatable artifact/enchantment removal, Fathom Mage is always nice to draw another card every turn for free, and Luminarch Ascension can win games by itself. I feel like Lightning Greaves and/or Swiftfoot Boots would be very valuable in this deck as Atraxa is so synergistic with the rest of the deck and will draw a ton of hate.
Load more
Latest Commander