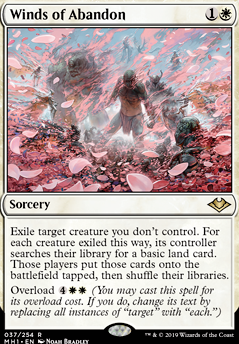 Winds of Abandon
Sorcery
Exile target creature you don't control. For each creature exiled this way, its controller searches their library for a basic land card. Those players put those cards onto the battlefield tapped, then shuffle their libraries.
Overload (You may cast this spell for its overload cost. If you do, change its text by replacing all instances of "target" with "each".)
Latest Decks as Commander
Winds of Abandon Discussion
4 days ago
Hey! Kinda late, but I would like to suggest some stuff:
(Disclaimer: I have a budget way lower than yours, but I've been tinkering with Ghired for almost two years - he's my favorite commander. I'll break the suggested upgrades down into categories for better organization.)
Haste enablers:
Ramp: Run at least 15 ramp cards to make your deck flow smoother and faster.
As an aggressive deck, speed is fundamental. Fellwar Stone, Nature's Lore, Three Visits, Skyshroud Elf, Bloom Tender, Faeburrow Elder, Chromatic Lantern, Coalition Relic, Wood Elves, Skyshroud Claim and Mirari's Wake can ramp and heavily fix your mana, taking the place of Gyre Sage, Solemn Simulacrum, Rampant Growth, Sakura-Tribe Elder and Xenagos, the Reveler - the latter is a win-more ramp, and his 2/2 token is not large enough to synergize with the power-based card draw, while the other four fix for a single color of mana (Ghired decks can sometimes be color-hungry), and this deck can't abuse the sad robot for value.

In the land department, Krosan Verge and Blighted Woodland pull their weight, and synergize greatly with Avenger of Zendikar and Rampaging Baloths. Maybe remove Cascading Cataracts? (Your spells are not THAT color hungry.)
Direct damage:
Extra combats: You don't have to worry about your opponents' answers if they never get to their turn, so...
Boardwipes:
Card draw: Alongside ramp, it is my main concern with Ghired. I want to be able to rebuild my board after a boardwipe.
Some cards I suggest you to remove:
Some cool lands for you to try out: (landbase is my favorite part of deckbuilding)
I hope I've been of some help to you. I didn't suggest many token-related cards because I believe that, as long as you have decent ramp, draw and removal in your deck, you can win to your heart's content. Wanna throw in a Godsire? Do it. Prefer to clone your opponents' creatures with Hate Mirage? Go ahead. But the fundamentals of the deck is what makes it flow consistently. Have fun and smash 'em all (and run Doubling Season for extra fun) ;-)
4 days ago
I really like Sram when you can keep the draw engine going! (that's the main reason I don't use him in my deck, I'm usually cheating in stuff rather than casting and my deck is only equipment). Although, you still might want to peek through a few of the cards in my deck Pure Nahiri for some upgrades. Note: my overall deck strategy is a bit different, but it shares a lot of cards.
The one that instantly stood out to me is using Settle the Wreckage over Winds of Abandon. The main reason to use Settle is that it can hit your own creatures and if you ever pump out a bunch of tokens you can instantly turn that into a ton of lands. You can even combo that in a political move with attack triggers if the board is stalemated.
For example: once I had Argentum Armor I had cheated out on a 1/1 soldier token with a bunch of other tokens I had flooded the field with and some other equipments I didn't have the mana to equip. I also had a Heavenly Blademaster in my hand I wanted to drop but couldn't pay for and keep protected from removal at the same time. I bargained with another player to let me swing at him without reacting so I could use the Armor's attack trigger to blow up another player's commander that was preventing me from winning. I Settled my own soldiers (leaving one behind as a chump blocker) before combat damage and got about 5 plains on the field. The next turn I dropped the Blademaster and attached everything to her and won (hint, Blade of Selves and the Kaldra equipment are particularly nasty on her if you can get them all out at once).
Abandon is really good for wiping the field of things like Indestructible creatures or creatures you really don't want in the graveyard, so I can understand keeping it in. Just thought I'd make the suggestion since White lacks a lot of ways to get explosive ramp. Although Blade of Selves can also be used on a Knight of the White Orchid attacking a green player and as long as you are in a typical 4 person EDH pod you'll get 3 lands that come in untapped from the 3 ETB triggers.
2 weeks ago
Have you thought about Winds of Abandon as a 1 sided wipe? Lots of stack interaction for a W deck, probably a good thing for a competitive deck.
3 weeks ago
Here's what I'm currently thinking the plan'll be:
Once and Future will be cut for Noxious Revival
Emeria Shepherd will be cut for Flawless Maneuver
Nyxbloom Ancient will be cut for Protean Hulk
Return of the Wildspeaker will be cut for Brainstone
Sneak Attack will be cut for Combustible Gearhulk
Austere Command

will be cut for Winds of Abandon
Should anyone find themselves in a state of astonished disagreement, please feel free to air your grievances in the comment section down below ;)
1 month ago
looking at this from a super budget pov there are a couple of cards i would seriouly consider
Flickerwisp has been printed into the ground and with soulherder on the field he gets rid of your opponents needed land, plainswalker or creature for the entirety of there turn. hes also a good card to flicker your own stuff and is a solid flying attacker. most importanly hes been printed into the ground the last few years and sits between 5-25 cents (if you run a couple flip lands like Umara Wizard  Flip or Skyclave Cleric  Flip and target them with the flicker effect it turns them back into creatures for some solid board advantage or as a combat trick with Ephemerate
Professor of Symbology with a wishboard of
1x Environmental Sciences, 1x Mascot Exhibition, 2x Reduce to Memory
can get you out of most situations reduce kills anything for good science means you can keep a 2 land hand with prof and not regret it and mascot is a solid wincon if the games gets grindy. also prof is a solid looter if you get all your wishboard cards and the whole paxkage is under $2 (i still use this in my $100 mono white flicker list, and the deck has top 3 a few time and this card is the decks stoneforge mystic and is defiantly the next best thing)
1-2 copys of Lavinia of the Tenth this is a hard lock with soulherder for many deck. and pro red and the deck having instant speed flicker spells card be very difficult for some decks to deal with.
Hallowed Respite may be worth running as a 2 off, its a flicker spell that pumps or taps down problematic blocker and can be done a secound time late in the game when you need the value the most.
if you can find it in the budget id try very hard to run 4 Reflector Mage its basically the reson to run blue (alongside soulherder) for none budget versions of this list, and ist much much cheaper that Skyclave Apparition
on the oust issue this may seem strange but it may be worth considering Baffling End for 2 resons, 1 it can be flickered by flicker wisp or similar to exile extra things. 2 they stay permanently exiled, i wont be ideal for every situation but may well work for some.
if your planning on upgrading to moder staple id recomed 2 copys of Winds of Abandon before path. 1 its a solid path effect. 2 in the mid-lat game its a one sided boardwipe and there for can take the slots for cleansing nova while being more useful (also its a boardwipe that exiles meaning if you have a soulherder on the field it can easily be a 5-5/6-6 after casting this)
the secound cards id upgrade is Skyclave Apparition its hands down the most powerful card im my $100 version of the deck and is often my best draw. this and a Ephemerate or soulherder and you basically have a board wipe
if you do end up running 4 path 2 winds, then it can be worth running Knight of the White Orchid which makes Glacial Floodplain or Irrigated Farmland worth running (they also work great with and trigger Port Town)
id also consdider adding a manland to your landbase. on a budget you have either Frostwalk Bastion, Faerie Conclave. if you have a little more then Cave of the Frost Dragon is probably worth the upgrade. and if you willing to spend a little more on a modern staple Celestial Colonnade is the cheapest its ever been in the history of the game $3.5/$4 ish and definatly worth 2-3 of.
hope one or two of these suggestions help a little
2 months ago
id be tempted to try and fit in Skyclave Apparition its a solid turn 3 play and a very solid angel target (probably over d sphere and mb finks)
1 copy of Winds of Abandon is also probably worth running, its a solid 1 sided path alternative and a board wipe in the late game
Load more