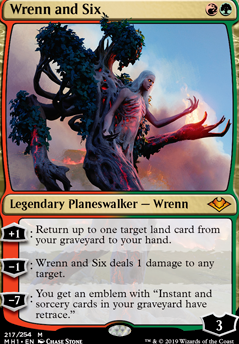 Tokens
Legality
Rules Q&A
Wrenn and Six
Legendary Planeswalker — Wrenn
+1: Return up to one target land card from your graveyard to your hand.
-1: Wrenn and Six deals 1 damage to any target (creature, player or planeswalker).
-7: You get an emblem with "Instant and sorcery cards in your graveyard have retrace. (You may cast that card from your graveyard by discarding a land card in addition to paying its other costs.)"