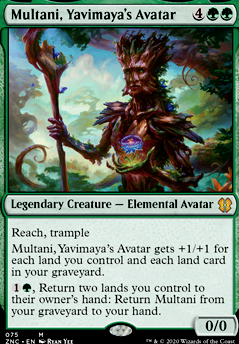 Multani, Yavimaya's Avatar
Legendary Creature — Elemental Avatar
Reach, trample
Multani, Yavimaya's Avatar gets +1/+1 for each land you control and each land card in your graveyard.
, Return two lands you control to their owner's hand: Return Multani from your graveyard to your hand.
Latest Decks as Commander
Multani, Yavimaya's Avatar Discussion
2 months ago
Took about 2 hours, but finally finished any analysis of my deck and maybe board. What I've done is compared every card in my board against my deck and calculated the amount of interactions that card has to "Go off" or to "do something". Just because a card has a low interaction does not mean it's bad, but it helps us pick out what "feels off".
The lists read like the following, What the cards does, how many interactions it has, what it's function in the deck is.
Resource: A card that it's goal is to let me play heavier things more often and thins to make drawing more powerful
Draw: Draws cards, this is very valuable in Azusa. Azusa likes draw more than anything else. Drawing gets you closer to winning the game much faster than thinning with resources
Kill: These cards have some way to win me the game. I will have to eventually go into detail into all of them. They have a known synergy that lets me setup lethal or are lethal.
Prevent: Prevents me from losing the game. Be it killing something, preventing something, etc
???: Does not fit any category, if this is met then the card should be reassessed.
Card Synergy Type
Wordly Tutor 24 Tutor
Finale of Devastation 24 Tutor
Tooth and Nail 24 Tutor
Green Sun's Zenith 23 Tutor
Natural Order 22 Tutor
Avenger of Zendikar 17 Kill
Rishkar's Expertise 17 Draw
Augur of Autumn 17 Resource
Courser of Kruphix 17 Resource
Oracle of Mul Daya 17 Resource
Ramumap Excavator 16 Resource/Kill
Ancient Greenwarden 16 Resource/Kill
Return of the Wildspeaker 16 Draw
Scute Swarm 16 Kill
Tireless Tracker 16 Draw
Tireless Provision 16 Resource
Lotus Cobra 16 Resource
Titania, Protector of Argoth 15 Kill
Fierce Empath 15 Tutor
Garruk, Primal Hunter 15 Draw
Azusa, Lost But seeking 14 Resource
Woodland Bellower 12 Tutor
Crucible of Worlds 11 Resource/Kill
Exploration 11 Resource
Life From the Loam 10 Resource
Sylvan Library 10 Draw
Sensei's Divining Top 10 Draw
Rude Awkening 9 Resource/Kill
Scapeshift 8 Kill
Ulvenwald Hydra 7 Kill
Craterhoof Behemoth 7 Kill
Akroma's Memorial 7 Kill
Regal Force 7 Draw
World Breaker 6 Prevent
Shamanic Revelation 6 Draw
Sol Ring 6 Resource
Nylea's Intervention 6 Tutor/Kill
Sylvan Scrying 6 Tutor/Kill
Horn of Greed 6 Draw
Greenwarden of murasa 5 Prevent
Eternal Witness 5 Prevent
Constant Mists 5 Prevent/Kill
Vorinclex, Voice of hunger 5 Resource
Kozilek, the Great Distortion 5 Draw/Prevent
Genesis Wave 5 Kill
Bane of Progress 5 Prevent
Kozilek, Butcher of Truth 4 Kill/Draw
Blightseel Colossus 4 Kill
Multani, Yavimaya's Avatar 4 ???
Boundless Realms 4 Resource
Beacon of Creation 3 Kill
Harmonize 1 Draw
Jeweled Lotus 1 Resource
Force of Vigor 0 Prevent
Multani, Yavimaya's Avatar with the over changes to the deck feels like it's falling off. It has a good interaction with Greater Good, but getting both of those cards off is unlikely. I also feel that every time I want to grab for an X creature it's hydra. This card is potentially on the chopping block.
Force of Vigor is a great card, but Beast Within might be overall better. It's a repeated effect at this point with the addition of Bane of Progress which it tutor-able in multiple ways.
Jeweled Lotus Feels dead sometimes in this deck. If you draw into it the card is great, but otherwise it's been falling off. Turn 0 Azusa is great in all, but the extra land or creature might be better.
Having trouble finding one more potential cut with this information. Will think about it more.
Card Synergy Type
Momentous Fall 14 Draw
Earthcraft 14 Resource
Greater Good 14 Draw/Prevent
Chord of Calling 12 Tutor
Wrenn and Seven 8 Resource
Mana Crypt 6 Resource
Defense of the Heart 5 Tutor
Kamahl's Will 5 Kill/Prevent
Realms Uncharted 3 Resource
Allosaurus Shepherd 3 Prevent
Nissa, Vital Force 3 Resource/Prevent/Draw
Void Winnower 2 Kill
Beast Within 1 Prevent
Song of the Dryads 1 Prevent
Concordant Crossroads 1 ???
Kenrith's Transformation 0 Prevent
Lignify 0 Prevent
Kamahl's Will is a wincon, a defensive option, amplifier for draw, and has potentially other combo's. Given how many lands I get, this is highly likely.
Earthcraft might become viable with the addition of Kamahl's Will. Turns my cards doing nothing into resources. Tempted to try this
Momentous Fall I feel like i take it out and put it in a lot, I like the card but the sacing hurts. With the drop of Multi this might feel weaker now. Testing needed.
Greater Good might be a hard add, prevents exile even at the cost of cards. It's an engine otherwise. Testing.
Beast Within is going back, testing a cut to Force of Vigor. Adding versatility at the cost of cheating into play a removal.
TLDR Debating:
+1 Beast Within
+1 Earthcraft
+1 Greater Good
Testing needed, these are no official changes at this time.
2 months ago
Boseiju, Who Shelters All is going in for helping with tooth and nail
Woodland Bellower feels like a natural fit,,, really good with Fierce Empath, "cute swarm" (Scute Swarm), Ramunap Excavator, Ulvenwald Hydra and Eternal Witness. Great combo with tooth and nail too.
Keeping slyvan for the moment, I have a copy of life from the loam, not sure if I should run this yet. I'm tempted too
Torn between Crop Rotation and Sylvan Scrying. This instant speed is nice since you can surprise your opponents, but without owning a Cavern of Souls and Glacial Chasm not being the deck,,, I think I favor Sylvan Scrying
Tempted to add Greenwarden of Murasa for more tutor-able recurrence.
Titania, Protector of Argoth Feels really good with the fetches, adding this
World Breaker and Terastodon kinda fill the same role a lot of times for me. World breaker is slightly cheaper and it can come back.
Multani, Yavimaya's Avatar feels like an auto add definitely if I'm dropping lands in both my grave and field.
3 months ago
Some upgrades, things to look for and think about:
First, your commander Aesi, Tyrant of Gyre Strait wants you to play lands and draw cards. Anything you can change towards that theme will help your deck run better. Also, there's some "sub-optimal" choices that could be upgraded for other things, some of which may have come with other commander precons, are really cheap, etc. Lastly, it looks like your paper version here has some token and +1/+1 counters sub-themes, which I'd bet would make your deck less focused, leading to more random things going on or you not being able to execute a game plan consistently.
So, with all that in mind, I would suggest some of the following changes, and my reasoning behind them:
Change Arcane Signet for Thought Vessel. Arcane Signet is good and all, but Thought Vessel will help with the unlimited hand size for the same amount of mana.
Change Wolfwillow Haven and Gift of Paradise for things like Kodama's Reach and Cultivate. Again, enchantments tend to eat removal, sometimes just by accident, where as lands generally don't.
Change Migration Path, Explosive Vegetation, and Vastwood Surge for things like Nature's Lore, Rampant Growth, Farseek, Three Visits, or Sakura-Tribe Elder.
You could change Crushing Vines for Beast Within, since Beast Within is more versatile, and it looks like you have enough bodies to protect yourself from a 3/3.
If you can get your hands on a Scute Swarm, you'll have some awesome token stuff to go on.
Also, if you can get your hands on a Tatyova, Benthic Druid, you'll have some redundancy and not have to rely solely upon your commander (for when it's died too many times, or you don't have the extra lands / fetch to keep your commander chugging along.
Ghost Town is a cheaper land that will let you pick it up on opponents turns, so you'll always have at least one land to play on your turn.
You might want to change some other bodies like Ornery Dilophosaur and Wren's Run Hydra for bodies that fetch lands like Wood Elves, Farhaven Elf, or others like it (like Elvish Rejuvenator and Springbloom Druid). This will give you blockers earlier, help you ramp, and make use of your commander later in the game too.
You could possibly upgrade your land base a little (in case you find yourself without the right colors often enough?). Some include Breeding Pool (which is on the $$ side), Hinterland Harbor, Rejuvenating Springs, Command Tower, and maybe a few more.
If you want a few bigger bodies to make use of your lands, I'd suggest Multani, Yavimaya's Avatar and Ulvenwald Hydra.
Hopefully this helps with how you think about your deck, some choices of cards, what you ultimately want the deck to do, and things to look for. Let me know if you have questions on choices or anything else.
6 months ago
An opponent activating Arcane Lighthouse will remove shroud, but that's not really something you can build around. Auras entering from a zone other than the stack don't target, so the copy of Gigantiform from kicking it could be attached, but that doesn't help too much with this deck idea. If you like the character rather than the card, Multani, Yavimaya's Avatar doesn't have shroud.
Load more