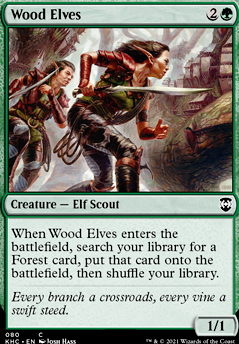 Wood Elves
Creature — Elf Scout
When Wood Elves enters the battlefield, search your library for a Forest card and put that card onto the battlefield. Then shuffle your library.
Latest Decks as Commander
Wood Elves Discussion
1 day ago
Hey! Kinda late, but I would like to suggest some stuff:
(Disclaimer: I have a budget way lower than yours, but I've been tinkering with Ghired for almost two years - he's my favorite commander. I'll break the suggested upgrades down into categories for better organization.)
Haste enablers:
Ramp: Run at least 15 ramp cards to make your deck flow smoother and faster.
As an aggressive deck, speed is fundamental. Fellwar Stone, Nature's Lore, Three Visits, Skyshroud Elf, Bloom Tender, Faeburrow Elder, Chromatic Lantern, Coalition Relic, Wood Elves, Skyshroud Claim and Mirari's Wake can ramp and heavily fix your mana, taking the place of Gyre Sage, Solemn Simulacrum, Rampant Growth, Sakura-Tribe Elder and Xenagos, the Reveler - the latter is a win-more ramp, and his 2/2 token is not large enough to synergize with the power-based card draw, while the other four fix for a single color of mana (Ghired decks can sometimes be color-hungry), and this deck can't abuse the sad robot for value.

In the land department, Krosan Verge and Blighted Woodland pull their weight, and synergize greatly with Avenger of Zendikar and Rampaging Baloths. Maybe remove Cascading Cataracts? (Your spells are not THAT color hungry.)
Direct damage:
Extra combats: You don't have to worry about your opponents' answers if they never get to their turn, so...
Boardwipes:
Card draw: Alongside ramp, it is my main concern with Ghired. I want to be able to rebuild my board after a boardwipe.
Some cards I suggest you to remove:
Some cool lands for you to try out: (landbase is my favorite part of deckbuilding)
I hope I've been of some help to you. I didn't suggest many token-related cards because I believe that, as long as you have decent ramp, draw and removal in your deck, you can win to your heart's content. Wanna throw in a Godsire? Do it. Prefer to clone your opponents' creatures with Hate Mirage? Go ahead. But the fundamentals of the deck is what makes it flow consistently. Have fun and smash 'em all (and run Doubling Season for extra fun) ;-)
2 weeks ago
I think you should cut: Brutalizer Exarch, Conduit of Ruin, Frost Titan, Giant Adephage, Myr Battlesphere, Oblivion Sower, Pelakka Wurm, Phyrexian Ingester, Rashmi, Eternities Crafter, Rattleclaw Mystic, Sagu Mauler, Simic Sky Swallower, Sphinx Ambassador, Stalking Vengeance, Tornado Elemental, Plasm Capture, Pandemonium, Sunken Hope, Tezzeret the Seeker, Chromatic Lantern, Darksteel Ingot, Disaster Radius, Explosive Vegetation, Heat Shimmer, Rude Awakening, and Spelltwine. As for lands, I do think you should replace: Izzet Boilerworks, Spawning Bed, and Temple of the False God.
I think you should add: Temur Sabertooth, Genesis Ultimatum, Etali, Primal Storm, Skyshroud Claim, Goreclaw, Terror of Qal Sisma, Sakura-Tribe Elder, Chaos Warp, Klauth, Unrivaled Ancient, Terror of the Peaks, Kodama of the East Tree, Reclamation Sage, Kogla, the Titan Ape, Consecrated Sphinx, Selvala, Heart of the Wilds, Wood Elves, Ilharg, the Raze-Boar, Diluvian Primordial, Prime Speaker Zegana, Release to the Wind, Return of the Wildspeaker, Nature's Lore, Three Visits, Garruk's Uprising, Guardian Project, Unnatural Growth, and Arcane Signet.
I do think one option that you have is replacing all signets with mana dorks like Birds of Paradise, Llanowar Elves, and Elvish Mystic
If you are able to find more slots, I think you should consider: Hullbreaker Horror, Thryx, the Sudden Storm (dependent on count of spells with 5 cmc or more), Soothsaying, Mulldrifter, Beast Whisperer (dependent on final count of creatures), Rishkar's Expertise, Turntimber Symbiosis  Flip, See the Unwritten, Balefire Dragon, Scourge of the Throne, Bane of Progress (I feel like you do not have a ton of high value artifacts or enchantments that would cause this to cripple you), Momir Vig, Simic Visionary, and Genesis Storm.
3 weeks ago
Cheap permenants that you can lay down with Vaevectis or other similar cards that then also give you mana: Wood Elves, Farhaven Elf, and Solemn Simulacrum and Yavimaya Elder also lets you draw so you can sac him with Asmadi for a profit. For similar "when permanent enters the battlefield" effect maybe Reclamation Sage and Acidic Slime.
Consider creating tokens to sac with Asmadi as well: Dragonlair Spider and Grave Titan
Asmadi is always a huge threat so you'll have to keep him safe with cards like Sylvan Safekeeper Swiftfoot Boots and Whispersilk Cloak.
Chaos Warp is a staple of jund and you could use it if someone tries to get rid of Asmadi. Deathsprout and Decimate are really good jund removal cards as well. Primal Surge is a lot of mana but a good alternative win condition.
Also assuming that Asmaldi gets to stay on the field then here are some good cards that let you make sure whatever you get with him is good: Augur of Autumn, Haunted Crossroads, Hua Tuo, Honored Physician, Varragoth, Bloodsky Sire, Brutalizer Exarch, Courser of Kruphix, Vizier of the Menagerie, Crystal Ball, and Call of the Wild. On the other hand, here are some cards to make sure whatever your opponents get from Asmaldi isn't good: Painful Memories, Agonizing Memories.
Then here are some big creatures you could get for free with Asmaldi: Woodfall Primus, Borborygmos Enraged, Kodama of the East Tree, and Artisan of Kozilek. Lurking Predators is also useful for this feature as well as setting up what's on top of your deck.
Mortuary Mire is probably a good addition to the deck as well.
3 weeks ago
I would add: Nature's Lore, Rampant Growth, Three Visits, Moss Diamond, Skyclave Relic, Glorious Sunrise, Elvish Mystic, Llanowar Elves, Arbor Elf, Llanowar Tribe, Reclamation Sage, Bala Ged Sanctuary  Flip Bane of Bala Ged Avenger of Zendikar Wood Elves Farhaven Elf Priest of Titania Archetype of Endurance Old Gnawbone Soul of the Harvest Scavenging Ooze Wolfbriar Elemental Howl of the Nightpack Harrow Scavenger Grounds Ezuri, Renegade Leader
1 month ago
Recently, I became involved in a conversation about the differences between artifact-based mana acceleration and land-based mana acceleration, and which type was better for certain decks, so I wish to start a thread to discuss those strategies/archetypes.
I shall presume that everyone here is familiar with those terms, but if they are not, artifact-based mana acceleration is the use of artifacts that generate mana, such as Sol Ring, Arcane Signet, Thought Vessel, Mind Stone, and so forth, whereas land-based mana acceleration is the use of cards hat put lands onto the battlefield, such as Rampant Growth, Explosive Vegetation, woods elves, Farhaven Elf, and so forth.
I, myself, prefer to use artifacts for my mana acceleration, because artifacts are usually colorless and, thus, can be put into (nearly) any deck, but I will use land-based mana acceleration for decks that are specifically designed to take advantage of such cards (such as my Chulane, Teller of Tales EDH deck, which focuses on creatures with abilities that trigger when they enter the battlefield and includes both the aforementioned Wood Elves and Farhaven Elf).
What does everyone else say about this? Do you prefer artifact-based or land-based mana acceleration?
2 months ago
Have you thought about Yavimaya Dryad to give someone a forest, possibly as a political deal, giving advantage now to another player, but being able to swing with your Forestwalkers later. Floor is a bad, non-elf Wood Elves to ramp yourself, ceiling is free attacks vs a player who helped you out somehow in exchange for a free land. Look out for any Lord Magnus decks out in the wild!
Load more