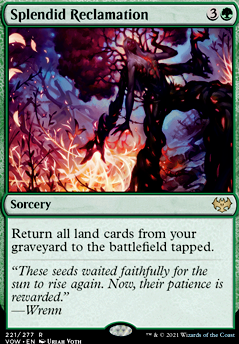 Splendid Reclamation
Sorcery
Return all land cards from your graveyard to the battlefield tapped.
Latest Decks as Commander
Splendid Reclamation Discussion
3 weeks ago
Kamerot I definitely like Ashaya; something I've noticed playing the deck is that unless I can really go off with Titania and generate a ton of elementals at once, they're pretty fragile and I find myself wanting to hold onto them as best I can. Having Ashaya on board and making those tokens expendable is very attractive.
As for World Shaper, the graveyard recursion package is a little weak at the moment, and for whatever reason I almost never see Splendid Reclamation while playing, so having that redundancy would be really nice.
Thanks for the suggestions!
3 weeks ago
unwucht, yeah Splendid Reclamation is a good option to add, especially after a Scapeshift, but I decided to stick with Life from the Loam over that when I chose between the two when I decided to not have both included. If I ever decide to switch back to a land destruction sub theme, I would definitely have Splendid Reclamation added. How has your brew been holding up? Any new adjustments? Any good stories to share? I've been experimenting with Kodama of the East Tree and a token generator with a bounce land as a combo, also, Kodama pairs well with Meloku the Clouded Mirror especially with a haste enabler onboard. It's been fun.
2 months ago
Innistrad has a fair number of farming related cards. We've got Heavy Mattock, Scorned Villager  Flip, Village Survivors, Lambholt Elder  Flip, Thatcher Revolt, Champion of Lambholt, Tireless Hauler  Flip, Eccentric Farmer, Hinterland Logger  Flip, Harvest Hand  Flip, Wild-Field Scarecrow, Splendid Reclamation, Crop Sigil, Woodcutter's Grit, and Field Creeper for cards I found that I think have farmer themes.
3 months ago
Part 2
Other Cards that you could consider cutting
Other Cards that you could consider adding
This is where the fun begins and your wallet cries
That is all I can think of at the moment. I'm sure I'll have more la
4 months ago
Hey man I LOVE THIS BUILD. Definitely a +1 from me! My deck is very similar and I'd love for you to check it out!
Here are my recommendations. They should all make sense. Just depends on if you think they'd be a good include:
- Squandered Resources - Tunneling Geopede - Underworld Breach - Scapeshift - Splendid Reclamation - Rain of Filth
Scapeshift because that card draw with your commander out would be sick!
Splendid Reclamation because it's be great to recover all those sacrificed lands and sacrifice them again!
Squandered Resources because it's a WAY BETTER land sac outlet than Zuran Orb or any other land sac outlet.
I'd LOVE to hear your thoughts and recommendations for my deck. Here's the link:
Load more