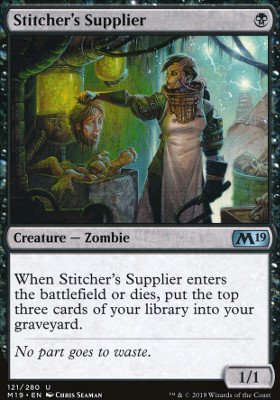 Legality
| | |
| --- | --- |
| Format | Legality |
| Pre-release | Legal |
| Tiny Leaders | Legal |
| Custom | Legal |
| Magic Duels | Legal |
| Canadian Highlander | Legal |
| Vintage | Legal |
| Modern | Legal |
| Arena | Legal |
| Standard | Legal |
| Leviathan | Legal |
| Legacy | Legal |
| Brawl | Legal |
| 1v1 Commander | Legal |
| Duel Commander | Legal |
| Oathbreaker | Legal |
| Unformat | Legal |
| Casual | Legal |
| Commander / EDH | Legal |
Related Questions
Stitcher's Supplier
Creature — Zombie
When Stitcher's Supplier enters the battlefield or dies, put the top three cards of your library into your graveyard.
Stitcher's Supplier Discussion
4 weeks ago
WUBRG87 Last thing I'd want is to sculpt your deck into something that doesn't feel like yours(!) - I love EDH's lack of homogeneity. Happy to give you my 2 cents with the direction I'd be thinking of from here though and with not too bad of a budget...
More of a sacrifice direction that isn't 'aristocrats'; add another altar ( Phyrexian Altar or Altar of Dementia ), maybe switch Dark Ritual for Culling the Weak - then you would have a good level of sac outlets to have some heavy hitters like Gray Merchant of Asphodel and Kokusho, the Evening Star replace Noble/Zula/Buccaneer. It's a bit contradictory adding sac outlets and removing aristocrats I know but I think the aristocrats make better use of volume (like tokens) and our boy Chainer is better off packing more value into a big recur-able punch.
Blood for Bones , Whisper, Blood Liturgist and Diabolic Intent could be included then too. I like your use of Desecrated Tomb here and it gives you fodder for those last three I mentioned.
If it were me, I'd be thinking:
Also, to your point about the 'Compet-o-meter', I'd say the impact will be from the system rating Zula/Noble highly because of combo involvement in decks that revolve around them and the Buccaneer showing up in Nekusar, the Mindrazer lists, which tend to be pretty savage!, rather than necessarily your changes being significantly worse one-for-one. I actually really like Embodiment of Agonies in this, it's cheap and can be a massive beatstick pretty easily.
1 month ago
I'm not the best when it comes to deck building but I can see there's lots to improve.
What to cut: - Darkblade Agent - Completely pointless and does not help develop your deck's strategy neither is it a win con.
1 month ago
Hey, interesting version of Varina, but why only 21 Zombies?
DemMeowsephs has the right idea try to make all your sources of white and blue come from dual lands that can make black mana or fetch you black mana. Budget lands to consider adding:
Adding these dual lands can let you cut Plains and Islands for more Swamps. Or some could replace lackluster dual lands such as Tranquil Cove and Sejiri Refuge.
Zombies within the budget to consider adding:
Varina can gain you life which can make Command the Dreadhorde a powerful mass reanimation spell since it can also reanimate your opponents' creatures/Planeswalkers. Liliana, Death's Majesty is good for Zombies; all of her loyalty abilities are busted repeatable effects. It's helpful to play at least one Planeswalker if choosing to play Command the Dreadhorde.
Wonder and Filth can be good support since Varina is an enabler to get cards into your graveyard making these essentially free effects. Giving flying or Swampwalk to your Zombie horde can be game winning. Cut more Plains than Islands if choose to play Wonder.
---
Cards to consider cutting:
Tranquil Cove and Sejiri Refuge
Macabre Waltz
Cemetery Recruitment
Hedron Archive
Greed
Ever After
Geralf's Mindcrusher
Swiftfoot Boots
Graf Harvest
Fumigate
Good luck with your deck.
1 month ago
Without knowing what your goal with the deck is, it is hard to give advise.
creature based land ramp is good with Meren because they can be recurred Sakura-Tribe Elder , Satyr Wayfinder , Wood Elves , Solemn Simulacrum , Yavimaya Elder .
free sac outlets are great; Ashnod's Altar , Altar of Dementia , Carrion Feeder , Phyrexian Altar , Viscera Seer .
self-mill to fill the yard; Stitcher's Supplier , Hermit Druid , Grisly Salvage .
creatures that have useful ETB or on Deathtriggers; Acidic Slime , Bane of Progress , Disciple of Bolas , Eternal Witness , Fleshbag Marauder , Golgari Findbroker , Plaguecrafter
And for a Meren deck it is hard not to suggest Spore Frog
1 month ago
i'm been testing and i'm leaning more towards Insolent Neonate than Stitcher's Supplier for late game draw to trigger dredge I've been having success with a Forgotten Cave to make up for the lack of flashback
1 month ago
But I like innovation! Part of the point of this was to try and see what staples I could get away with dropping. I get your point though, and the fact that I've moved into Zombie territory hasn't exactly stopped me wanting to load up the graveyard! I'll proxy this up and give it shot as well as perhaps swapping two each of Stitcher's Supplier / Gravecrawler for a set of Neonates. Might also give Tormenting Voice and Magmatic Insight a shot, the latter seems strong with Dakmor Salvage plus LftL but a bit more risky for us with our low land count and not having Wrenn and Six .
1 month ago
Its going to be hard to find a replacement for looting and I hope that they print something that pyro can use. One thing is for sure, I think a lot of people are falling for thinking that they have to put stuff in their graveyard at any cost. I dont really see that as being worth it to play Stitcher's Supplier just to be able to cast Lingering Souls from the graveyard. The idea behind mardi pyromancer is to get value and card advantage through effects like Faithless Looting , and thought looting is not in the format anymore and there is nothing nearly as efficient, you still have a lot of ways to still get value through powerful spells that make you discard cards. For now you have some other good options. You have Lightning Axe as potentially better removal than Fatal Push , and Collective Brutality or discard like Mind Rake . Those dont net you card advantage really, but it can get you value off of those good cards. To get value you have other options like Sarkhan, Fireblood and Nahiri, the Harbinger

maybe paired with emrakul, and you could also try Rotting Regisaur . I dont see all of these options as the best really, but I can see the deck functioning reasonably well by playing discard and spot removal in the first turns of the game, and then playing a Seasoned Pyromancer or a Sarkhan, Fireblood to seal the game out and get value with a turn 3 discard and draw. I dont know though, that may be clunky having a lot of spells you just really cant cast until the third or fourth turns of the game. but then again, you can also discard them early. I dont know. It looks hard and pyro would have to change drastically, but I think it could be a very reasonable deck. If you want to try it you could also go the route of using the goryos + obzidat combo that you see in esper sometimes that may be cool. That seems good in a slower deck. You could also pivot into a deck that doesnt rely on looting effects as much too. I have a midrange deck built around Dark Confidant and Dreadhorde Arcanist where you just get value by casting your cards naturally and recasting them, it doesn't cycle through as many spells like pyro used to, but it is a deck that I've had people mistake for pyro a lot and it is fun to play with. Thinking about it you could also play a pox type game and play Smallpox and Liliana of the Veil . With all of this later and more mana imtensive discard you could also play more free or cheap graveyard value cards such as Squee, Goblin Nabob or Bloodghast . Who knows, theres a lot of directions you could go, decks may even just use the newly unbanned Stoneforge Mystic . Anyways, I think the deck has a chance post-ban, but I think it has potential to be a reasonable deck like it used to be. I hope at least some of the cards I threw out may help to make a reasonable deck, and I wish you luck in remaking the deck. All the best.
1 month ago
So, now that looting is unfortunately banned in modern I am trying to think of a replacement. The first card that came to my mind was Cathartic Reunion , but I dislike the requirement of discarding two cards. My second thought was Tormenting Voice as the requirement is only one card to discard. I saw someone post Desperate Ravings as a possible option for other decks since it does have flashback. Insolent Neonate and Stitcher's Supplier are other options I had seen, but I feel like they are more appropriate for dredge and other graveyard specific decks. Does anyone else have some ideas for me?
Load more
Stitcher's Supplier occurrence in decks from the last year
Standard:
All decks: 0.1%
Commander / EDH:
All decks: 0.02%
Golgari: 0.08%