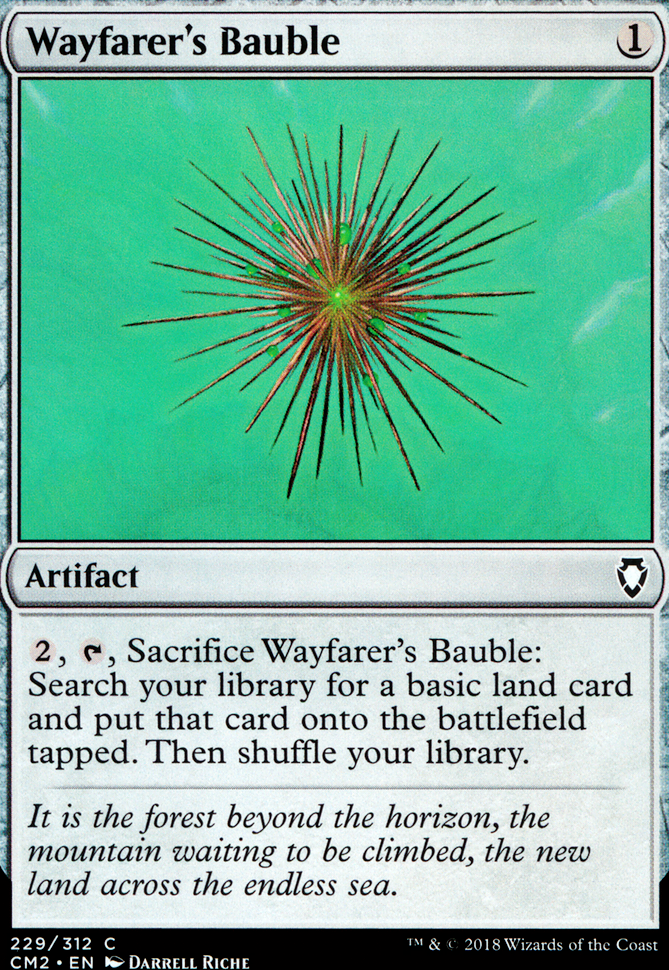 Legality
| | |
| --- | --- |
| Format | Legality |
| Tiny Leaders | Legal |
| Noble | Legal |
| Leviathan | Legal |
| Custom | Legal |
| Magic Duels | Legal |
| Canadian Highlander | Legal |
| Vintage | Legal |
| Modern | Legal |
| Casual | Legal |
| Pauper EDH | Legal |
| Vanguard | Legal |
| Legacy | Legal |
| Archenemy | Legal |
| Planechase | Legal |
| 1v1 Commander | Legal |
| Duel Commander | Legal |
| Oathbreaker | Legal |
| Unformat | Legal |
| Pauper | Legal |
| Commander / EDH | Legal |
Wayfarer's Bauble
Artifact
, , Sacrifice Wayfarer's Bauble: Search your library for a basic land card and put that card onto the battlefield tapped. Then shuffle your library.
---
CM2
C17
C15
CM2
C17
C15
MM2
C14
DDI
Wayfarer's Bauble Discussion
22 hours ago
Man, it really hurts me to see cards like Manalith and the Cluestones in commander. Also it seems to be common for decks to have way to little ramp (4 in this case). I would highly suggest running about 10 in every deck. In this deck, you might want to favor rocks that can help you cast Rakdos, Lord of Riots a turn early.
Cards that come to mind are:
There are also great colorless rocks, as well as rocks that don't help you cast
Rakdos
early, but that can give you big advanteges in the mid- to lategame. Please consider that you might not always be able to count on
Rakdos's
ability to cast your expensive creatures. If your commander gets stolen or permanently removed, you should have ways to not outright lose:
2 days ago
You asked for help, so here I am:


---
Paradox Engine
is banned.
Cut
Manalith
and
Chromatic Lantern
. They are fine cards but there are more efficient ramp options at only 2 mana:
Talisman of Indulgence
,
Talisman of Dominance
,
Talisman of Creativity
,
Fellwar Stone
,
Mind Stone
,
Thought Vessel
and
Wayfarer's Bauble
.
Some of your sorceries seem a bit clunky, like
Cruel Ultimatum
or
Life's Finale
.
Evacuation
and
Devastation Tide
are great boardwipes,
Crux of Fate
is a solid budget option and
Toxic Deluge
is amazing but a bit pricy.
Wurmcoil Engine
,
Noxious Gearhulk
,
Neheb, the Eternal
and
Massacre Wurm
are all quite highly costed and don't synergize well with the rest of the deck.
If you want to be mean, you could replace them with extra turn spells:
Time Warp
,
Part the Waterveil
and
Karn's Temporal Sundering
are reasonably priced, both in money and mana.
I personally would throw out all Guild Gates and raplace them with literally anything that does not enter tapped. A good budget replacement would be the pain lands:
Underground River
,
Shivan Reef
,
Sulfurous Springs
.
Lastly, cheap and efficient removal pieces I would consider are:
Doomblade
,
Go for the Throat
,
Reality Shift
,
Rapid Hybridization
and
Pongify
.
Load more
Wayfarer's Bauble occurrence in decks from the last year
Commander / EDH:
All decks: 0.09%
Black: 0.3%
White: 0.35%
Red: 0.29%
Blue: 0.26%
Rakdos: 0.31%