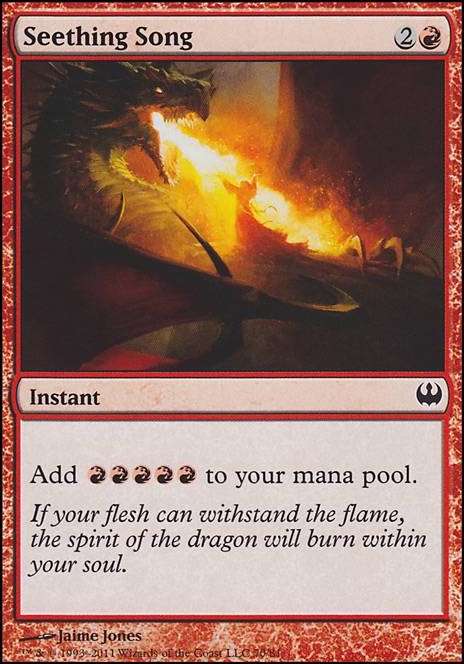 Seething Song
Instant
Add to your mana pool.
Browse Alters
View at Gatherer
Trade
Legality
| | |
| --- | --- |
| Format | Legality |
| Block Constructed | Legal |
| Highlander | Legal |
| Leviathan | Legal |
| 1v1 Commander | Legal |
| Canadian Highlander | Legal |
| Legacy | Legal |
| Pauper | Legal |
| Oathbreaker | Legal |
| Unformat | Legal |
| Noble | Legal |
| Magic Duels | Legal |
| Commander / EDH | Legal |
| Duel Commander | Legal |
| Penny Dreadful | Legal |
| Pauper EDH | Legal |
| Vintage | Legal |
| Casual | Legal |
| Tiny Leaders | Legal |
| 2019-10-04 | Legal |
Seething Song occurrence in decks from the last year
Commander / EDH:
All decks: 0.02%
Red: 0.36%
Seething Song Discussion
1 week ago
Contrary to popular belief, Boros doesn't have any harder of a time ramping than any other non-green color combination.
If you want to ramp early to get your general out faster, might I suggest some red ritual spells? Stuff like Seething Song or Pyretic Ritual. These give you a burst of red mana for a single turn that can really help get your general out several turns earlier. You already play Mana Vault which, let's be honest, is most of the time a ritual too since how often do you actually untap it?
On top of these early ritual effects, you could also consider playing some big-gun ritual effects like Mana Geyser or Brass's Bounty. While these aren't early game ramp, they can provide some explosive later-game turns.
I also heavily recommend cards like Underworld Breach and Past in Flames as these give you access to your ritual spells later game as well as your whole graveyard to re-use.
If you're already playing Smothering Tithe I recommend playing some more wheel effects. Wheel of Fortune is ideal, but if you don't have access to it you can instead play stuff like Magus of the Wheel.
Another few cards that might be good- your deck really wants to be making it's land drops every turn and would also really appreciate more ways to get card advantage, so cards like Land Tax (just got reprinted in double masters so it's high price tag just dropped!) or Gift of Estates or Tithe could help out a lot. At that point, draw effects that break even get better since you're plus-ing off of land effects, so your Faithless Looting and Tormenting Voice effects can swap lands for better cards.
Last few cards- if you've been liking Neheb, the Eternal, Neheb, Dreadhorde Champion could also be a really good card for the deck. It can cycle your cards into your big gun spells and then give you extra mana to fire off another burn spell. Deflecting Swat is an incredible card for this deck since it can do a bunch of shenanigans AND protect your commander. I think Flawless Maneuver would also be worth it to protect your commander.
That was a lot more than I expected, the ideas just kept flooding in hahaha. You know.... unfortunately it makes me want to build yet another Boros deck...... Why do I keep doing this to myself?
3 weeks ago
I think you need more ramp. I can suggest Llanowar Elves, Llanowar Tribe, Druid of the Cowl, Braid of Fire, Beanstalk Giant, Exploding Borders, Nissa's Renewal, Lotus Cobra, Hour of Promise, Circuitous Route, Skyshroud Claim, Nature's Lore, Rampant Growth, Garruk Wildspeaker, Dark Ritual, Cabal Ritual, Seething Song, and Irencrag Feat. Take your pick.
1 month ago
I think that the most competitive (and by far most interesting) way to build Illuna is something I saw someone else do: play only one nonland permanent. This is admittedly kind of crazy. The idea is to play token generators like Krenko's Command and such, play a lot of draw power like Ponder, a lot of one-time use mana spells like Seething Song, and finally, a single nonland permanent. I think the best two are either Omniscience, or, even more interesting, Proteus Staff. If you've ever played or know about Fblthp, you'll know that Proteus Staff and no creatures does wondrous things. Fblthp is already very competitive, but can struggle if they are not able to find the Proteus Staff quickly enough. This solves that problem. I think that with some thought, it could be extremely good. (The main issue will be that you will be most likely exiling half your deck. However, with Proteus Staff, some good deckbuilding, logic, and a little luck, it could be - explosive to say the least.)
1 month ago
Kalamata If you get to 4 experience counters then you can cast Desperate Ritual, Pyretic Ritual, or Seething Song and copy it with Reiterate. At four counters Mizzix will reduce the spell and buyback cost to just 2 red mana (Desperate Ritual, Pyretic Ritual, and Seething Song will produce more than 2). Therefore you produce infinite mana, rack up your storm count as high as you want, and then cast Banefire for the win. The storm count only really matters for Temporal Fissure, and Thousand-Year Storm is more of a bait than a mandatory win con (I usually win without it), but that's the main combo.
You can grab almost all of the pieces with Firemind's Foresight (Either Mystical Tutor (To grab Banefire), Whispers of the Muse (assuming you have 5 experience counters), or a counterspell for 1, Desperate Ritual for 2, and Reiterate on 3).
You can also win through Enter the Infinite and either Laboratory Maniac or Jace, Wielder of Mysteries.
Past in Flames, Mystic Retrieval, Snapcaster Mage, and Mizzix's Mastery give you redundancy and let you keep going even if someone stops or counters you (Though that is part of the reason we run so many counter spells).
All in all, the deck plays very quiet and unassuming until it's ready, at which point it explodes.
1 month ago
Hey, nice version of Ur-Dragon except the Gates.
I don't think the Gates strategy is worth it unless you're playing a main dedicated strategy of getting Gates and getting more out of them then just lands for Maze's End. What the Gates are doing here is making the manabase terribly slow for not enough benefit. Golos is a good card without Gates.
My advice for a budget manabase is replace the Gates with some Tri lands (Savage Lands), Battle lands (Cinder Glade) and the less expensive Check lands (Sulfur Falls). Add Exotic Orchard in place of Maze and add more basic lands. Of course this would be for a budget manabase. If you can spend more than there's many other better manabase configurations to use.
---
Temur Ascendancy and Elemental Bond are very good repeatable draw with Dragons because they also trigger when Dragon tokens are created such as from the Sarkhans, Utvara, Lathliss, Dragonmaster Outcast, Skyline Despot. Wasitora will trigger Bond each time a 3/3 Cat Dragon is created. When creature tokens are created they enter the battlefield (ETB). Ascendancy is another haste enabler. Whenever you put a Dragon onto the battlefield it ETB such as with Ur-Dragon, Teneb, the Harvester, Bladewing, Quicksilver Amulet triggers Ascendancy and Bond to draw.
Dark Ritual, Seething Song and Mana Geyser are three of the better rituals in Magic especially Geyser in multiplayer Commander since it looks at all your opponents tapped lands which can equal a lot of red mana on your turn.
---
Budget manabase example (38 lands with 26 red sources, 20 green, 16 white, 15 black, 15 blue):
8x Mountain
4x Forest
2x Plains
1x Swamp
1x Island
Command Tower
Mana Confluence
Cascading Cataracts
Path of Ancestry
Unclaimed Territory
Haven of the Spirit Dragon
Evolving Wilds
Terramorphic Expanse
Good luck with your deck.
Load more