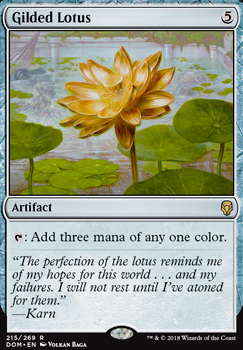 Gilded Lotus
Artifact
: Add three mana of any one color.
Browse Alters
View at Gatherer
Trade
Have (3)

m

e

t

a

l

m

a

g

i

c

,

A

z

d

r

a

n

a

x

, Bluboltar
Want (15)
PooChooTrain , Wingstar22 , Peza , Iname , BasedNorseman , androkguz ,

B

o

a

t

, Galvain , CardWizard , Nurarihyon , vaelroth , Grenchorne , coruscanda_est , Pyrezz , Cronosian
Legality
| | |
| --- | --- |
| Format | Legality |
| Tiny Leaders | Legal |
| Noble | Legal |
| Leviathan | Legal |
| Magic Duels | Legal |
| Canadian Highlander | Legal |
| Vintage | Legal |
| Modern | Legal |
| 2019-10-04 | Legal |
| Block Constructed | Legal |
| Pioneer | Legal |
| Vanguard | Legal |
| Legacy | Legal |
| Archenemy | Legal |
| Planechase | Legal |
| Frontier | Legal |
| 1v1 Commander | Legal |
| Duel Commander | Legal |
| Oathbreaker | Legal |
| Unformat | Legal |
| Casual | Legal |
| Commander / EDH | Legal |
Gilded Lotus occurrence in decks from the last year
Commander / EDH:
All decks: 0.21%
Blue: 0.86%
Red: 0.49%
White: 0.49%
Black: 0.36%
UR (Izzet): 1.1%
WU (Azorius): 1.19%
Rakdos: 0.44%
Golgari: 0.08%
WUB (Esper): 0.62%
UBR (Grixis): 0.65%
Gilded Lotus Discussion
4 days ago
These are all suggestions that will help make your deck function better as you can replace underperforming cards with ramp and card draw, both of which red desperately needs. Your land count is a little low given your avg cmc and your lack of ramp. I can imagine you have a hard time casting your higher cmc cards quite often
6 days ago
Burnished Hart has been a good creature in my Boros decks to get a little bit of ramp.
I'd work on getting Smothering Tithe into the main board as soon as you can since if it's not answered then it will net you a lot of mana.
I'd swap maybe Gilded Lotus for Worn Powerstone since it can come in a lot earlier and from my experience Lotus is often blown up a lot.
Neheb, the Eternal is a really good creature that can help you get a lot of mana if he sticks around and you are swinging in with your dragons.
Dowsing Dagger  Flip may be a nice equipment to slot in since you can often get through with a flying creature to get it to flip.
1 week ago
manbearpig90, I care less about the initial cost of a mana-generating artifact and more about how long it takes to pay itself back.
For example, Arcane Signet, Gilded Lotus and Thran Dynamo each take only two turns to pay themselves back, so I have them in nearly ever EDH deck that I have built, but the artifacts in the diamond cycle (Sky Diamond, Charcoal Diamond, and so forth) take three turns to pay themselves back, so I do not use them; the one exception to that is Chromatic Lantern, because of its amazingly useful ability (and the fact that it can be used immediately, whereas the diamonds cannot be, also helps).
1 week ago
So, in 3 color deck, this is basically a Gilded Lotus, and it only gets better with more colors? Sure, that is a decent one.
1 week ago
Continuing where I left off.
continuing from creatures
Something to consider when addressing what to drop for my suggestions is how it affects your overall strategy and politics. Ashenmoor Gouger looks good because on paper it can deal damage, but consider what happens if you draw it 10 turns in and the table has all dug in for the long game. Hyper aggressive cards of the sort that do little else aren't going to help you after the first few turns. Hackrobat, Rakdos Firewheeler, Thrill-Kill Assassin, and the like are what you should look for when hacking cards out of the deck in the creature department. You might be gearing up to go fast and hit hard, but you still are playing the "long game", if you can even call it that.
Support
Onwards we march, starting with the strict spell category. Here, you should be looking for either utility or pure power. Spot removal cards like Go for the Throat work in regular 60 card formats, but lose a ton of value as the game is slowed enough for that one spell to have a diminished effect because it can only hit a single creature, often to little effect. Now Bedevil, on the other hand, is outstanding because you can hold it for either an artifact or 'walker, thus expanding your range and making it always live and effective.
I did a brief skim of cards in Gatherer and from among my own decks, but don't be afraid to look at other decks or EDHRec for things that will help you. Just remember that your goal boils largely down to pinging to make Rakdos live, cards that Rakdos is payoff for, and utility general support that rounds out the deck.
Artifacts
Necessary gears to get the machine moving. Mostly it will boil down to mana rocks to accelerate your state, but there will be others that you want purely because they work well for you.
Lands
Here you can start to have some fun. Being 2-color, you do have to be somewhat mindful of what you're running, but you can definitely make use of a lot of offbeat lands since you're not trying to be a fool and mana fix 5 colors. Keep in mind that you may not necessarily need everything listed here, but it's just a matter of helping keep your ability to produce both colors consistent.
Chopping Block
I encourage you to think these things out on your own or ask friends about this part, because understanding the process of what and why things stay or go is important to understanding your deck. Below are my suggestions for what needs to get yeeted.
I know this all is sort of messy, but when making edits, start with comparable replacements (i.e. swapping a creature for a creature), run a few test turns, and see how things work.
1 week ago
lordlovat, I would very much like to see such lands, because it is ridiculous that WotC has not yet printed such a cycle (and, while I am discussing that, a full cycle of Nimbus Maze lands would be very awesome, as well).
TypicalTimmy, I suspected that that supposed leak was fake, but I still am disappointment to know for certain that it is, since it contained a very awesome mana-generating artifact that could have replaced Gilded Lotus in 4- and 5-colored EDH decks.
2 weeks ago
@king-saproling: (I apologize for mentioning you again; you okay there?)
OK. The Amount in question to cut has increased to 12 -> 15. But the stakes for cutting that much to 99 + 1 has never been more complicated. There are also some Key pieces I DON'T wish to call them quits for surprisingly decent Reasons. Here they are w/ Explanation & the like:
Meekstone: Uh, Oko, Thief of Crowns? YA RLY. Oko isn't just a Great Cook, he can turn an opponent's Creatures & Artifice to 3/3 Ability-less Elks. Tap them all, & your opponent's better have an option ready. But if you say Humility needs to be cut, do you think this combo can make for a better alt?
Teferi, Time Raveler: Uh, why? This card has High Synergy Value not just from Bouncing Stuff, but in particular: Wishclaw Talisman. These two are one of the best Combos for Superfriends. Just Tutor with the Claws...
Master Tang: THEY HURT LIKE CRAP, MAN! (No joke; he literally said that.)
...Bounce it before ANY opponent can nab it from you, & you got Synergetic Tutoring. The scariest part is that this Combo was very powerful while Teferi was around in Standard. YES. This was a legitimate Combo in Standard. Which also meant ARENA players had to deal with this Hell Clock. Ol' Master Tang himself wasn't kidding about his comment on Iron Claws.
(Reference of Note: Master Tang from Kung-Pow: Enter the Fist)
Ral Zarek: ... Err... Why no to him? He's got ALOT going here. He can Tap an Opponents Perms or Untap them, & yours too if you choose & Weiß Versa (There's a Bad Pun there). This can be set to Tap Artifacts & Creatures for stuff like Nahiri, the Harbinger to EXILE. These Perms don't even include the "Nonland" Restriction, so if an opponent has a response, you can Tap that land to restrict Mana Pool Levels. This also goes for their Rocks/Boulders to restrict their mana further. But in any way possible, as long as it is Not an Instant or Sorcery, IT'S A TARGET BEGGING TO BE WASTED OR EVEN REUSED. So much versatility, & the Scariest part? This ability increase Ral's Loyalty by +1. Not even 0 or even -1; this Loyalty Ability is not only potent, but it increases Loyalty. Though I will agree that -2 is lackluster in practice, though God help us all if Ral's -7 is altered in a way that the Amount of Heads in such a Game of Chance is blown to more than 5 shots for an Extra Turn each... XP Trust me, he's amazing.
I'd love to mention more, but these are my top contenders for what should stay (Unless Lethal Vapors can be used w/o something like Pithing Needle or even A creature like this...)
That said, What would your Final 15 cuts be in your case? I'd keep what I said (& Lethal Vapors if I had a noncreature Perm that is a Multi-Targeting Pithing Needle) for the reasons just said, & they sound like fine points to me. I'll try all I can otherwise, but for now, What would be your 15 cards to cut here?
(Can't believe I cut Tezzeret, Artifice Master; maybe something can be cut for him back in... Still owe you big time.)
3 weeks ago
Thank you so much for the input! I really appreciate it. :D
Some of the suggestions i've already had in the deck prior and for some reason or the other i felt like they didn't work that well yet (a lack of skill might also be a reason here), but i'm really intrigued by:
Cauldron of Souls – would be even greater if i hadn't just taken out most of my ETBs :D
Conqueror's Galleon  Flip – love how it would fit the curve during earlygame, but could be kinda tough to flip, since i usually dont have many dorks out.
Empowered Autogenerator – that one might just be plain awesome, just because it slowly ramps me to lategame and my local meta is quite light on artifact removal.
Inspiring Statuary – I've had it in when i played fewer artifacts before then took it out. But looking at what the deck has become now, i'm seriously considering putting it back in!
Gilded Lotus – I have no idea why i took it out. Especially cause i'm a little light on the 5-drops and i prefer a smooth curve for my Kozilek counters. ;)
Also: What do you think about Crashing Drawbridge, Minion Reflector or Herald's Horn?
Load more