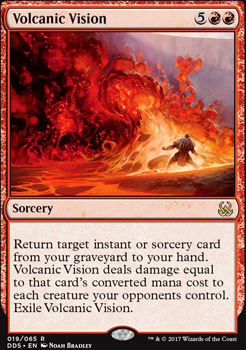 Legality
| | |
| --- | --- |
| Format | Legality |
| Pre-release | Legal |
| Tiny Leaders | Legal |
| Magic Duels | Legal |
| Vintage | Legal |
| Modern | Legal |
| Penny Dreadful | Legal |
| Casual | Legal |
| Leviathan | Legal |
| Legacy | Legal |
| Frontier | Legal |
| 1v1 Commander | Legal |
| Duel Commander | Legal |
| Unformat | Legal |
| Pauper | Legal |
| Commander / EDH | Legal |
Related Questions
Volcanic Vision
Sorcery
Return target instant or sorcery card from your graveyard to your hand. Volcanic Vision deals damage equal to that card's converted mana cost to each creature your opponents control. Exile Volcanic Vision.
Have (25)
Dr.Jackel , ZombieFood , Ellyreia ,

D

r

_

J

a

y

,

N

e

m

e

s

i

s

, joshw335 , zn.tportlock ,

A

t

r

o

x

r

e

a

p

e

r

,

G

r

a

n

t

l

e

y

9

1

, thetechzombie , darthnuchi , Caldazar , ironax , RPG_FOX , gildan_bladeborn ,

s

o

n

n

e

t

6

6

6

,

S

h

i

s

h

k

y

B

o

b

, Supremespeed , TheAlmostHero , SirCorey ,

m

a

z

r

i

m

t

a

i

m

, philktoken8998 ,

g

o

l

g

a

r

i

g

i

r

l

,

r

a

k

d

o

s

2

4

,

G

e

m

i

n

i

S

p

a

r

t

a

n

X

Want (0)
Volcanic Vision Discussion
1 month ago
You should check the Gatherer page for a card before asking a question here, as the rulings there already answer some of the most common confusions:
If a spell that exiles itself as part of its own resolution, such as Volcanic Vision, gains rebound, the ability that lets you cast the spell again wont be created. The spell will simply be exiled.
1 month ago
So this will be the same as my above comment. Anything I mention here does not mean that they are bad cards, rather I personally think they are less efficient for your deck's goals and strategies.
These are some cards I would look into cutting/replacing: Show
I won't suggest any more until you see these and gauge whether or not these would be good cuts and replacements. I know there is more you could do if you wanted to, so let's just see what you think so far before we get too crazy here! Haha. Keep me updated on what you're thinking, man! Always enjoy helping other players.
3 months ago
Hi NV_1980,
I love this deck! I really like when people go off the beaten track and come up with something original in their decks and I also like when cards in a deck synergize well with each other instead of being powerful good-stuff cards and you certainly accomplished both of these with this deck.
It is hard for me to give advice on deck without play-testing, so I will just write down some cards that seem to fit your deck well, but you will know better if they are actually worth playing.
3 months ago
If you want Instant/sorcery tribal, try Epic Experiment. It's absolutely mindblowing because you can cast so many cards off of the top without paying their mana costs if you get the X up high enough.
Personally, if you're making a Melek deck, I'd suggest slimming way down on creatures. Instants and sorceries are the show here, but here are a few creature suggestions, to help with Instant/sorcery casting:Hypersonic Dragon turns all of your sorceries into instants, very good for any Izzet spell-based decks.For sideboard, Baral, Chief of Compliance is something to consider. He gives the nice RU draw/discard ability when you counter something, and he slims the cost on instants/sorceries.Teferi, Mage of Zhalfir not only slows your opponent but makes cards like said Hypersonic Dragon be able to be cast at instant speed.
Now to the spells. They aren't all instants and sorceries, but that is the main focus of the deck.Leyline of Anticipation is just great all around.Cards like Swarm Intelligence are great, especially because if you cast the spell from you library, it stacks with Melek's ability. I noticed you have SI in your deck but there are more like that.Cast Through Time is fun, but it is a bit slow and such.Jace's Sanctum is not only a great early-game spell slimmer, but it also lets you dig a card to put instants and sorceries on top, to allow you to get Melek's trigger.Metallurgic Summonings: This card is absolutely broken in commander. I'll say no more.Mystical Tutor is so broken here it's not even funny.Past in Flames gives everything in your graveyard Flashback, which is so broken. Everything is broken here lol.Spelltwine lets you recast a spell from yours and an opponent's graveyard which is so good. You get something back for free and potentially a huge bomb from some other player's graveyard for free. Auto include right there.Volcanic Vision deals a ton of damage to all creatures and gets you a card back. It's ok, I'm including for fun.
5 months ago
It would be helpful in evaluating the deck if your description actually went in to more detail about your intended game plan and the interactions that the deck is built around. Without that information, it's hard to evaluate some of your choices.
Also, there's a lot of card choices here that are not great EDH cards. In some ways, this list looks a lot like if what you'd get if you took a reasonable 60-card constructed Izzet spells deck and brought it up to 100 cards by adding similar versions of the stuff that was great in the 60 card deck. Things like Rift Bolt, Vapor Snag, Delver of Secrets Flip and Monastery Swiftspear tend to be much worse in EDH than in normal games for a couple reasons:
As a 40-life format, they're almost trivial when pointed at face. Shock only does the work of Gut Shot.
Since the format tends to be slower, mana pools are larger and cheap, efficent spells that are so good in 60-card are massively outclassed by more powerful, more flexible options at higher CMCs. That's not to say that running a handful of cheap removals or counters isn't good, but you run a few of them to deal with very specific must-answer threats. They're not your bread and butter.
I'd also recommend cutting Browbeat. In EDH, nobody is really too sad to take 5. If you want to draw 3 cards, Treasure Cruise is just going to be insanely better. Mana Leak and Censor are probably going to be dead a huge portion of the time as well. Slightly more expensive hard counters are generally going to be better (or something like Arcane Denial, which is really good in EDH.
In terms of mana base, you probably want more mana rocks, too. While your average CMC isn't very high, your payoff cards are all pretty expensive and in a lot of cases, you're going to need to be casting a bunch of spells in a turn to really get things done. At the very least, I'd recommend adding Sol Ring and Izzet Signet. You might also consider something like Mind Stone or maybe even Dreamstone Hedron.
All that out of the way, there's some cards you might consider adding:
Good luck with the deck :)
6 months ago
The Rebound ability won't get a chance to do anything.
The full rules text of Rebound says "if this spell was cast from your hand, instead of putting it into your graveyard as it resolves, exile it and, at the beginning of your next upkeep, you may cast this card from exile without paying its mana cost". The use of the word "instead" means this is a replacement effect (replacing going to the graveyard with going to exile) that also creates a delayed triggered ability (the part starting with "at"). Since Volcanic Vision never starts to try to go to the graveyard as it resolves that means the replacement effect from Rebound can't be applied and the delayed trigger doesn't get created.
Load more