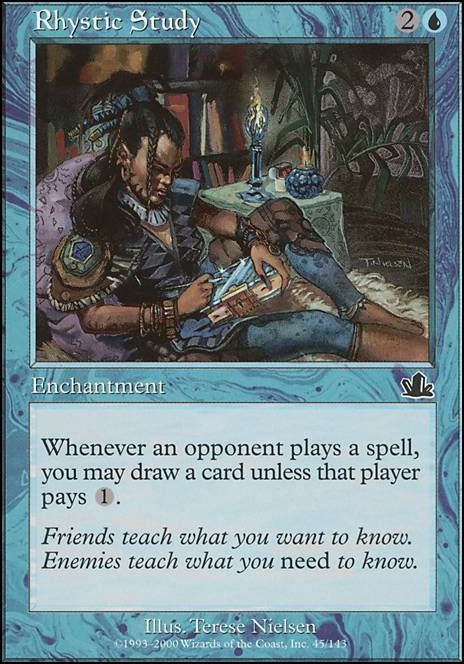 Legality
| | |
| --- | --- |
| Format | Legality |
| Tiny Leaders | Legal |
| Noble | Legal |
| Leviathan | Legal |
| Custom | Legal |
| Magic Duels | Legal |
| Canadian Highlander | Legal |
| Vintage | Legal |
| Casual | Legal |
| Pauper EDH | Legal |
| Vanguard | Legal |
| Legacy | Legal |
| Archenemy | Legal |
| Planechase | Legal |
| 1v1 Commander | Legal |
| Duel Commander | Legal |
| Oathbreaker | Legal |
| Unformat | Legal |
| Pauper | Legal |
| Commander / EDH | Legal |
Rhystic Study
Enchantment
Whenever an opponent casts a spell, you may draw a card unless that player pays .
---
Have (7)

K

i

l

l

D

a

t

B

U

G

,

H

e

l

l

s

i

n

g

,

F

o

r

k

b

e

a

r

d

,

A

z

d

r

a

n

a

x

, Thorion7 ,

S

k

e

t

c

h

y

S

c

r

i

b

b

l

e

r

,

C

a

m

p

b

e

l

l

S

t

e

v

Want (19)
jbbvader , olivo426 , gyrfalcon , Flamadiddle , maxxthreat , Frostwraith , Chunkeekong , Darkspy , splatterling , Lunchmonkey , Michuru81 , YukiHimuro , Morelly ,

R

i

d

e

r

s

_

o

f

_

B

r

o

h

a

n

,

L

o

r

d

_

O

l

g

a

, Timedrqgon , Mitchapaloser ,

Halbrecht

H

a

l

b

r

e

c

h

t

, mrpeabody123
Rhystic Study Discussion
1 day ago
@ jaymc1130 Doesn't matter what the background is really in commander as it isn't supported and you could say whatever you like or makeup even if it's true it doesn't really matter... I'm looking at it from this point of view:
(no offense taken or meant at all by the way just good discussion that trains the eye on BS or actual facts ;) )
(If by any chance you're a friend of a certain IRL guy butthurt over surrak and plays fake twisters please move on if not ALL GUCCI xxx ;) )
Competitive EDH decks are designed with a few principles in mind:
No Budget Zone - Tournament wise it is not allowed to proxy a card but don't hold yourself back and try it with friends in normal games! On this level of play having something cost 1 mana more (but does the same thing) or come one turn too late is detrimental and could have an opponent win before you could... Second place is not what a deck like this is looking for... upgrades to cards you have is a must! flexible cards that do the same but better > Narrow cards that do specific things...

The Idea - No spite plays, no-nonsense politics, proper threat assessment. An ideal competitive player wants to make the correct decision at every point in the game, and competitive players should strive to reach that ideal regardless of any emotions... (tournament wise top 3 is what you are looking for consistently but pushing for #1 at all times)

Competitive Viability - Some Decks or Strategies are better than others end of story. While it's hard to define how good a strategy must be to be, It's consistency and other traits it has to push limits of what others can't do is what defines it to be viable...

Consistency - In a Dataless world of Cedh it's hard to communicate why this or that works better. tweaking and tuning a deck therefor is key to improve on its consistency and the outcome of this can be seen regularly if one attends tournaments or Leagues that do play commander or 4 man pods on the same level that should feel threatened by your deck at stages as early as turn 2 or 3...

The "Turn 3" rule - cEDH has become a lot faster and faster with new releases. Right now, the critical turn on which you need to be able to either consistently threaten a win or an insurmountable advantage or have the means to stop others from winning, be it through interaction spells or static effects, is turn 3. If your deck isn't consistently relevant by turn 3, it's not competitive.
This all does not mean that everyone should only be playing the same proven decks or cards over and over, but choosing to hamstring yourself when clearly stronger options exist does not fall within the scope of competitive EDH.
cookie-cutter rule of law!
actual friends and pods are irrelevant even if they bring your "15K" decks to the table they still might suck and play different from what a blind tournament setting would offer :)
Unwinding Clock . #Worththeslotformaximumcompetitiveness!

The Tabernacle at Pendrell Vale boi the construct can die for all I care to pay for Urza the turn after... and 1 mana for the only relevant creature that we really want to keep is fine by me as opposed to people struggling with dorks... #Worththeslotformaximumcompetitiveness!

Tezzeret the Seeker #Worththeslotformaximumcompetitiveness!

Fabricate If you find an upgrade to Fabricate that is not a silly mage let me know ;). #Worththeslotformaximumcompetitiveness!

Rhystic Study / Verity Circle personal preference, both equally good in either meta... Circle just requires dorks which see a lot of play anyway Rhystic doesn't need anything to do its job. #Worththeslotformaximumcompetitiveness!

I'm Liking Sai at the moment. Not going to look at Future Sight though at all!

Crystal Shard : Plays 6 creatures, borders on unnecessary and just Any generic spell under Scepter + Paradox is way more effective. not a fan of adding dead slots... Switch this to the clock and you'll perform better...

Trini and mages remain a big NONO especially mages narrowness... Trini can be played but you can NEVER effectively break parity on it. not a necessary slot at all. and will not be an addition to this version ever...

Aether Spellbomb : Borders on unnecessary I don't know what meta you are really coming from but slow down there champ... this card SUCKS I'd rather play any artifact I have now over this... passing the turn with constructs to attack with? we already have swans so Nty to more dead slots... sac for a single draw while on already compact and very powerful combo's and better artifacts, NTY! I mean just play Opt or something instead and you'll see an increase in consistency ;)
The Playgroup is irrelevant as pods of friends offer nothing but tuned builds on those specific pods.. again I'm looking at it from the Cedh point of view mentioned before and blind meta (for ex tournaments, leagues, where 100% is the standard... even tough in this dataless world of Cedh I can fairly easily say this deck could compete without problem in any of your pods ;).
Again no offense taken, but you should reconsider and research a bit more decks if you're going to suggest crystal shards xD and claim to be a pro at anything ;)... thanks for the input though and be sure to check other Urza's out there right now as they'll be pretty close to resembling this one I hope but I'm sure they do!
1 day ago
Hey, @jaymc1130, Thanks for the in Depth response I really appreciate it!
"there are a number of choices that are particularly awkward in terms of Cedh and prevent this list from being as competitive as it could be"
Now that would be merely a biased opinion in a dataless world were no tournament viable feedback or anything else is available except for some wonky "FUNmander" youtube channels that attempt to play "Cedh" but don't even come close to what a tournament setting and maximum competitiveness would represent...
Either way, Our commander league, Tournaments, and FNM over here don't mean anything either but the experience of some of our pods are easily on par or even way better than any player on any power/tier/whatever list or any channel/stream you can imagine (not talking about the garbage command zone, TeamTurnThree, or star-city games but most of them are irrelevant anyway as they always have the 4-5-6-7 same people in 4 man pods which does not mean anything either regarding consistency or tournament level competitive viability ;) )!
Nonetheless, I will go over your thoughts with care, but my list seems to have been outdated when you were typing: s
(Cards marked with were already cut during the time of your writing and for some reason you saw an outdated build or my deck hadn't updated yet nonetheless I left at 19:00 ish after the feature and update I did :) )
Yeet !
Your exclusions?
1 - Aetherflux Reservoir was already cut, the list just didn't want to update for an entire day now but this card isn't needed indeed...
1.1 - Jace, Wielder of Mysteries Though is an equally okay flex slot as for example "consul" or "tainted pact" routes as an extra backup when loopable spells no longer become an option or get used/exiled along the way... Just going for the same strategy is often not always possible and this can fight trough rule of law effects/sphere/ and heavy Stax meta pretty easy regardless of being drawn or not... while just exiling the entire deck under Urza and only having to resolve Jace and a +1 winds-of-rebuke/Labman/and also drawing you a card +1 ... you can side it out pretty easily here as well with any generic draw or interaction spell like you mentioned later on.
I' de say it's consistency would definitely not suffer from running Jace...
---
2 - Time Spiral : same as fluxervoir... didn't update for the longest time was taken out around 19:00 - 20:00 before featuring it as I had to go to work but yeah still working on the list, after tests and what not xD
---
3 - Unwinding Clock I can see where you are coming from but being able to tap out for single/multiple activations of Urza or tapping out for anything else and still untapping to be able to interact again still sounds good enough for me. Perhaps sinks could use it to create more advantages but I'm pretty sure just 1 or 2 of those won't make the difference... Yisan also loves its Seedborn Muse although here it's a bit more specific for artifacts and Urza...
---
4 - The Tabernacle at Pendrell Vale It is Just too good in dork/tymna/frog/ or 90% of the decks that need their commander in play to actually do something Meta (najeela,sissay,yisan,gitrog,selvala,and the list goes on and on and on)... + great against Hatebears.. it is fairly expensive sure but if it's not in your budget just use any utility land you see fit or an extra island...
---
5 - Gilded Lotus : List didn't update...
---
6 - Tezzeret the Seeker

: Tezzeret is a wincon -5 + more mana +1 + a tutor for everything this deck is about so definitely not the wrong deck for it...
---
7 - Fabricate : Mages are too narrow and don't even compare to Fabricate as it can fetch any artifact at the same CMC so why handicap yourself on specific CMC when you, for example, aren't looking for that CMC 2 card and could have won using a way more flexible tutor...
---
8 - Fellwar Stone : Fellwar stone 70 % of the time always taps for blue... But you're right there are better Artifacts to slot in, but since I'm on so many I'm actually going to give Sai a shot as he can also combo with some of the cards already in the deck and draw cards...
---
9 - Merchant Scroll , Dig Through Time , and Fact or Fiction : The cards have always worked and will always work + dig deep so they are kinda auto-includes for me and many others amongst the Cedh community.
---
10 - Rhystic Study : Hmm, even if they pay for it it has done its job pretty damn well... The amount of time you can come back from otherwise lost games with this card is Absurd... even if it's only one extra card per turn cycle it's worth it and on many occasions, not everyone can afford to pay up... This is a Mono-Blue deck and will have a lot of grindy games so why not grind harder than everyone else? Again if you don't forget the trigger having them pay 1 more for everything sounds like an auto-include one-sided sphere effect to me with the added bonus of drawing you and generating card advantage at any stage of the game if they don't or can't...
========================================
Onto your inclusions for this deck:
11 - Crystal Shard : Just no... pretty bad card...
---
12 - Voltaic Key : List didn't update...
---
13 - Trophy Mage : Mages are too narrow...
---
14 - Tangle Wire is okay to run but does die off rather quickly and should see more play in Stax heavier Urza decks... But Trinisphere As mentioned in the primer can only effectively be shut off during the end step of the opponents turn before your turn... it untaps in your turn and you can not break parity like you can with the orbs... Because using it for mana during your turn shuts it off for the others... So a no go for any Urza deck compared to the orb effects... even playing null rod is better than playing trinipshere here...
---
15 - Aether Spellbomb : Casting Urza and recasting Urza is a bad and slow plan I'm not committing this deck to and requires more dead slots... I'm fairly happy with the artifact suite right now + The Monolith package as it works and wins if it resolves paired with their respective pieces... I've been on Oona long enough and yea having more pieces to the puzzle that do the same and work together is pretty nice...
---
16 - Pongify and Rapid Hybridization : Are In the maybeboard, they are flex slots if your meta has more creature win conditions but here it's too mixed to have full effect from these (also loopable spell slots if you don't want a bird army but an ape army for example... the same goes for Reality Shift under a second scepter (copy artifact) it still requires a target for it to work though, but can be a wincon when looped)
---
17 - Mishra's Workshop : Sounds pretty good, to be honest!
1 day ago
My recommendations:
New Commander: Ramos, Dragon Engine or Morophon, the Boundless
Either of these would fit the theme of your deck better and would assist you in casting and running the deck.
Cut:
Altar of the Brood - Doesn't fit what you're doing and doesn't assist in your goal
Ghostfire Blade - Not good enough. You're running Eldrazi. They're big enough and powerful enough to take care of themselves
Mycosynth Lattice - This doesn't help you. Most of your stuff is colorless so this only helps your opponents cast spells and places a glaring weakness that a card like Vandalblast can easily exploit.
Bonds of Mortality - You're running annihilator and massive creatures. You're rarely worried about the occasional hexproof creature, and you shouldn't have an issue with the occasional enchantment or artifact. Eldrazi overwhelm. Don't sweat the small stuff.
Prismatic Omen - This doesn't help you enough. Most of your stuff is colorless so this doesn't do a crazy amount for you. In addition, you're running Chromatic Lantern which will do this and also produces mana on top of it.
Ashiok, Nightmare Weaver - Why? This has nothing to do with your deck
Despark - There are better removal options, but as an eldrazi tribal deck you'd be better off playing cards that protect and accelerate you rather than this.
Wear / Tear - While decent, you don't usually need to hit both at once and it's multiple colors. I'd run Naturalize or Krosan Grip instead.
Fathom Feeder - ...No. Just no.
Mist Intruder - While this and Fathom Feeder are both eldrazi, just because you're running a tribal deck doesn't mean you have to run every tribal card, nor only tribal cards. Cut this and see my suggestions for cards to replace it with.
Khenra Charioteer - There are better alternatives
Vile Aggregate - You're running eldrazi. You're going tall rather than wide so you're unlikely to ever really have enough creatures out at once to really make this card worth running.
Bojuka Bog - Not worth it. It comes out tapped and unless someone is both running a graveyard deck and has enough good cards in it at the same time, you're not going to get enough value out of this, or if you want to save it for that, then you have a dead land in hand and there would be far better cards like Rest in Peace and such.
Gateway Plaza - Comes in tapped, costs an additional mana to play, and only gives one mana. Too slow and not good enough.
Ruins of Oran-Rief - You're running Eldrazi. You really don't need one more +1/+1. A colored mana would assist you more here as it would also help you pay for and colored spells you would like to cast.
Add:
Akroma's Memorial - This is a fantastic card that in your deck would be a win con. I would recommend running this over Eldrazi Monument as it does a lot more and doesn't force you to sacrifice your important eldrazi.
Privileged Position - An absolutely amazing card that I run in every deck that can run it. Full protection on ALL your permanents.
Sterling Grove - Protection for all your enchantments and allows you to fetch any that you need.
Krosan Grip - Guaranteed removal on artifacts or enchantments.
Ramos, Dragon Engine - You're running a five colored big boy deck. This enables it and since it's colorless it'll be relatively easy for you to cast.
Archetype of Endurance - Fantastic protection and a powerful creature to run. As a plus it fulfills some of the same roles as the cards you ran that removed hexproof.
Archetype of Aggression - Replaces your Khenra Charioteer as a much better, single color, alternative.
Kozilek, Butcher of Truth - Great card draw, annihilator, reshuffles your graveyard which prevents mill and keeps your deck running even after a board wipe, and a giant eldrazi god, all built into one card.
Kozilek, the Great Distortion - Card draw, counter protection, and a menacing eldrazi god. Who could ask for more?
Emrakul, the Promised End - Reduced costs, protection, flying, trample, steals a turn, and an eldrazi god. Nuff said.
Temur Ascendancy - Replaces or in addition to Fervor . Haste plus card draw and your creatures are almost all going to trigger it.
Demonic Tutor - Fantastic fetch card.
Vampiric Tutor - Fantastic fetch card.
Harsh Mercy - Tribal board wipe
Explosive Vegetation - Land fetch
Skyshroud Claim - Land fetch that comes in untapped. If you upgrade your landbase to include cards like Breeding Pool (see recommendations lower), you can use this and cards like Nature's Lore to fetch them and bring them in untapped.
Patriarch's Bidding - Full board wipe recovery, and/or a kill card if you have a haste enabler on the board.
Heroic Intervention - Top Tier instant speed protection.
Teferi's Protection - Top Tier instant speed protection
Cyclonic Rift - One of the best board wipes in the game. Cannot be protected against, reset's their entire board, and leaves you in a fantastic position.
Enlightened Tutor - Artifact/Enchantment Fetch
Worldly Tutor - Creature Fetch
Mystical Tutor - Instant/Sorcery Fetch
Urza's Incubator - Eldrazi cost reduction
Descendants' Path - Free Eldrazi casts
Rhystic Study - Fantastic card draw
Bloom Tender - In a 5-color deck this card is amazing ramp.
Birds of Paradise - Any color ramp for 1
Ugin, the Spirit Dragon - Does this require explanation in a colorless deck?
Beast Within - Destroys any permanent. This is a fantastic card to run as a mere 3/3 beast shouldn't bother you, and even if it would, it's likely far better than what they previously had.
Chaos Warp - Removes any permanent. Can be used on your own stuff to pull a new permanent out of your deck if needed. Bypasses indestructible.
See the Unwritten - Need I say more?
Tooth and Nail - Need I say more?
Exploration - Amazing ramp. Accelerates your turns
Burgeoning - See Exploration
Mana Reflection - The best mana doubler, bar none.
Zendikar Resurgent - Mana doubler plus card draw
Smothering Tithe - One of the best ramp cards
Oracle of Mul Daya - Fantastic acceleration. Combines with other accelerators such as Exploration and Burgeoning as they can now play lands off the top of your library as well.
Second Sunrise - Full boardwipe recovery
Defense of the Heart - Easy free creature drops
Mirari's Wake - Mana doubler plus anthem
Faith's Reward - Full, personal, boardwipe recovery
Seedborn Muse - One of the best cards you can run, bar none.
Commander's Sphere - 3 drop mana rock that can tap for all colors. Replaces your banners (ex. Vanquisher's Banner )
Darksteel Ingot - 3 drop indestructible mana rock that can tap for all colors. Replaces your banners (ex. Vanquisher's Banner )
Recommended Land Additions/Swaps:
Cavern of Souls
Reflecting Pool
Urborg, Tomb of Yawgmoth - Mana coverage, allows your fetch and colorless lands to tap for colored if they need
Cabal Coffers - Combines with Urborg, Tomb of Yawgmoth to generates metric butt tons of mana
Arid Mesa
Bloodstained Mire
Flooded Strand
Marsh Flats
Misty Rainforest
Scalding Tarn
Verdant Catacombs
Windswept Heath
Wooded Foothills
Blood Crypt
Breeding Pool
Hallowed Fountain
Overgrown Tomb
Polluted Delta
Steam Vents
Stomping Ground
Watery Grave
Fetch lands and shock lands are fantastic upgrades to your deck. Fetch lands let you pull the exact lands you need and let them come in untapped, and shock lands can both be fetched because they say the actual land type (ex. Breeding Pool is a Forest Island), and can come in untapped or tapped depending on what you need. Coming in untapped and generating multiple colors gives a distinct advantage over mono-colored lands and lands that must come in tapped.
Maybe Cut:
Eldrazi Monument - Hurts you too much and doesn't generate enough benefit. If you can't get a weak creature out in time, or don't have one available, you'll either have a dead card in hand that you don't want to cast, or one that hurts you badly. If you want indestructible, look at cards like Boros Charm or Heroic Intervention .
From Beyond - Too slow and doesn't do enough.
Why?:
Relic of Progenitus - Not worth it. Run Rest in Peace or other such cards instead.
A tribal deck isn't limited to only cards of its tribe, but rather is mostly one tribe and has several cards that accelerate and power up the tribe. Hence my recommendation is that you cut a few of the weaker cards that are unnecessary and instead run a few non-tribal cards that strengthen, accelerate, and assist your deck.
1 day ago
Interesting build, but there are a number of choices that are particularly awkward in terms of cEDH and prevent this list from being as competitive as it could be.
First and foremost: Aetherflux Reservoir and Jace, Wielder of Mysteries . At 4 mana these cards are on the slower side for cEDH, and what's worse is both are only good in the situation where you are actively in the process of comboing off. 99% of the time you draw these they will be dead cards. You will lose more games per 100 played against top tier decks just running these cards than if you ran any 2 other random cards. Much too card slot inefficient for cEDH, I personally would never run either of them in any cEDH deck and expect to win consistently.
Time Spiral : If you already own and are running Timetwister then including this card seems very odd. It can't loop your Timetwister and is very difficult to cast. It's not a terrible inclusion for the purpose it serves, it's just that running it makes the deck less consistent in terms of opening hands and early plays as it will also be a dead card outside of actually comboing off. Another card that is too inefficient card slot wise to make the cut for cEDH.
Unwinding Clock : Cute, but it doesn't really have much synergy with the rest of the list. I'm looking for mana sinks that can repeatedly make use of the extra mana available, but Sai is in your maybe cards, there is no Kefnet or similar effect, not even so much as a Compulsion to generate value from the Clock triggers. Ultimately this Unwinding Clock is a card that is already fringe viable for cEDH and while I think there might be an Urza build that could make good use of it your current list seems rather lacking in it's ability to leverage that extra mana for maximum value.
The Tabernacle at Pendrell Vale : I'll be honest, I immediately included this card in my original lists as well. And then I play tested with it and found out that it was often proving more of an impediment to me than my opponents. Urza + Construct makes for a hefty upkeep tax without considering any other creatures that might come into play on your side or that you might wind up with multiple huge constructs out that are a serious threat you don't want to sacrifice but also can't afford to keep if you want to be able to interact with an opponent. I made the choice to cut this card and keep it as a side board option for specific creature heavy meta's where I'd run a less creature intense list myself and this decision wasn't all that difficult. It's also an extremely expensive card so many people who are not as lucky as I am to own a copy will find it difficult to accommodate.
Gilded Lotus : While this card is a staple for CVT decks, it's not a relevant card the majority of the time for an Urza deck. Urza is already turning all artifacts into mana rocks, it costs 5 mana, and since Urza makes blue mana the colored mana is also not relevant. Fine card, wrong deck for it though.
Tezzeret the Seeker

: Similar to Gilded Lotus, this card is a staple for CVT, but out of place in Urza decks. Too mana intensive, a bit on the slow side, and running Paradox Engine as a primary means of untapping basically turns him into a 5 mana artifact tutor that can't fetch Paradox Engine itself. Fine card, probably the wrong deck.
Fabricate : I've been back and forth on including this and ultimately have opted not to run it. I think it's an acceptable card to run, even if it's a bit on the edge of what's truly cEDH viable, but Urza builds focused on low cost artifacts can probably get more value from the tutor mages (Trophy, Trinket, Tribute). Particularly when combined with an Urza must run card I will get to later, the mages out perform Fabricate for their ability to be reused and as blockers that can trade for Tmnya (a very important consideration in cEDH).
Fellwar Stone : In a mono blue deck where all your artifacts are regularly turned into blue moxen this card seriously under performs when compared to Thought Vessel or Mind Stone which offer some utility outside of being pure mana rocks. It seems like a very odd inclusion if the goal is to be cEDH level competitive. Card slot efficiency is key and the other options mentioned bring more to the table.
Merchant Scroll , Dig Through Time , and Fact or Fiction : I've elected not to run any of these for the time being, let me know how they work for you. I'd be really interested to hear how consistently they create the right kind of value as these are options I have on my radar but feel there are better inclusions.
Rhystic Study : Is a card I've cut from every single cEDH deck I have. The meta has become to grindy with games taking quite a long time and tons of mana available to every player for this card to generate any value at all in my games. Everyone pays for it every time, it's just too slow to get it out, and the mana spent to deny draws seems to very rarely impact opponent's abilities to interact appropriately. I consider this card at the moment to be extreme fringe viable for cEDH at best.
On to some noticeable exceptions from your list.
Crystal Shard : This card is an absolute must run win con for Paradox Engine Urza lists for cEDH. It's hands down proven to be the single most reliable and effective method of winning games in my testing so far and should be run even by budget lists as the card is very affordable to acquire. Generating an infinite army of infinitely large creatures that generate exponential mana ramp all at one time is more than enough to win games. It's never a dead card as it can generate value outside of winning the game where cards like Jace and Aetherflux cannot and is easier to cast than either. A must run for cEDH Paradox Urza lists.
Voltaic Key : Another must run combo enabler and value generator card for any Paradox deck of any color that also runs Top and mana rocks. Just assembling Key, Top, Engine, and mana rocks totaling at least 2 mana production means infinite draw and untap triggers, infinite storm count, and eventually infinite mana as you draw into more rocks. Absolute must run for cEDH viability. At worst it's a 1 cmc mana rock, at best it wins you the game.
Trophy Mage : A quality value body that can find a number of pieces that buy Urza the time needed to go off or the all important Crystal Shard (often the first target, so you can reuse the mage repeatedly for the other targets).
Tangle Wire and Trinisphere : Already running Static Orb, so Tangle Wire should be a no brainer to completely lock down opposing board states and create an opportunity to combo off. Trinisphere, likewise, can be better leveraged by Urza than any other commander and can seriously complicate opponent's abilities to interact, advance board state, etc. Easy to tutor for with Trophy Mage. Turn into mana rocks that allow you to deactivate their effects at will. The best time buying options available to cEDH Urza lists.
Aether Spellbomb : Already running Academy Ruins and Candelabra, so this should be an auto include. Worst case scenario, it's a one cmc mana rock. Situational use scenario, it can interact with the board when needed. Best case scenario, it wins the game through allowing repeated castings of Urza, or infinite draw triggers to draw itself (using Ruins to put it on top of library before it's draw trigger resolves) which generate infinite spell casts for infinite Paradox untap triggers for infinite mana to do basically anything you would like. Must run if already running Candelabra and Ruins.
Rings of Brighthearth and Basalt Monolith : I run these as a flex combo for extra resiliency and more consistent access to infinite mana generation. Between Paradox Engine, Dramatic Scepter, and these its going to be very difficult for opponents to shut down all our infinite mana generation options with a lucky Ashiok, Dream Render activation or similar effect. These two also happen to be easy to tutor for as Trophy mage can target them both. Brighthearth also combos with SDT for multiple draw triggers allowing the drawing of the whole deck and infinite spell casts into infinite untaps with Paradox Engine out for 1 more mana than Key+Top. Redundancy like this where multiple pieces all provide the same net effect makes the deck's performance more consistent against other top tier decks that will all be running tons of interaction and disruption elements that can often stifle your first, second, or even third attempts to position for a win.
Pongify and Rapid Hybridization : Cheap effective creature interaction in a color that often lacks good ways to deal with creatures. I'm not running Gilded Drake at the moment, but that has more to do with my meta not including good targets for it (like Gitrog Monster). These 3 cards are going to be the primary means of dealing with a troublesome creature for cEDH Urza lists, and you must be able to run enough interaction to interact often enough in the longer, grindier meta of cEDH at the moment.
Mishra's Workshop : Doesn't feel like a must run to me, but I have rather enjoyed it's performance in my games thus far. Particularly potent on turn 1 when you have multiple mana rocks in hand and can enable extremely early Paradox Engine drops.
I've got my list here if you'd like to take a look: Looper
4 days ago
Mystic Remora in many cases can draw you more cards in a game than a Rhystic Study even if it's up for only 2 turns. Though yeah put some money into that land base, that many lands that enter tapped is definitely slowing this deck to a crawl.
4 days ago
Rhystic Study ? Since you mentioned before about not having enough card draw.
4 days ago
DerektheRed yah I thought my land base was iffy, fortunately I had a extra copy of Chromatic Lantern the lands are nice so I guess they are going in. I know Baleful Strix is a staple in Dimir or Esper, but I feel like I could find a better card to help me win. So that leaves me 15 dollars open. Maybe a Rhystic Study for the extra 5 dollars. Anyways thx for the suggestions. P.S GhostChieftain Demonic Tutor is 30 dollars, though I am trying to keep this deck casual, but slightly competitive, I would add that but one copy is in my Yawgmoth. Competitive deck. Also I don't exactly have a wide collection
Load more
Rhystic Study occurrence in decks from the last year
Commander / EDH:
All decks: 0.17%
Blue: 0.84%
WU (Azorius): 1.76%
UR (Izzet): 0.87%
UB (Dimir): 1.22%
GU (Simic): 0.67%
WUB (Esper): 0.9%
UBR (Grixis): 0.64%
BUG (Sultai): 0.56%
GWU (Bant): 1.09%