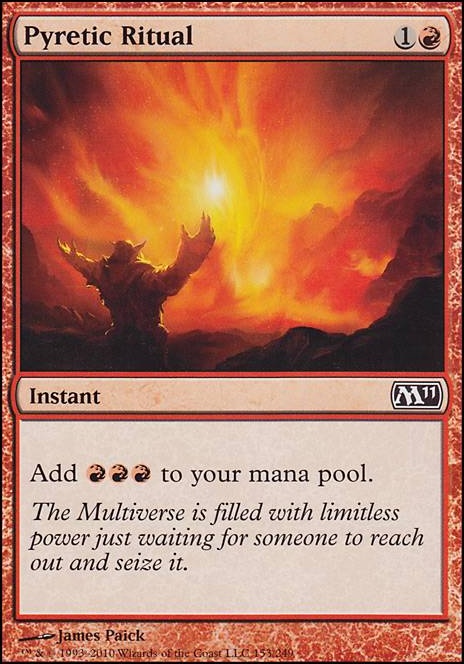 Legality
| | |
| --- | --- |
| Format | Legality |
| Pre-release | Legal |
| Noble | Legal |
| Leviathan | Legal |
| Tiny Leaders | Legal |
| Magic Duels | Legal |
| Vintage | Legal |
| Modern | Legal |
| Casual | Legal |
| Vanguard | Legal |
| Legacy | Legal |
| Archenemy | Legal |
| Planechase | Legal |
| 1v1 Commander | Legal |
| Duel Commander | Legal |
| Unformat | Legal |
| Pauper | Legal |
| Commander / EDH | Legal |
Pyretic Ritual
Instant
Add 3R to your mana pool.
Pyretic Ritual Discussion
1 week ago
thegigibeast, Actually, in terms of wincons for Past in Flames, I think the Dualcaster Mage combo has more going for it than Aetherflux Reservoir.
Sure AR costs 1 less than Dualcaster Mage + Twinflame, but AR has some problems in this deck. Mainly that conspired or copied spells don't count toward its total, and also that unlike Storm decks, we probably won't have cast more than 3 spells in for the turn before casting it. We don't want to have to load up on too many instants and sorceries to be sure to kill the table.
Dualcaster Mage + Twinflame on the other hand doesn't require any mana over 5, always kills the table if we have combat, and also only needs to Regrowth one card.
Also, thegigibeast, I would not discount Surrak, the Hunt Caller as a haste enabler for HD, as you can always remedy going off post-combat by flashbacking Seize the Day.
Lightning Mauler can be another haste enabler for HD if you need one more CMC in your Hulk pile, and since your current Hulk pile is 5 CMC I would definitely include Sylvan Safekeeper in the deck.
1 month ago
Happy Holidays to all!
Looking for specific UR Storm pieces. The ones marked in Bold are the ones I only want Foil at this point. The others marked foil I'd be open to regular or foil at this point.
Want:
3x Baral, Chief of Compliance


3x Goblin Electromancer

1x Desperate Ritual


2x Grapeshot


3x Remand


4x Manamorphose (MMA Only)
3x Pyretic Ritual
4x Sleight of Hand Starter or Portal 2
1x Noxious Revival
2x Empty the Warrens
1x Gigadrowse
4x Pieces of the Puzzle
1x Wipe Away
Also potentially interested in:
4x Shivan Reef

I have my Binder, as well as some unlisted if trading for multiple cards is an option, otherwise I can look at other binders.
Load more