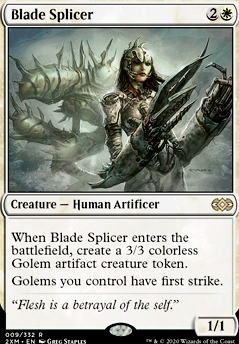 Blade Splicer
Creature — Human Artificer
When this enters the battlefield, create a 3/3 colorless Golem artifact creature token.
Golem creatures you control have first strike.
Latest Decks as Commander
Blade Splicer Discussion
4 months ago
To BloodDragon,
Thanks for stopping by my hot mesh of cards I like to call Naya Tron. I really appreciate when other players ask me in-depth questions about my deck. It makes me evaluate what I'm trying to do. In the midst of answering your questions, I found some flaws that I feel like I was able to correct.
How many Tokens/Treasures do you find you are actually getting it to play? In games are you actually closing it out with a Tall-Commanders, or just going wide with Thopters and Golems? Some combination of Tall-Golems thanks to Ich-T? Or are you closing games out more combo-style with the mentioned R.Fireweaver, Terror of the Peaks, or Alibou?
I am finding that I can produce a moderate amount of token. However, this deck is called "Gonna Need a Bigger Playmat", not "This Can All Fit Just Fine on the Playmat." I've been debating with myself if I need three token doublers. I think that answer might be no. Because of that, I added Servo Schematic to the main deck. This creates precious artifact creature tokens on ETB, LTB, and is an artifact itself. I thought about adding Pia Nalaar or Pia and Kiran Nalaar for the Thopter tokens. However, I wanted something that was loopable with things like Daretti or Goblin Welder . Tangent aside, this deck, generally, closes out the game with a combination of burning out the table and applied pressure with tokens. There is a line where Ich-T and all the golems get infinite +1/+1 counters, but I haven't put that to use yet. Also, Chandra, Torch of Defiance is another burn outlet and gets ultimated more often than you think.
I feel like I am not understanding all the Pop-rocks you have (Lotus Petal, Chromatic Sphere, Etc) are you managing to get Teshar/Osgir consistently? Does this deck go in for the kill extremely fast? Or am I missing the point all together here?
This deck isn't a fast kill deck. It has more infinite combos than intended, but this build is meant for the mid-game. Like in Modern Tron, I want my mid-game much faster than everyone else at the table. For example, I've gone Ancient Tomb into Mana Vault , played Lotus Petal , then played Hour of Promise . Now, this was the absolute nut draw, but that was capable due to fast mana like Lotus Petal . The pop-rocks are like artifact-based cantrips. I can't count the numerous times I've played Ancient Stirrings off of a Tron land due to Chromatic Star or Chromatic Sphere .
For me, Teshar and Osgir play different roles. Teshar is more for recurring my low CMC creatures during the grindy mid-late game. With Teshar, I want to loop cards like Goblin Engineer and Blade Splicer for value. The exception to this rule is if I have a way to sacrifice or put Dockside Extortionist in the graveyard. If I have that setup, I'm going for that line of play immediately. Osgir, on the other hand, is more for explosive lines of play. This could be ramping hard with multiple Mana Vault s for Sol Ring s. For me, the synergy between the artifact lands and Osgir is too good to pass up, even without a token doubler. Though I save the bombs of this deck for Feldon of the Third Path , there are times when exiling them with Osgir is an option. For example, I don't need Wurmcoil Engine or Verdurous Gearhulk if I'm Feldon looping Triplicate Titan . I've gladly sac those options to get two token copies of those beaters. If Alibou, Ancient Witness

is on the field, I'm more inclined to go for this option.
And between all the Land/Urza synergies you seem to be aiming for did Tireless Tracker or Crucible of Worlds end up not performing well? Have you considered Wrenn and Six for land recursion?
At one point, I consider using both Tireless Tracker and Crucible of Worlds in the 99. However, they both didn't make the cut for one core reason. This deck, besides Hour of Promise and Sad Robot, makes one land drop per turn. Thus, making one clue token per turn is ok, but there are better things I can be doing at three mana. As for Crucible, Eternal Witness is my answer if I need lands back.
4 months ago
More changes!
of course, now I need to plan a new sideboard
5 months ago
2-drop mana dorks like Iron Myr , Gold Myr , Manakin , Hedron Crawler , Plague Myr , Wily Goblin , and Magda, Brazen Outlaw seem good with Winota since they get her out faster, and then once she's out they can attack to trigger her ability.
You might like these too: Loyal Apprentice , Geist-Honored Monk , Knight-Captain of Eos , Pia and Kiran Nalaar , Attended Knight , Blade Splicer , Gallant Cavalry , Urbis Protector , Master Splicer
5 months ago
This two might come very handy cos they boost golems: Vital Splicer and Maul Splicer . If you like golems maybe you can try to change the parnter adding another color so you can play cards like Blade Splicer .
See you around, nice deck friend <3
6 months ago
You might like these: Signal Pest , Copper Myr , Gold Myr , Guardian Idol , Scuttlemutt , Alloy Myr , Boros Keyrune , Fountain of Ichor , Thunder Totem , Tome of Legends , Slate of Ancestry , Captain's Claws , Gratuitous Violence , Gisela, Blade of Goldnight , Master's Call , Blade Splicer
7 months ago
Very nice article, berryjon! This was a fun look at one of my favorite mechanics, and was a pleasure to read. I will dispute the article's conclusion though, as whether or not flickering wins games depends entirely on what's being flickered.
Everybody knows card draw can win games, by ensuring you have the cards you need to win, so one of the most powerful effects flickering can abuse is card draw.
Watcher for Tomorrow and Sea Gate Oracle are great blink targets because they not only put a card in your hand, they also filter through your deck quickly, digging 3 or 4 cards deep with each ETB. Mulldrifter and Cloudblazer don't dig as deep, but make up for it by giving you 2 cards with every blink.
Another powerful, potentially game-winning ETB effect is token creation. Thragtusk is well-known for being a great flicker target, as it's 3/3 Beast token comes with a side helping of 3 life, and Armada Wurm starts as a great deal, with 10 trampling power for 6 mana, and just gets better with every flicker.
My personal favorite blink targets are the Splicers, e.g. Blade Splicer who not only produce 3/3 Golems, they boost their abilities as well. Nothing says inevitable victory quite like a couple of Soulherder flickering a Blade Splicer and a Master Splicer every turn, before you finally drop that Wing Splicer and have your Golem army fly in for the win!
Thanks again for covering one of my favorite subjects, I had a fun time both reading and replying to this one! As always, I look forward to your next article!
Load more