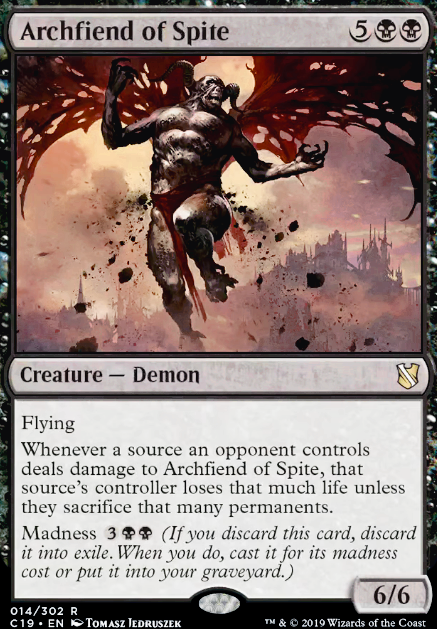 Legality
| | |
| --- | --- |
| Format | Legality |
| Tiny Leaders | Legal |
| 1v1 Commander | Legal |
| Magic Duels | Legal |
| Leviathan | Legal |
| Duel Commander | Legal |
| Oathbreaker | Legal |
| Commander / EDH | Legal |
Archfiend of Spite
Creature — Demon
Flying
Whenever a source an opponent controls deals damage to Archfiend of Spite, that source's controller loses that much life unless they sacrifice that many permanents.
Madness (If you discard this card, you may cast it for its madness cost instead of putting it into the graveyard.)
Archfiend of Spite Discussion
1 month ago
I dig it.
Generally, I'd include fewer Madness cards that buff your creatures and include more tutors, reanimation spells, and control pieces to help you buy time to find your combo. Black damage taxes are good, like Dread or No Mercy .
Archfiend of Ifnir over Archfiend of Spite . Maybe some more modular wipes (like Crux of Fate , Decree of Pain , or Kindred Dominance ) + spells like Grim Return or Endless Obedience . Have a way to win with other people's decks after they exile your graveyard or Worldgorger Dragon .
Maybe play Talisman of Dominance over any other rock than your signet. Play a cost reducer or two, as well, like Jet Medallion or Ruby Medallion , or more 2-drop rocks like Charcoal Diamond and Fire Diamond . I'd play the red and black cycle lands for extra draw/dig/loot, as well.
No data for this card yet.