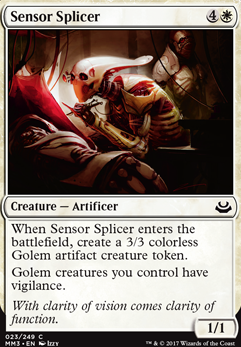 Tokens
Legality
1 year ago
I agree with the suggestion for Rebbec, Architect of Ascension or at least include her. In no particular order: They are reprinting Three Visits, which is strictly better than rampant growth. Nature's Lore is good too. Cavalier of Dawn can be used on your own artifacts. Guardian Idol is a good ramp card early and doubles as a Golem. Land Tax is rarely going to be worth it in a green land ramping deck. Maul Splicer is expensive, but trample is good evasion for decent sized golems. Sensor Splicer gives vigilance. Vital Splicer gives the ability to regenerate for 1. It's not great, but is another creature you can bounce for more golems. Ichor Wellspring is a great target for both self destruction and recursion, in case of opponents having no artifacts to destroy. Arcbound Reclaimer for ensuring you get a good draw. Ancient Stone Idol for a really big boi. Ancestral Statue can replay splicers or get rid of bad auras. Also you have a lot of stuff like myrsmith, palladium myr, and I think those might be better served by a couple more treasure/clue/food generation cards. Treasure Map  Flip, Prying Blade, or Tireless Tracker, Ulvenwald Mysteries, or Gilded Goose (replacing Avacyns pilgrim). Any decent equipment, but especially a Bloodforged Battle-Axe. Maul of the Skyclaves, Heirloom Blade. Swords are good. And as always: Lightning Greaves Swiftfoot Boots Skullclamp Running a bunch of basics is always cheaper, but if you have a couple of bucks consider the following mostly budget additions. Homeward Path Scattered Groves is cheap and fetchable. Gavony Township for more counters. Gingerbread Cabin for an artifact with your land. Krosan Verge/Myriad Landscapefor mana fixing ramp. Command Tower because it's better than a basic. Path of Ancestry because the splicers are all human. Evolving Wilds/Terramorphic Expanse/Fabled Passage Blighted Woodland Sungrass Prairie Opal Palace
2 years ago
I enjoyed the article, nicely written as always.
Obviously there are too many Lords for you to list them all, but my personal favorite are the Splicers (Blade Splicer, Master Splicer, Maul Splicer, Sensor Splicer, Vital Splicer, and Wing Splicer).
I think they're really flavorful (roboticists who specialize in working on golems, can apply their specialty to any golem, and who always bring one from the shop whenever they show up) and fun to build around. They're a strong example of what I most love about Lords.
3 years ago
There are probably two ways to do golem tribal, the first, which is in RB would be reanimator effects Trash for Treasure and Endless Obedience probably being your best options, with Platinum Emperion and Mycosynth Golem as the creatures you want to cheat into play. The second option is the splicers, primarily these appear in GW; Blade Splicer, Master Splicer, Vital Splicer, Sensor Splicer and Maul Splicer (for completeness there is a blue splicer Wing Splicer). in addition to these, white also gives you access to Tempered Steel.
If you want a straight up Golem agro deck then that is a little harder. You almost certainly want Lodestone Golem and Golden Guardian Flip, but early plays are difficult in tribe Chronomaton and Keeper of the Lens are the only 1 mana golems and Soultether Golem the only 2 mana option.
You certainly have set yourself a challenge, the tron lands and cavern will eat land hate and your chosen tribe doesn't have much support, particularly if you aren't playing white or blue. I recently helped another player build an artifact deck Sai and tezzy demo, the aim of which is basically to spam thopter tokens. One card that stands out as not really fitting is Hollow One, since Smuggler's Copter isn't enough support for it. I wish you luck with your brew and hope I've been of some help...
4 years ago
No problem! Consider Sensor Splicer might be too expensive but its an option.
Load more