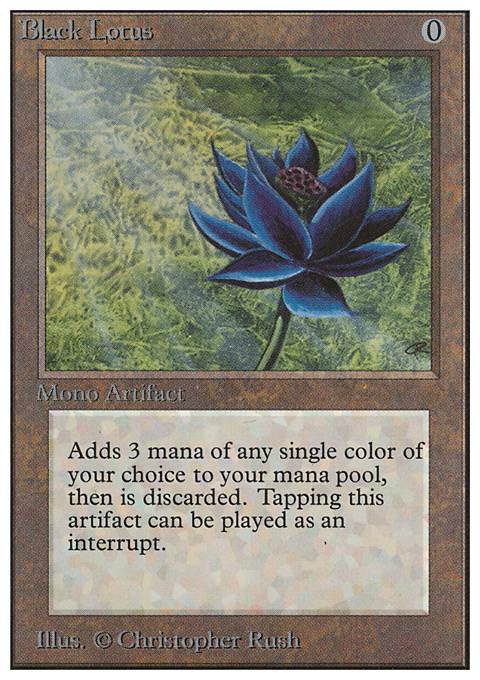 Legality
| | |
| --- | --- |
| Format | Legality |
| Tiny Leaders | Legal |
| Magic Duels | Legal |
| Canadian Highlander | Legal |
| Vintage | Legal |
| Penny Dreadful | Legal |
| Oldschool 93/94 | Legal |
| MTGO | Legal |
| Vanguard | Legal |
| Leviathan | Legal |
| Archenemy | Legal |
| Planechase | Legal |
| Unformat | Legal |
| Casual | Legal |
| Oathbreaker | Legal |
Related Questions
Black Lotus
Artifact
, Sacrifice Black Lotus: Add three mana of any one color to your mana pool.
Black Lotus Discussion
2 weeks ago
I remember several years ago I was talking to a friend of mine who had a Black Lotus . He told me how he sold it in like 2004 for a few grand. I informed him that (At the time of the conversation) it was going for around $13,000 (Alpha Lotus).
I checked Card Kingdom's Price and it's at $75,000.
So I checked an Index and it seems like on most large sites prices have tanked to $0.00 while three sites stand out in particular:
AUB Games (Who?)
Best Buylist Price (Again, who??)
Card Kingdom - Who it appears settled on $40,000 before selling out their collection
So it seems like whomever this AUB and Buylist are, they are buying a LOT of cards.
The same upward trend is seen on Mox Ruby , making me wonder if someone out there bought into a massive position of Power Nine cards? If so, that sounds to me like some sort of insider trading might be going on.
If someone feels like dumping hundreds of thousands of dollars into Magic, does that mean something is coming? Nobody invests that much without a reason.
It looks like yes, all Power Nine cards have this same trend with the same buyers.
It seems like AUB Games was Copyrighted in 2019.
Honestly, this seriously pisses me off. Like, by a lot.
Yes, most of these cards were out of the budget range for a lot of players. Yet at the same time, it was always a possibility to build good credit and buy one using a credit card. You could finance options and restructure your finances if you really wanted to.
Cards that cost several thousand to around $13,000 were goals people who were really dedicated could reasonably see. For those who are passionate and determined, $13,000 on a card - or even $5,500 - is no different than saving up for car, a set for your music instruments, building a gaming station in your room, putting a downpayment on a house, or even just taking that vacation you've always wanted.
But now some bastard group shot those same cards up by the tens of thousands, meaning nobody except the extremely wealthy can buy them anymore.
And that pisses me off.
Those cards don't do any good sitting on a shelf collecting dust. You can put the value of a card at $75,000 or $120,000 or even $1M but if nobody can buy it, it's worthless.
So now those cards that players and collectors were working toward and hoping to one day acquire are effectively gone forever. And all because some group of degenerate bastard assholes drove the price so freaking high that there is no possible way to obtain them.
I'm sorry, but it's not right. We aren't dealing with Google and Amazon stock here. We are dealing with collectables and pieces of a card game.
This is absurd and shouldn't have happened.
1 month ago
Yes, that's an absurdly broken Tezzeret. But at the same time, it's your choice to pay that much life in, let's be honest, T2.
T1 in Legacy / Vintage with a Black Lotus .
1 month ago
Saw one of your posts - just so you know, you can link cards using double brackets, like so:
Cards: [[Black Lotus]]

Users: [[user:Caerwyn]]

Decks, you start by taking the last part of the Deck's URL, then use either of the following.  So, for your Alta deck (http://tappedout.net/mtg-decks/21-10-19-ETi-atla-palani/), it would be: 

[[deck:21-10-19-ETi-atla-palani]]

OR

[[deck-large:21-10-19-ETi-atla-palani]]

Cards: Black Lotus
Users: Caerwyn
Decks:
OR
---

Commander / EDH* Astarocy
0 VIEWS | IN 1 FOLDER
---
2 months ago
This is relatively minor, and I'm probably the only person who has been bothered by it, so no need to rush on the fix.
For the past couple of months, whenever you post a link to a card, it adds a space after the linked object. This seems to only apply to cards, not persons, decks, or external links. Here's some examples--notice the comma and period placements.
Cards: [[card:Opt]], [[Opt]].

Other link types: [[user:Caerwyn]], [[Caerwyn]].

2 months ago
Okay, welcome Mordamen!
The membership fee is $500 or a copy of Black Lotus . Send it to the following address and we'll get you started:
The Deckwatch c.o. Kong Ming
555 Not a Real St.
Pre. 2, 10th Dist., Ravnica

3 months ago
So there're a lot of different directions you can take RG decks. I'll suggest some basic, universal additions first, and then suggest some win conditions:
Universal
Win Conditions
Oftentimes, green-red decks win through a combination of Stax pieces and aggro cards.
Potential Stax Pieces:
Aggro Cards:
Most of the best green decks end the game with an alpha-strike. Craterhoof Behemoth is the best for this, as it can be tutored out with Natural Order or a high-cost Green Sun's Zenith . Similarly, Overrun is good, but I suggest Triumph of the Hordes as a more potent alternative. This does, of course, require creatures on the board, so I suggest some of the following duders:
...and the aforementioned hatebears can also attack.
Good luck! That's all I got.
Load more
No data for this card yet.