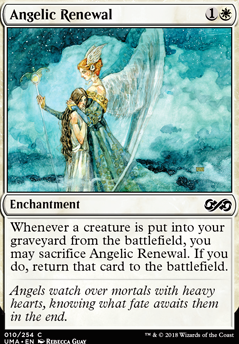 Angelic Renewal
Enchantment
Whenever a creature is put into your graveyard from battlefield, you may sacrifice Angelic Renewal. If you do, return that card to the battlefield.
Browse Alters
Trade
Legality
| | |
| --- | --- |
| Format | Legality |
| 1v1 Commander | Legal |
| Canadian Highlander | Legal |
| Commander / EDH | Legal |
| Duel Commander | Legal |
| Highlander | Legal |
| Legacy | Legal |
| Leviathan | Legal |
| Limited | Legal |
| Oathbreaker | Legal |
| Pauper | Legal |
| Pauper EDH | Legal |
| Tiny Leaders | Legal |
| Unformat | Legal |
| Vintage | Legal |
| Casual | Legal |
| Custom | Legal |
| Quest Magic | Legal |
Latest Decks as Commander
Angelic Renewal Discussion
1 month ago
Sup lobsternips!
As a baseline, you'll need to add lands, which I'm sure you know. Since you're making Treasure and Gold tokens in this deck you'd probably be good with roughly 34-36 lands, leaning more to the most mana color you'll need, say like a 25/25/50 split if thats what you're going for.
That basically does it for my brief review, hope I was of some help!
1 month ago
Hi TheShadowNite!
Love to see more Nethroi deck articles there, I also have a Nethroi EDH deck (NETHROI: EERIE PATH OF DEATH) but I'm still trying to improve it bit by bit. I've played other reanimator decks in the past (being a classic Meren player), and when Ikoria released Nethroi gived me a fresh and awesome legend to work in Abzan, a color combination that I loved but I didn't like previous commander options. My Nethroi deck is a bit more high CMC casual one, with some timmy stompy creatures, just because I already own more powerful decks for more competitive games, but still like to learn how people power up Nethroi. And if you include creatures like Eternal Witness or Skullwinder , you'll be able to loop thoses sorceries without limit.
Love your idea of including the Animate Dead + Leonin Relic-Warder combo. In my deck I play some combos too (like persist creatures + Good-Fortune Unicorn / Luminous Broodmoth and Sun Titan + Angelic Renewal / Fiend Hunter ) but as I also play Animate Dead , I could fit the Relic-warder or change some of my combos for it!
By the way, what do you think about Fauna Shaman and Fiend Artisan ?. Both help fill the graveyard while tutoring any needed creature for each situation. I play them a lot in many graveyard decks.
More ideas:
Lurrus of the Dream-Den your deck has a very low CMC, you'll be able to abuse Lurrus to keep the engine going before you reach Nethroi or late game-ending plays. Eerie Ultimatum I play it just because not always you can play Nethroi, it may ge countered or the mutation host destroyed... but having the Ultimatium as another way of mass reanimate can help and take the opponents unawared. It will also reanimate any permanent: lands, artifacts, enchantments... so powerful. Similar Living Dead: a classic reanimator deck staple, can act as a mass removal / mass reanimator / both... I think it's key.
1 month ago
More changes!
of course, now I need to plan a new sideboard
2 months ago
So, while Scaretiller would give us more grind potential I don't feel he's necessary. He's a 4 mana 1/4 that requires us to have lands in hand or lands in the graveyard. Sure, we have things Cathartic Reunion and Evolving Wilds but he provides no immediate value and short of adding in cards like Springleaf Drum and vehicle cards we're going to need to attack to get value.
Already have Angelic Renewal in the deck; the 4 mana reanimation spells were a consideration but I didn't feel they warranted a spot due only having 3 creatures that cost more than 4 mana. Sure, we can cheat commander tax and sneak out a Crusher or get a cool etb that gives us monarch or gets back a combo piece - but it'd come at the cost of speed. Pedh decks already struggle enough to keep up with normal decks.
I do like the cycle on Marshaling Cry I may try it out in place of rally
The enchantments that return themselves could also be usful - definitely risky but I do like sudo-card advantage
The mana filter is an idea but definitely makes the combo have even more moving parts. I don't see it providing much value outside of the combo but I suppose that would require some play testing to truly determine.
Lastly, we already have Impact Tremors in the deck. I appreciate the suggestions and the compliments though. I have a feeling this deck will scale up.
2 months ago
I like the deck, but I'd like to make four suggestions:
Scaretiller can get you lands out of your graveyard, which is especially good since you'll probably discard a few and it triggers Quintorious, as well as being one of the only ways to land ramp in Boros and it does well with Evolving Wilds, Terramorphic Expanse, and, if you want to add them, the Panoramas.
Reanimation Spells like Angelic Renewal , Breath of Life , False Defeat , or Resurrection are also pretty good for the deck too I'd say. They trigger Quintorious, can regrab a utility creature like a monarch card or a graveyard to hand card to double trigger if you need it, cheat out Ulamog's Crusher, or just basically cheat on Quintorious's Commander tax if he dies, although that is a bit risky but its better than paying 7 or 9.
Maybe also a card like Marshaling Cry as an extra board pump in case you need to go aggro in case you don't get Rally the Peasants. Its also better early game since you can cycle it away.
I understand that you are going for more combo than aggro, but if you want to get even more spirits, play some auras that return themselves back to hand when enchanted creature dies, like Fiery Mantle , Undying Rage , and Brilliant Halo . I'm the most shaky on them because they don't do anything without Quintorious, but with them they can grab an extra spirit per turn. Perhaps if you could include a Prismite Effect and an Impact Tremors effect, with Ashnods Altar and Starnhiem Courser, you can combo off with them by playing mantle on a Spirit, saccing the spirit, prismite effect filters and starhiem discounts so you can pay the one red to get mantle back and get another spirit, and get infinite Tremors triggers
Other than that, I really like the deck, although I'm not that great at these kinds of things either.
2 months ago
Thanks for all the suggestions!!
I ended up cutting a ton of Flashback cards from the deck honestly, as well as a few escape ones. They do make a spirit, but they ended up being a little less impactful than I liked. However, Prismatic Strands / Rally the Peasants might make their way back in.
I think while I do have a few humans, 7 may be a few too low. If I was running more hatebears like Drannith Magistrate I would maybe reconsider human tribal cards.
I didn't realize Angelic Renewal goes infinite with Sun Titan but it appears you're right! Good call!
For another sac outlet I've been toying with Martyr's Cause , and I think I'll add it back in. It gives good protection to us from X spells or just damage based removal as well. It doesn't make the Angelic Titan combo win, but Altar of Dementia / Goblin Bombardment should be fine with that.
Pheonix subthemes sound pretty fun actually! Rekindling seems really good especially.
That's all really helpful! Thank you so much!
2 months ago
I'm not sure how exactly Quin plays yet, but I'm trying to come up with something with him too so I'll throw some cards I thought were interesting at you. Sentinel's Eyes seems decent, with Quin out it gives you two 3/2s for , which is pretty good. Battle Screech is just a generally strong tokens card so it fits with the token support, but also gives you a 3/2 (for free!). Same with Increasing Devotion , although thats definitely a lower power level just because of the mana cost. Prismatic Strands / Rally the Peasants are both also pretty strong cards that also will just throw in a 3/2 with Quin.
You have quite a few humans, so maybe throw in Bruna, the Fading Light  Flip, and if you want to meld, Gisela, the Broken Blade ? Bruna's solid on her own, but I might just be biased because I love meld. Angel of Glory's Rise too, depending on how many humans you end up with. You could also play things like Resurrection and Breath of Life , or even Gate to the Afterlife / God-Pharaoh's Gift . Angelic Renewal goes infinite with Sun Titan and a sac outlet, which you should probably have at least one more of. Ashnod's Altar is the go too, but I think its pretty expensive nowadays, so maybe Blasting Station , Dark-Dweller Oracle , or Grafted Exoskeleton
A bunch of the phoenixes seem decent, since they always return. I think the best ones would be Flamewake Phoenix , Rekindling Phoenix , and Skyfire Phoenix . Flamewake seems great since with Quin your spirits activate ferocious, the others I'd be more skeptical about.
Well I hope that's at least somewhat helpful lol
Load more