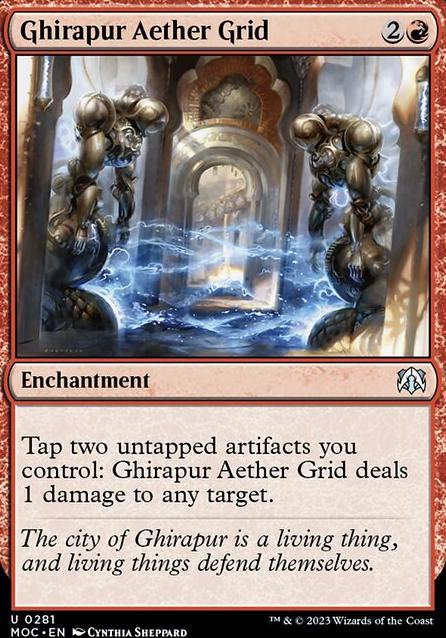 Legality
Rules Q&A
7 months ago
Hello friend! I have some suggestions! I had way too much time today, so here you go.
10 months ago
Poly_raptor no worries! I totally get life happens sometimes. :) I appreciate the suggestions a lot! I definitely wanna find a place for Pia's Revolution- Ghirapur AEther Grid as well. It's tricky finding cards to cut but I will definitely add them to the Maybeboard! Thank you for the suggestions!
1 year ago
Your collection is impressive. Here are some suggestions that I hope will improve your list.
Olivia's Attendants creates 6 blood every time they attack, which is an amazing as a set up for dockside extortionist
Twilight Prophet is dirty with Strefan. Draw an extra card each friendly upkeep and if it has a cost more than zero, damage each opponent so you get three blood per turn and gain life too. Plus strefan's blood tokens make getting city's blessing a snap.
Ghirapur AEther Grid. You will be creating a lot of artifacts (blood and treasure) and being able to tap them in pairs to damage either players or problem creatures can give you an edge while you are building a critical mass of artifacts for krark or inspiring statuary and torment of hellfire.
Olivia, Crimson Bride is a Rakdos vampire that Strefan can cheat on to the table. Essential does a similar thing to Strefan only she cheats on any creature from your graveyard instead of vampires from you hand. Great way to recur dockside extortionist or anything else you discard with blood tokens/lose to spot removal.
Squee, Goblin Nabob is fantastic with blood as you can discard him and redraw him from the graveyard once per friendly upkeep. That can turn a blood per turn into card advantage.
Anger is also amazing with blood tokens. You can use the blood to discard anger, draw a card and give all of your creatures haste. Strefan doing his combat trick the turn you recast him can be clutch.
I would consider adding Nirkana Revenant back in as it works really well with Urborg, tomb of yawgmoth and can also give you extra mana for your cost X spells.
I don't see a ton of synergy between Strefan and the Exquisite Blood tricks, but you do have the tutors to make it work even if there isn't any support from the command zone. If you want to keep those win conditions, consider adding Blood Tribute. Tap a vampire as the kicker and have Vito/sanguine bond in play and you get to straight up remove a player (or all players if you have sengir as well). Great backup play for when exquisite blood gets removed/countered.
You already have one of the pieces for the Worldgorger Dragon combo (animate dead). Add in a Dance of the Dead and a Necromancy for redundancy and you have a recipe for infinite mana. Just use a blood token to discard the dragon and you are in business. Avacyn's Judgment, discarded with blood and cast for the madness cost can also deal lethal damage to three player with enough mana.
1 year ago
Thank you for your suggestions IHATENAMES and Coward_Token.
Regarding Hidetsugu, Devouring Chaos, I should've written a deck update disclaimer that I'm just play-testing it right now. Mindleecher is still in its slot in paper. I'm not a big fan that it is 7 total mana to cast & activate it once. I rationalized that it would be a bit more doable with treasure tokens available, but still not ideal.
I think I had Vance's Blasting Cannons  Flip in an older version of my Maybe Board, or it's in the Maybe Board of my Moxfield version of the deck. I honestly forgot about it lol. I'd definitely consider it, especially with the option for repeated removal on its flip side.
I've for sure play-tested Ghirapur AEther Grid in the past and wasn't too excited, personally. In the games I've actually played the deck IRL, I felt like I got the best use out of treasures by having them up for mana for the instant-speed removal and interaction I'm currently running.
After play-testing and playing with more X-spells in the earliest versions of the deck ( Exsanguinate and Commune with Lava), I decided to move away from X spells since they felt really bad to get stranded with impulse draw. I think Bolas's Citadel fits a similar role that Indomitable Creativity would, but has the upsides of being repeatable, can hit the table for damage, and can be tutored out by Magda, Brazen Outlaw.
Phyrexian Arena, for me, falls into that weird space of not being amazing, but being just good enough to keep around. I'm a bit more biased since I've had the fortune of playing it turns 2-3 in the IRL games I've played with this deck. It helped me stay consistent with land drops and keeping my hand stocked enough. I have considered Stinging Study as a potential replacement. I'm always trying to find the right mix of repeated/incremental effects vs burst effects.
Regarding my utility lands, I only included the Urborg because I pulled a copy from Timespiral Remastered, and had a couple copies of Crypt Ghast around that I bought back in my earliest RTR days lol. I definitely have a Mikokoro around that I could likely swap in.
1 year ago
For the mode you will most likely use Vance's Blasting Cannons  Flip might just be a upgrade for Outpost Siege tbh I no longer run phyrexian arena in my decks as it seems slow most games you might want another draw spell instead. Also running Ghirapur AEther Grid to use tokens to ping or Indomitable Creativity to cheat permaents in could be another interesting play.
Lastly I'd look into maybe some tech lands you have uborg but no cabal coffers?? That's the dream. Other tech lands maybe mikokoro the center of the Sea for group hug ish card draw. Some bfz flip lands like hangra mauling. Spicy flavorful deck.
1 year ago
Please don't waste food by throwing it at other players, use Ghirapur AEther Grid and recycle every turn ;)
1 year ago
Beebles Here are my thoughts about your suggestions. I am very happy that you are sharing some of your great ideas. 1. Academy Manufactor : I absolutely LOVE this card, I didn't even think of this but it is incredible in this deck! It makes an additional two tokens every time I make a treasure... Seems very very good(super versatile)!! 2. Indomitable Creativity : It does seem fun (similar to warp world), but it is not the whole board like WW. So It forces you to invest into your tokens but it doesn't do anything to solve your opponents battlefields. So it is not great in this instance because you spend a turn to use it but then you're very open 3. Magda, Brazen Outlaw : She is lovely, and I actually had her in the OG list, but I thought about it and cut her. She is incredible for a treasure & dwarf deck but she is very slow and unreliable at producing treasures on her own. Plus, we are not playing a bunch of actual game changing artifacts (at least none that we want to trash 5 tokens for). 4. Shimmer Dragon : I agree, this is great for turning treasures into that nice draw, I love it and I may need to find some cuts to slip it in. 5. Reverse Engineer & Thoughtcast : These are perfect for draw and I included them in the OG list, but I cut them because they were non-permanent spells (a whiff on a Warp World). These are definitely viable draw options that can be added depending on what we can cut after playing a card. 6. Ghirapur AEther Grid : This is actually an incredible card for this deck. We turn those artifacts into a damage. This is something I love but it does take 2 artifact to utilize the ability. I feel like there are other viable cards for this slot that just hit harder and aren't win-more like this one. But I have seen this card absolutely win games and it really makes me want to put it in. It is still super effective, even if you're just making some meh artifact tokens. 7. Hidden Stockpile : I'm so so torn on this card. I have played it in an Alesha artifact deck and it's nice, but the worst part is that it is a single servo. I can sac a treasure and that's great, but if I sac more than one it doesn't matter; I'm only getting one artifact token. It's just way too slow for what we want to do, it also forces us to pay into the scry which is not what we want to devote mana to.
Load more