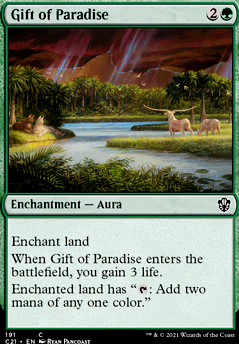 Gift of Paradise
Enchantment — Aura
Enchant Land
When Gift of Paradise enters the battlefield, you gain 3 life.
Enchanted land has ": Gain two mana of any one colour."
Browse Alters
Legality
| | |
| --- | --- |
| Format | Legality |
| 1v1 Commander | Legal |
| Arena | Legal |
| Block Constructed | Legal |
| Canadian Highlander | Legal |
| Commander / EDH | Legal |
| Duel Commander | Legal |
| Gladiator | Legal |
| Highlander | Legal |
| Historic | Legal |
| Legacy | Legal |
| Leviathan | Legal |
| Limited | Legal |
| Modern | Legal |
| Oathbreaker | Legal |
| Pauper | Legal |
| Pauper EDH | Legal |
| Pioneer | Legal |
| Tiny Leaders | Legal |
| Unformat | Legal |
| Vintage | Legal |
| Casual | Legal |
| Custom | Legal |
| Quest Magic | Legal |
Latest Decks as Commander
Gift of Paradise Discussion
1 month ago
Hey Walrighti, +1!
Congrats on your first deck! You have a lot of fun cards in here and it looks great! I imagine you want to tune and make it even more efficient so here are some ideas...
Add 3 categories: #Combo, #Lifegain, and #Evasion; and then sort your maybeboard the same way you've done your mainboard to easily rank your choices within a category (By "combo" I mean all your "if-then" cards like Trudge Garden that are slower and don't work by themselves). Remove #Creatures (most of them are #Combo).
Avoid most cards above 4 cmc... Willowdusk is fast and fragile, so play into that... Also, prioritize cards that can do 2 or more things or that give value on ETB... If you have pet cards that don't really fit and that hurt to cut, put them in a "I'll build that theme later" list.
...Always play at least 10 ramp spells under 3 cmc.
...Playtest and make sure Willowbark consistently makes a fatty (with evasion) before turn 6-7.
Here's another Willowdusk thread.
Happy building :)
2 months ago
legendofa: Sometimes you just get lucky :D
I guess I'll stick with Thwart for now, but Riot Control seems fine. Also, as I wouldn't add more than one copy anyway, I'll add in Orb.
Gift of Paradise actually is a result of the special goldfishing I did with the deck where I assumed I'll take five damage every single turn if I have no fog or some kind of removal. 3 life doesn't seem much, but actually helps surviving under that rule. I'm pretty happy with it actually.
The three tutors each have their advantages: The from petition are basically guaranteed. The Entomb part on final parting is simply too good to not play it here, and Acquisition is the second tutor to return with Seasons Past. I really want to keep the split.
5 months ago
AultimusPrime i looked and indeed i definitely did. Tuvasa is a very powerful commander. Also thanks for the feedback, got me to thinking "i need to cut the high cost cards lol. I was using Archetype of Imagination as a pseudo win con, it makes all your creatures unblockable, though it's easily replaceable. Wolfwillow Haven is the enchantment version of a signet, but it also boosts tuvasa... It might only make green, but it's an extra green every single turn. I run Rites of Flourishing because it's actually never let me down, an extra land and initial draw are very decent. Gift of Paradise gone lol. Mystic Remora isnt terrible, but i definitely have enough card draw lol. I like churning through the deck with the enchantress effects, so i put as many of them as i can in the deck
6 months ago
Week 1 Swaps
Opened 6 packs Lorwyn, replacements are in no particular order.
8 months ago
Version 2.4. Zendikar rising draft best picks. -Pious Interdiction, +Luminarch Aspirant // -Tidings, +Field Research // -Sigiled Starfish, +Glasspool Mimic  Flip // -Bone to Ash, +Jwari Disruption  Flip // -Toll of the Invasion, +Malakir Rebirth  Flip // -Scalding Cauldron, +Cliffhaven Kitesail // -Rampaging Rendhorn, +Scute Swarm // -Leafkin Druid, +Lotus Cobra // -Fierce Witchstalker, +Oran-Rief Ooze // -Gift of Paradise, +Reclaim the Wastes // -Chandra, Novice Pyromancer, +Inordinate Rage // -Bloodthirsty Aerialist, +Hagra Constrictor.
9 months ago
An interesting combo that I ran across at one point involves these two cards: Flood of Tears and Omniscience. It's quite elegant, really. You play flood of tears after playing four permanents (for instance, a ramp package of Arboreal Grazer and Gift of Paradise to play Flood of Tears earlier). You wipe the board, then Flood of Tears allows you to Place a permanent onto the board, which of course is going to be Omniscience. Then you play out your entire hand while your opponent's board has nothing. Kudos to you if you happen to have a Song of Creation in your hand as well.
9 months ago
Sure thing!
For Utopia Sprawl, I'd probably add a few more forests, and cut either Dawn's Reflection or Market Festival, as they are both fairly expensive as far as ramp goes; four mana for a ramp spell is usually only passable if its fetching lands/providing additional utility. Otherwise, you could consider cutting Sheltered Aerie, or MAYBE Fertile Ground, though I wouldn't recommend doing so over the other options I mentioned. Of these cards, I think that Sheltered Aerie should probably go, in addition to the two four-mana auras; the aerie only ramps you by one, and doesn't provide any additional value/utility, unlike both New Horizons and Gift of Paradise, which are both still pretty weak. Maybe if you're adding Utopia Sprawl, you could consider replacing another of the enchantments I mentioned with something like a Nature's Lore to help find more forests and maybe fix your mana by fetching a dual, though it is a sorcery. It's all too bad that Trace of Abundance can't be run in this deck as a further alternative.
Load more