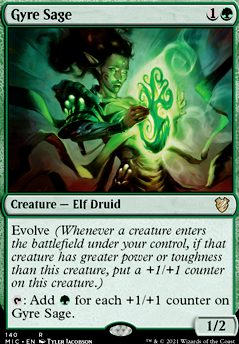 Gyre Sage
Creature — Elf Druid
Evolve (Whenever another creature enters the battlefield under your control, if it has greater power or toughness than this creature, put a +1/+1 counter on this creature.)
Add for each +1/+1 counter on this creature.
Latest Decks as Commander
Gyre Sage Discussion
4 days ago
Hey! Kinda late, but I would like to suggest some stuff:
(Disclaimer: I have a budget way lower than yours, but I've been tinkering with Ghired for almost two years - he's my favorite commander. I'll break the suggested upgrades down into categories for better organization.)
Haste enablers:
Ramp: Run at least 15 ramp cards to make your deck flow smoother and faster.
As an aggressive deck, speed is fundamental. Fellwar Stone, Nature's Lore, Three Visits, Skyshroud Elf, Bloom Tender, Faeburrow Elder, Chromatic Lantern, Coalition Relic, Wood Elves, Skyshroud Claim and Mirari's Wake can ramp and heavily fix your mana, taking the place of Gyre Sage, Solemn Simulacrum, Rampant Growth, Sakura-Tribe Elder and Xenagos, the Reveler - the latter is a win-more ramp, and his 2/2 token is not large enough to synergize with the power-based card draw, while the other four fix for a single color of mana (Ghired decks can sometimes be color-hungry), and this deck can't abuse the sad robot for value.

In the land department, Krosan Verge and Blighted Woodland pull their weight, and synergize greatly with Avenger of Zendikar and Rampaging Baloths. Maybe remove Cascading Cataracts? (Your spells are not THAT color hungry.)
Direct damage:
Extra combats: You don't have to worry about your opponents' answers if they never get to their turn, so...
Boardwipes:
Card draw: Alongside ramp, it is my main concern with Ghired. I want to be able to rebuild my board after a boardwipe.
Some cards I suggest you to remove:
Some cool lands for you to try out: (landbase is my favorite part of deckbuilding)
I hope I've been of some help to you. I didn't suggest many token-related cards because I believe that, as long as you have decent ramp, draw and removal in your deck, you can win to your heart's content. Wanna throw in a Godsire? Do it. Prefer to clone your opponents' creatures with Hate Mirage? Go ahead. But the fundamentals of the deck is what makes it flow consistently. Have fun and smash 'em all (and run Doubling Season for extra fun) ;-)
1 month ago
The deck looks fine. There are a bunch of cards that feel too slow to run personally (most notably Gyre Sage, Swarm Shambler, Tireless Tracker, Voracious Hydra). There're also a bunch of cards i'd be expecting a deck like this to have which appear to be missing (Pelt Collector, Rishkar, Peema Renegade, Cloudfin Raptor, Thrummingbird). So the list overall feels ok, but not as fine-tuned as it could be, imo.
As far as bad matchups, that's where your sideboard comes in - at the moment I would suggest this is the spot that needs the most attention if you're getting competitive.
Some sideboard cards to consider:
Now, the quantities of the above will depend on your own local meta, as well as how badly they scare your deck. Sideboard choices should always be focused towards your local competitive playgroup. Saying that, the above mentioned suggestions are likely to come in handy.
Other things to consider as far as good-vs-bad matchups, for your sideboard choices:
don't worry about control, imo. You should be aiming to be fast enough to have the advantage. Saying that, do consider the likes of Veil of Summer if it's an issue (though i would say, if it is an issue, it's because your mainboard isn't tuned enough).

Board wipes feel like they could pose a big threat for you

Burn, and other hyper-aggro decks are probably going to have an advantage
4 months ago
Have got some cards ideas to think about possibly adding to your list
Another thing to consider is replacing your counterspells and creature removal with X drop versions for producing more hydra tokens.
5 months ago
This looks like it could definitely be scary once it gets going. Very dedicated to its theme.
From a general construction sense, it could probably use a few less lands, a bit more ramp and card draw, and a few less cards on the top end (the mana curve leans high).
Some good mana staples that would help and fit the theme: Sol Ring, Arcane Signet, Commander's Sphere, Fellwar Stone, Everflowing Chalice, Astral Cornucopia, Solemn Simulacrum, Fertilid, Gyre Sage, Rishkar, Peema Renegade, Incubation Druid, Rampant Growth
Since your goal is to get poison counters on ASAP (so that proliferate matters), stuff like Ichor Rats and Plague Stinger would be good additions. Grafted Exoskeleton and Phyresis can make it so some of your other creatures can contribute to the poison damage count. Viridian Corrupter and Relic Putrescence both give you a way to give poison counters while also serving as artifact removal of a sort.
For cards to potentially remove, there are a few that fit the theme, but may be harder to get the benefit from. Melira, Sylvok Outcast and Second Chance don't do too much for you. Door of Destinies doesn't really have a good tribe to name.
There is a sort of sacrifice sub-theme going on that doesn't feel like it fully pans out. The Arcbound creatures are on the expensive side and you don't have a ton of artifact creatures to move the counters onto. Plus, if they hit for regular damage, they're not going to contribute to your infect plan. Throne of Geth and Plaguemaw Beast give repeatable proliferate, but you don't have a ton of things that you want to sacrifice, or ways to get things back from the graveyard to recur them. Martyr for the Cause and Roalesk, Apex Hybrid are only really good if you get exactly Plaguemaw Beast.
5 months ago
I don't see why you shouldn't go 4x Hardened Scales. Also I'd drop Llanowar Elves for a full playset of Utopia Sprawl.
Gyre Sage seems like another funny ramp option here. And I'd definitely move the Kalonian Hydra from maybeboard to mainboard it's just such a must-answer threat.
5 months ago
Not sure about Simic hydra? never checked it as green ramp can be really fast.
I used to play the Utopia Sprawl but it didn't feel as fast as those Elvish Archdruid . I like the suggestion of Voyaging Satyr as it works like an Arbor Elf . Gyre Sage also is a bit to slow i think as you have to spawn creatures first to ramp the mana while the goal should be to ramp mana to spawn creatures but will play test it.
Deff gonna swap Pit Fight for Ram Through , seems like a good hitter.
Not sure about Hydra Broodmaster because of the lack of trample and the usability of the already added hydras. It will be a full turn to use the monstrosity and then a full turn to attack. I'm thinking to sideboard 2 of them for multiplayer or against non-blue decks and swap them with Mistcutter Hydra .
Unbound Flourishing I will deff add.
Load more