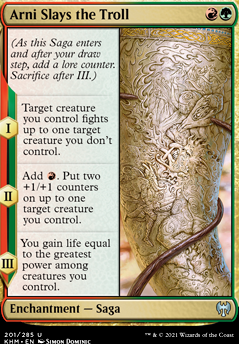 Legality
Arni Slays the Troll
Enchantment — Saga
(As this Saga enters the battlefield and after your draw step, put a lore counter on this and activate and/or enable the ability of the saga tied to the required number of lorecounters. Sacrifice this after you put a third lore counter on this.)
: Target creature you control fights up to one target creature you don't control.
: Gain . Put two +1/+1 counters on up to one target creature you control.
: You gain life equal to the greatest power among creatures you control.
6 months ago
Creature removal: Beast Within, Decimate, Kenrith's Command, Mawloc, Domri's Ambush, Ground Assault, Clan Defiance, Pit Fight, Ram Through, Inscription of Abundance, Ulvenwald Tracker, Lignify, Prizefight, Cosmic Hunger, Tail Swipe, Bite Down, Rabid Bite, Master's Rebuke, Devouring Tendrils, Warbriar Blessing, Epic Confrontation, Tandem Takedown, Chaos Warp, Vow of Lightning, Meteor Swarm, Volcanic Salvo, Arni Slays the Troll
Artifact/Enchantment removal: Migloz, Maze Crusher, Hull Breach, Kogla and Yidaro, Klauth's Will, Artifact Mutation, Cindervines, Vithian Renegades, Reclamation Sage, Tranquil Frillback, Kogla, the Titan Ape, Manglehorn, Masked Vandal, Titan of Industry, Woodfall Primus, Wickerbough Elder, Vandalblast, Abrade, Fall of the Hammer
Board wipes x3: Chain Reaction, Starstorm, Blasphemous Act, Anger of the Gods, Brotherhood's End, Chandra's Ignition, Klauth's Will, Monstrous Onslaught, Mizzium Mortars
Ramp: Goblin Anarchomancer, Incubation Druid, Springbloom Druid, Sanctum Weaver, Gyre Sage, Fertilid, Kami of Whispered Hopes, Biophagus, Wolfwillow Haven, Klothys, God of Destiny, Gift of Paradise, Font of Fertility, Dawntreader Elk, Omen of the Hunt, New Horizons, Blighted Burgeoning
We'll check these out next time.
1 year ago
Having reviewed the list, I feel Bard Class is kind of an odd card out here. With 10 total legendaries (4 unique ones), I don't think it's worth it currently.
I also think Utopia Sprawl is worth consideration. Turn 1 Arbor Elf into Turn 2 this is 4 mana -- on turn 2. That makes your planeswalkers a lot better suddenly, and lets you drop Elder Dragon War turn two as well.
---
Bard Class
If you want to keep Bard Class, then I would suggest leaning heavier into the legendary theme, maybe with some Gallia of the Endless Dance, Radha, Heir to Keld, or Targ Nar, Demon-Fang Gnoll. These would make leveling up Bard Class feel a lot better, provide ramp and aggressive creatures, and make the third level a lot more relevant. With this route the Weatherseed Treaty feels a little slow.
---
Power Conduit
Going back to my previous comment about Bard Class power, you could cut Bard Class and some of the related cards to lean harder into the Power Conduit synergies. Some ideas are Arni Slays the Troll as it provides mana, buffs, and lifegain. The Flame of Keld looping is also very powerful. The Akroan War continually steals creatures. Waking the Trolls does a lot of very powerful things suddenly.
---
I ran out of time to finish these thoughts, but if you want more/different suggestions just note so :)