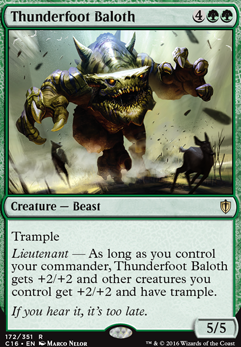 Thunderfoot Baloth
Creature — Beast
Trample
Lieutenant — As long as you control your commander, Thunderfoot Baloth gets +2/+2 and other creatures you control get +2/+2 and have trample.
Latest Decks as Commander
Thunderfoot Baloth Discussion
3 days ago
Hey! Kinda late, but I would like to suggest some stuff:
(Disclaimer: I have a budget way lower than yours, but I've been tinkering with Ghired for almost two years - he's my favorite commander. I'll break the suggested upgrades down into categories for better organization.)
Haste enablers:
Ramp: Run at least 15 ramp cards to make your deck flow smoother and faster.
As an aggressive deck, speed is fundamental. Fellwar Stone, Nature's Lore, Three Visits, Skyshroud Elf, Bloom Tender, Faeburrow Elder, Chromatic Lantern, Coalition Relic, Wood Elves, Skyshroud Claim and Mirari's Wake can ramp and heavily fix your mana, taking the place of Gyre Sage, Solemn Simulacrum, Rampant Growth, Sakura-Tribe Elder and Xenagos, the Reveler - the latter is a win-more ramp, and his 2/2 token is not large enough to synergize with the power-based card draw, while the other four fix for a single color of mana (Ghired decks can sometimes be color-hungry), and this deck can't abuse the sad robot for value.

In the land department, Krosan Verge and Blighted Woodland pull their weight, and synergize greatly with Avenger of Zendikar and Rampaging Baloths. Maybe remove Cascading Cataracts? (Your spells are not THAT color hungry.)
Direct damage:
Extra combats: You don't have to worry about your opponents' answers if they never get to their turn, so...
Boardwipes:
Card draw: Alongside ramp, it is my main concern with Ghired. I want to be able to rebuild my board after a boardwipe.
Some cards I suggest you to remove:
Some cool lands for you to try out: (landbase is my favorite part of deckbuilding)
I hope I've been of some help to you. I didn't suggest many token-related cards because I believe that, as long as you have decent ramp, draw and removal in your deck, you can win to your heart's content. Wanna throw in a Godsire? Do it. Prefer to clone your opponents' creatures with Hate Mirage? Go ahead. But the fundamentals of the deck is what makes it flow consistently. Have fun and smash 'em all (and run Doubling Season for extra fun) ;-)
5 days ago
Ohran Frostfang and Toski, Bearer of Secrets offer you some repeatable card draw for doing what you want to be doing. Frostfang's Deathtouch is really handy earlier game, draw is always handy. Midnight Reaper and Grim Haruspex are also good, but might be too many payoffs if you don't need the card draw. Blossoming Bogbeast and Thunderfoot Baloth are good ways to get Trample and a buff, handy especially if you've got deathtouch, 1 damage kills then. If you run enough Trample effects, you could also consider Saryth, the Viper's Fang or Bow of Nylea, as there are more good trample providers, some budget some not.
Over Diabolic Tutor, you could run cards like Jarad's Orders and Final Parting, or even Buried Alive to find Gravecrawler and a sac outlet, or Haakon, Stromgald Scourge and a 1 drop knight to generate a ton of death triggers, Universal Automaton is infinite mana with Ashnod's Altar I guess. Haakon always has to end up in the yard to work, but these are similar MV to Diabolic to maybe find a value engine. Gravecrawler loves Carrion Feeder or any other infinite sac outlet, but it also loves Pitiless Plunderer, at which point you can go infinite with this, making your army very tall. Haakon is more rugged than Gravecrawler, but is jankier. If you use Haakon, you can also try Liliana's Standard Bearer, both as a way to recover from a wipe and to draw cards via Haakon's recursion.
Over 'find a land when ___ dies', I would look at some options that let you sacrifice the creature for the land, such as Diligent Farmhand, which is always a source of a death trigger, even if you don't have an outlet out. Dawntreader Elk is also very good. Not saying Wood Elves are bad, but it's nice to have a death trigger attached. You might run more ramp period, any reason you don't run 1 drop mana like Birds of Paradise or Llanowar Elves, or even Elves of Deep Shadow to speed up your deck, getting to your Commander quicker is a big advantage in higher power games, especially with a powerful effect like your Commander.
Especially if you don't run more 1 or 2 MV permanents, you should look at Culling Ritual, that card is terrifying at higher power games, keep an eye out if people play a lot of 1 and 2 drops in your group to see if it will be relevant, but it can be very good.
Sarulf, Realm Eater is a crazy thing you could sneak in as a way to deal with an out of control opponent, your Commander can pump him with counters, and once he's big enough, he can clear the board completely (after you sacrifice stuff), so you can still use something like Living Death to put your dead creatures back into play, opponent's without a sac outlet have everything exiled. Sarulf will very quickly be big enough to clear the entire board, and he doesn't die when he does it, so it's back to your Commander and Sarulf vs the world, but if other players have used too many resources, they might not be prepared to come back. Maybe not a good choice if your area plays cards like Mindslaver a lot, but that's one of the biggest wipes around.
Props for using Mazirek!
2 months ago
Holy creatures batman! I like the deck name and it's interesting to see another Nikya deck! (I have a player in my playgroup that runs her). Some ideas for removal would be Thrashing Brontodon and World Breaker for artifacts and enchantments, and you could also run a Treasure Nabber to temporarily steal other players artifacts to use as your own ramp! Thunderfoot Baloth is also a fun creature for buffing your other creatures and granting trample!
3 months ago
I forgot to mention Thunderfoot Baloth. Its trample anthem synergizes perfectly with your Saryth's Deathtouch-anility.
8 months ago
Hello Temur_Frontier. Yes, I would say I have had a lot of fun playing Moritte since I've completed the project. She's undergone a fair amount of revisions since Strixhaven so stay tuned for an update. While the Biovisionary line is certainly the predominant way to win, I've found that just creating immense of value also seems to accelerate the deck to a win. I've incorporated more cards with the Lieutenant mechanic into the deck as Moritte will count herself if she clones one of those cards. Copying something like Loyal Drake or Thunderfoot Baloth has been immensely strong.
8 months ago
Hey. I like your deck. I dont agree on everything and thats the beauty of edh.
First of all ScrollRack is must have in my opinion. Fetch lands makes this card great filter for your hand. You can just throw away all cards in your hand that you wont need in many turns. Those 5+ mana cards can hurt your early game a lot. Then there is cards like Land Tax that turns this card in absolute draw machine while thinning your deck.
Second thing is that i dont like your ramp package. I like to run more first turn ramp and skip 2 mana ramps completely. Turn one Birds of Paradise to turn two cultivate makes you able to skip 2 and 4 slots and if you have great hand and want to go for early mayael (rarely you do) then those first turn ramps shine when you can get turn 2 mayael. Also one card missing is Avacyn's Pilgrim i think its better than basic green mana dorks. If you can play Elvish Mystic that means you already have green mana, but if you play Avacyn's Pilgrim you will have atleast 2 colors on board afterwards. Also one of the best draw cards in edh is Oracle of Mul Daya . Its more of lategame, but still it makes not able to draw lands anymore. The ultimate drawfix.
So T1 ramps i suggest: Birds of Paradise , Avacyn's Pilgrim , Search for Tomorrow
and 3 mana ramps: Kodama's Reach , Cultivate , selvala, Selvala, Explorer Returned
Then to the utility. Gods are godlike so definetly put Xenagos, God of Revels back in. And with that i would play Enlightened Tutor . Works well with gods if you are at point to use mayael. Outside of that it can find you draw or ramp. Another suggest is Hunter's Prowess . Great draw card. At worst you can play it on manadork and draw 4 but most of the time you play it on 5/5 and it will be blocked, but you still draw 5.
I dont know what you think about overrun efects as finishers, but few i have found good ones: Triumph of the horde, Akroma's Will and Thunderfoot Baloth . Akromas will is good even if you dont have commander but very nuts when you have it and thunderfooth baloth you can hit with mayael and triumph is just cheesy way
Load more