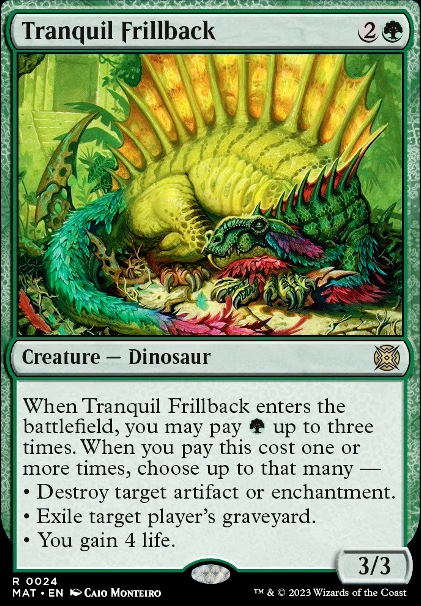 Legality
2 weeks ago
Did not update the list for long so it's time to look through few cards from latest sets at least:
Cityscape Leveler - artifact version of Ulamog. It's cheaper and repeatable (attack trigger) but being artifacts makes it die from collateral Bane of Progress
Green Sun's Twilight - mini-Genesis Wave is... mini even if it's 2 mana cheaper. Choice to put into hand can be useful for Eldrazis though.
Invasion of Ixalan  Flip - minor searching effect plus minor beater if you can spare 4 combat damage. I think I pass.
Invasion of Ikoria  Flip - powerful card which has to compete with better searching effects in Green Sun's Zenith and Chord of Calling though. Possibility to have 8/8 beater is tempting but gives opponent 6 life first and that may be relevant.
Tranquil Frillback - another variation of Reclamation Sage effects. Versatile but requires for than 3 mana to compete.
The Shire - funny land for Food-based builds. No real use here especially when Ouphe and Bane are around.
Blossoming Tortoise - it ramps (repeatedly) and lower costs of a number of our lands but takes 4CMC slot which is one of the most crowded. Clearly better when using Rude Awakening.
Bramble Familiar - mana dorks do not really fit into Azusa but this one can turn into quasi-seach effect with some for of buyback. Too slow in my opinion.
Feral Encounter - despite being 2CMC it is designed to be cast on Turn 4 or later. Disqualified.
Flayer of Loyalties - this one is interesting. I'm going to swap second Kozilek for it and test how aggressive/oppressive it can be.
6 months ago
Creature removal: Beast Within, Decimate, Kenrith's Command, Mawloc, Domri's Ambush, Ground Assault, Clan Defiance, Pit Fight, Ram Through, Inscription of Abundance, Ulvenwald Tracker, Lignify, Prizefight, Cosmic Hunger, Tail Swipe, Bite Down, Rabid Bite, Master's Rebuke, Devouring Tendrils, Warbriar Blessing, Epic Confrontation, Tandem Takedown, Chaos Warp, Vow of Lightning, Meteor Swarm, Volcanic Salvo, Arni Slays the Troll
Artifact/Enchantment removal: Migloz, Maze Crusher, Hull Breach, Kogla and Yidaro, Klauth's Will, Artifact Mutation, Cindervines, Vithian Renegades, Reclamation Sage, Tranquil Frillback, Kogla, the Titan Ape, Manglehorn, Masked Vandal, Titan of Industry, Woodfall Primus, Wickerbough Elder, Vandalblast, Abrade, Fall of the Hammer
Board wipes x3: Chain Reaction, Starstorm, Blasphemous Act, Anger of the Gods, Brotherhood's End, Chandra's Ignition, Klauth's Will, Monstrous Onslaught, Mizzium Mortars
Ramp: Goblin Anarchomancer, Incubation Druid, Springbloom Druid, Sanctum Weaver, Gyre Sage, Fertilid, Kami of Whispered Hopes, Biophagus, Wolfwillow Haven, Klothys, God of Destiny, Gift of Paradise, Font of Fertility, Dawntreader Elk, Omen of the Hunt, New Horizons, Blighted Burgeoning
We'll check these out next time.