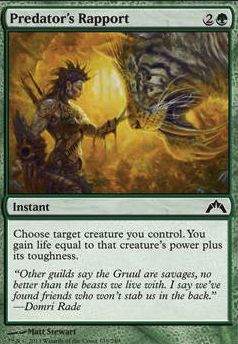 Legality
| | |
| --- | --- |
| Format | Legality |
| Tiny Leaders | Legal |
| 1v1 Commander | Legal |
| Custom | Legal |
| Magic Duels | Legal |
| Canadian Highlander | Legal |
| Vintage | Legal |
| Modern | Legal |
| Penny Dreadful | Legal |
| Casual | Legal |
| Pauper EDH | Legal |
| Leviathan | Legal |
| Legacy | Legal |
| Duel Commander | Legal |
| Oathbreaker | Legal |
| Unformat | Legal |
| Pauper | Legal |
| Commander / EDH | Legal |
Predator's Rapport
Instant
Choose target creature you control. You gain life equal to that creature's power plus its toughness.
Predator's Rapport Discussion
2 weeks ago
I pulled this idea off of BMHKain's profile. Hope that's okay mate! :D
The premise is simple: We design our own User Spellbooks!
EDIT: Cleaning up a bit :)
For those who need a little refreshing, a "Spellbook" is something WOTC is attempting to do for certain Planeswalkers. Jace and Gideon currently each have one. These are collections of specific cards that key toward the attributes of that Planeswalker within their color(s).
Each Spellbook contains 8 cards - of which 7x instants / sorceries / artifacts / enchantments. We have yet to see if creatures are included.
If you'd like to create a Planeswalker card that is a reflection of yourself, your motivations, interests, hobbies, whatever please feel free to do so. However, that is really more so something for the Custom Cards Forum. Otherwise, please feel free to pick a Planeswalker that speaks to you and use them to run your Spellbook! We understand not all color combinations have Planeswalkers associated to them, and some might not fit your vibe. If you can find a Legendary Creature, please feel free to use that too :)
Tips on what spells to select:
How you enjoy playing MTG
How you personally feel IRL
Cards that speak to you on a personal level
Cards that you just think are super awesome / weird / unique
Cards that you enjoy to build around
As for the colors, I would say try to think of what color combination fits you best. Do you love to control the board and as such find Azorius or Jeskai fits your personality? Are you a relatively calm person, but you love to have titanic and explosive plays in Selesnya? Do you have an unsettling rage in your heart and want to watch the world burn under Rakdos' ire? Perhaps you just love big fluffy animals and want to go mono-green!
This is YOUR Spellbook! There is no right or wrong answer; Only your personal feelings and attachments to the game. With that said, have fun! :)
---
TypicalTimmy's Spellbook:
I love big, stupid spells. High-cost trap cards that most people wouldn't be caught dead with. I love playing fringe decks and making things work. I find, in my core, Gruul is the most fun. I get the speed of red, but the titanic plays of green. :)
2 months ago
I know this site isn't really an appropriate one to bring such a topic up in, and I know that speaking to a doctor or therapist is the best option. But I recently came to a revelation about myself that ties into this game. Yes, I know that sounds silly but if you will indulge me I'd like to discuss it.
I just needed to get that off my chest. Whether this thread is deleted, have comments turned off, moved elsewhere I don't care.
Ban me, revoke my account, whatever.
I just needed to say it. Get it off my chest and lift the weight off of my soul.
Although, I truly do feel this community is going in a darker direction and I am not sure how much longer I want to be apart of it. This website is great and has a ton of wonderful resource, and most of the users on this site are fantastic people.
But overall, as a whole, the mentality of this game's community has been growing darker, more hostile, and frankly just outright insulting. As more and more players expect to win by T3 or sooner, the game becomes more and more toxic with regards to you can no longer just sit down and play and have fun.
Agree, disagree, have no opinion - I don't really care. It needed to be said, and most people already hate me so I figured I'll be the bad guy and say it.
Thanks for reading.
2 months ago
next time, be sure to link the cards. or even better, add the deck to your profile and make a link to the deck.
i would recommend cutting Vernal Bloom and Predator's Rapport , adding Rosheen Meanderer , and then adding other colors to the deck. there are good hydras that are red or blue as well.
1 year ago
Armed // Dangerous another CMC2 Double Strike, $0.21. Downside is it's Sorcery.
Archetype of Aggression, gives all your creatures Trample, $0.39. 6 ground + 4 flying (partial evasion) don't have trample, thats 1/2 your available hitters, including 1 infect.
Gruul Signet, CMC2 Rock, $0.30.
Thud, Another Fling for CMC1 but Sorcery speed unfortunately, $0.20. Really need more Soul's Fire to Infect.
Farseek, CMC2 Ramp!!, $0.27.
Flameblast Dragon won't get his doubled. Timing is off.
Slagstorm scary because it wipes out the dorks, but I understand the thinking, with Cats/Snakes/Vampires.
Arbor Elf, CMC1 Dork, $0.26.
Beastcaller Savant, CMC2, But he has Haste, $0.40 though.
Heart Warden, annoying at CMC2, but can draw a card if late in the game if he's a dead draw, $0.20. Modular is sometimes nice, especially in longer games.
Explore might work pretty well with 40 lands, and it draws a card, so maintains your card-advantage and ramp advantage. I also feel you have quite a bit (too many) lands with all the additional ramp/dorks you have? Might try 38 instead.
Thunderfoot Baloth $1.69, but has trample, with Xenagos is 14 Trample, and gives all other creatures Trample. The best of the Trample enablers mentioned for sure.
Deus of Calamity $1.40, only 6/6 trample, but fills your Xenagos, God of Revels devotion, so he really enables a 6/5 Indestructible attacker as well.
Tyrant's Familiar feels better than a Flameblast Dragon ($1.28), because he can potentially blow away a flying blocker, $0.44.
Fyndhorn Elves ($2.03) can free up some cash for a Thunderfoot Baloth if he's an Arbor Elf $0.26.
Sakura-Tribe Elder ($1.25) is really good, but a Farseek can be effective $0.27, free up $1
Artisan of Kozilek he is 10/9 (20/19 with Xenagos), Returns a creature from your graveyard to the battlefield (not hand), and has Annihilator 2 (Opponent sacrifices 2 permanents, with haste from Xenagos) for $0.43. I have lots of this guy, I'll bring you one.
Maybe with some shuffling of mana sources you can free up cash for Malignus, but he's quite expensive. Tough for budget.
Fierce Empath tutoring Atarka, World Render or Soul of the Harvest or Siege Behemoth or Spinebiter Etc. gives consistency, I feel like its doubling your Atarka, World Render chances.
Phyrexian Hydra another Infect guy. Makes it easier to kill 3 players.
Khenra Charioteer more trample, hes a 3/3 so he's not shabby for CMC3. Probably don't need that much anyway.
Life's Legacy could re-populate your hand and stabilize your life. Feel like the cards better than the double life on Predator's Rapport.
Talisman of Impulse best non- non- mana source available for $0.33.
Explosive Vegetation is good, but $0.92 and CMC4, I'm not sure. Might look for another lower CMC one to ramp a little faster for that $. Go a bit faster.
I haven't seen this one work yet, See the Unwritten and at $0.82, I'd probably just draw another creature like a Artisan of Kozilek. If you get lucky and the stars align, maybe you get 2, but one might be an Elf. I'd rather just draw another key creature, instead of the randomness. If it was CMC5 or CMC4 and casting a CMC8 maybe, but it's CMC6 probably casting a CMC6 or lower (based on probability, I can calculate it when I have some more time)
Living Hive is in Main and Maybeboard.
I only like Momentous Fall (too expensive $), Deus of Calamity (enables Xenagos), Kavu Predator could be interesting in our Pod (vs cats/vamps anyway). Malignus if you can budget him in. Steel Hellkite good utility again CMC0 Snakes/Vampires for example. Thunderfoot Baloth.
Don't like anything else there.
I think, less lands -2 perhaps, cheaper ramp (and maybe 1 more), 1 more creature (infect guy preferably), reallocate some cash to make sure each creature is a finisher, like Avatar of Fury is kind of blah, if you can cast for 2 he's ok, but what you doing with the other mana that turn anyway, would rather pay the 6 for a finisher. Siege Dragon feels a little underpowered too, but can board wipe (cats/vamps/snakes), would rather use Steel Hellkite instead, better control, lower CMC.
Inquisitor's Flail not sure equip is right, but it is only equip so maybe? Rancor instead?
Living Hive feels small for CMC8! Wtf, not sure what your doing with the 1/1 insects, that don't even fly.
That's about all I have for now +1.
1 year ago
So I have a Uril deck that I have been working on for a while so I am going to make some suggestions to take out, the reason why, and then will give some cards I feel you should use if you can get ahold of them. So some general suggestions is to avoid fieldwipes that also hurt you a lot, secondly run very few creatures. Honestly mana dorks and the enchantress' are all that I really run so the major suggestion I would say is to cut down on the creatures and mostly leave dorks/enchantress' like Mesa Enchantress or things like Herald of the Pantheon which make auras cheaper. Another thing are instants and sorceries, the majority of those should be targeted removal and mass removal or land grab spells like Swords to Plowshares, Day of Judgment, or Rampant Growth. Some specifics on those are Titanic Ultimatum isn't awesome if you only have one creature, which is all you generally need to win. (Uril, the Miststalker) Including the other pump spells i would say aren't great with Uril because he pumps so much anyways. Predator's Rapport isn't a terrible one as it can get you some life if you need but their might be a better option if you really want to keep that in. Alright, on to the enchantments. I would say that out of auras, Ancestral Mask and Bear Umbra are your best two, the others I like are Dryad's Favor and Indestructibility and finally Rancor. Other than those three I would say most of your aura's are just a tad weak. Out of normal enchantments I would almost avoid these with a fiery passion, other than protection of course. I would say Oblivion Ring is the only one I for sure would say to keep in (yes I know it's an aura but you don't target uril with it.). Other than those I would say that you mostly want auras, other than removal or extremely powerful cards. Alright, on to suggestions: The major suggestions I would make for auras would be these Armadillo Cloak, Ethereal Armor, Flickerform, Runes of the Deus, Scourge of the Nobilis, Shield of the Oversoul, Spectra Ward, Spirit Mantle, Unquestioned Authority, and finally Vow of Wildness along with any of the umbras. (boar, spider, and hyena for example.) Some normal enchantments I like are: Burgeoning for ramp, Dueling Grounds and Ghostly Prison for protection. Also, Mayael's Aria and Sigil of the Empty Throne for alternate win cons and finally Sterling Grove for search and protection. The artifacts should be general ramp or mana fixing with maybe a Helm of the Gods for boosting. The wipes I use are Austere Command for when you really run into crap and Winds of Rath and Divine Reckoning because they don't normally hit uril so he doesn't die. I use Retether and Open the Vaults for recursion and Enlightened Tutor and Three Dreams for tutor and my two targeted removal is just Swords to Plowshares and Path to Exile. Those are just my general suggestions. If you want to look at my deck you can go to Uril the miststalker
1 year ago
After looking at your deck, this aggro approach seems very doable and nasty, but theres a handful of cards I see that just shouldn't be included. Nature's Spiral is just a worse Regrowth, so that's a start. I see with all of the artifact removal that stax is an issue for you. Bane of Progress is a great addition to solve this, but i would take out one of your removal spells for Nature's Claim. You don't care about their life gain when elves can smash for 100+ damage. Another great way to give a stax deck the middle finger is Creeping Corrosion. The card rarely hurts you and gives them a hell of a time. Krosan Grip is a fantastic card that also helps in this situation. For these 3 excuses to shit on rocks, I'd at least take out Sundering Vitae and Natural End. Nullmage Shepherd is a fantastic elf to throw in your deck to solve this issue as well. Hum of the Radix is also a fun little card for artifact decks that no one will expect you to drop. If you need enchantment removal, just throw in Back to Nature and you'll be fine. If you're having a hard time with killing creatures, run Taunting Elf, or just run it anyways if you can regenerate it and hit people for free every turn. Aluren will help your elfball rolling, and running Primal Rage will help make sure that even when Ezuri is gone that you get your damage through. Talara's Battalion was a cool card I experimented with in my deck, and it did quite a bit of damage. I would definitely include Marwyn for her beefy presence and massive mana ramp. Something like Predator's Rapport is just not useful, as gaining life tends to be some of the most useless magic cards unless you're running a deck that focuses on it. Instead I would try to tutor for a card like Dwynen, Gilt-Leaf Daen, Nissa Revane, Wellwisher, or Essence Warden which help a lot more with solving this problem. Triumph of the Hordes is a great meme to drop on your opponents in a tough situation, as it gives you a nice little one shot, or at least eats through indestructibly and "prevent all damage" creatures. Most of the artifacts you run arent necessary, so I would just replace them with lands. While you have an extremely low mana curve, 28 lands is very dangerous with no rocks. Unless you add some very fancy $$$ rocks (which if you dont wanna drop 1k on artifacts), I would just run some more forests. Primal Order was a neat card I haven't seen in a while, and I think that can prove very useful in your deck if you're having a hard time getting through to other opponents running decks with multiple colors. If you want to stick with the aggro theme, I would add a Coat of Arms, since by the time you hit turn five you'll have about 4-5 elves, and this can turn 7 damage into 50. The risk of helping your opponents is worth it. Selvala, Heart of the Wilds is actually insane in this deck, and if your opponent draws a card or two off of it, nobody is gonna care. She can give you a ridiculous amount of mana with Ezuri pumps and elves like Drove of Elves. Concordant Crossroads is an absolute necessity if your goal is aggro. This card hurts sometimes, especially if your opponent has a creature-heavy deck. The payoff is huge though when you drop mana dorks with haste or drop your hand on the field, tap your Priest of Titania for a crazy amount, and have Ezuri pummel everyone with your hasty elves. As for mana doublers, you can run whatever you'd like, although I would say you don't need any of them for the deck to work: they're just a waste of a turn. Over all the others, I would run Mana Reflection so that your elves can tap for double as well as anything else. Overall, this deck is pretty solid, and with a few tweaks it could be an unstoppable force! Let me know if you need any other suggestions on anything else (:
Load more
No data for this card yet.