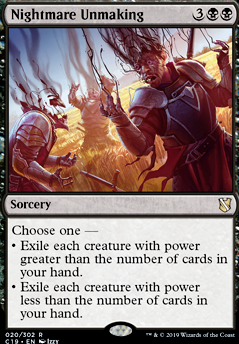 Nightmare Unmaking
Sorcery
Choose one —
Exile each creature with power greater than the number of cards in your hand.
Exile each creature with power less than the number of cards in your hand.
Browse Alters
Legality
| | |
| --- | --- |
| Format | Legality |
| Tiny Leaders | Legal |
| 1v1 Commander | Legal |
| Magic Duels | Legal |
| Leviathan | Legal |
| Duel Commander | Legal |
| Oathbreaker | Legal |
| Commander / EDH | Legal |
Nightmare Unmaking Discussion
6 months ago
Current state of all things
So after a few more games with the list as it stands I have the following thoughts:
Ramblings
From the new commander sets, of the cards which haven't been reprinted, the following are the only ones currently on the radar for even speculative additions:

Nightmare Unmaking : As a potential replacement for Blasphemous Act . The only issue with this is that the exiling effect can make certain creatures unrecoverable, especially value engine cards. Opponents can also interact with this effect by making you draw, discard or wheel at instant speed, for which this deck has no real response.

Bone Miser : I imagine that this card could become monstrous for mana generation alongside Ayula's Influence in versions of this deck. Also works with an uptick from Lord Windgrace . Were there more wheel effects in this deck it might be an easier choice.
Other thoughts for discussion
Now I'm trying to fish for some advice as to Lotus Field :
My thoughts on this are very mixed.
Pros: Even more difficult to interact with than other lands due to hexproof, fixes mana (to a degree), is psuedo-ramp if you can get down Lord Windgrace to recur the two sacrificed land. I have one available.
Cons: Slow, oh so slow. This card isn't exactly explosive unless you are able to run Amulet of Vigor (which was cut a little while ago). The sacrificing clause makes this an abyssmal starting land in hand. The mana generated is all of one colour so there is the prospect of it limiting options early game. You can't cast a Lord Windgrace off this without two other lands that tap for the requisite mana. That said the commander is the only three-coloured card in the entire deck. I am also not sure of the cut that would be required to make room for this in the mana base.