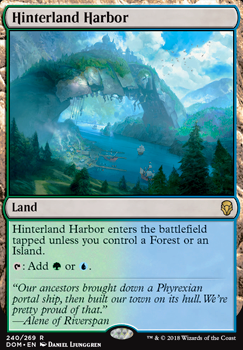 Hinterland Harbor
Land
Hinterland Harbor enters the battlefield tapped unless you control a Forest or an Island.
: Add or .
Browse Alters
View at Gatherer
Trade
Legality
| | |
| --- | --- |
| Format | Legality |
| Oathbreaker | Legal |
| Unformat | Legal |
| Vintage | Legal |
| Arena | Legal |
| Leviathan | Legal |
| Historic | Legal |
| Custom | Legal |
| Highlander | Legal |
| Modern | Legal |
| Legacy | Legal |
| 1v1 Commander | Legal |
| Duel Commander | Legal |
| Pioneer | Legal |
| 2019-10-04 | Legal |
| Tiny Leaders | Legal |
| Limited | Legal |
| Block Constructed | Legal |
| Canadian Highlander | Legal |
| Casual | Legal |
| Commander / EDH | Legal |
Hinterland Harbor occurrence in decks from the last year
Latest Decks as Commander
Hinterland Harbor Discussion
4 days ago
Changelog (22/11/2020)
White
Blue
Black
Red
Green
Multicolored
Colorless
Mana Fixing
3 weeks ago
9-lives Great List! Uro, Titan of Nature's Wrath is one of the most powerful cards in pioneer. It gains life passively and repeatedly and ramps you while doing it. It requires blue, so the mana is tricky but is powerful enough to be worth it. I would recommend the following changes to make this work.
3 weeks ago
seshiro_of_the_orochi I have added Cowabunga to my collection, I also got some sweet star city games turtle sleeves to go with it! I made some very tiny adjustments to the deck, Replaced evolving wilds with Hinterland Harbor, gonna side deck 3 Spidersilk Armor mainly because my wife always plays her faerie deck which EVERY creature in it flies, and I dropped 1 land for a 4th assault formation because that card is essential and I like making sure it gets out and stays out. I will post your deck on my profile tomorrow or the next day.
1 month ago
multimedia I am ashamed at myself for missing those staples, I promise I usually know that! The end-step untappers are mice, (can't wait for the new Commander Collection art of Seedborn Muse!) but I play tested with Mass Manipulation and it just doesn't cut it as a win-con (just like how people don't play Insurrection that much anymore). Hinterland Harbor and Alchemist's Refuge are pretty nice--but I don't care much for the other duals. I might grab a Leyline of Anticipation as per your flash suggestion, though! Thanks for helping out!
Massacar thanks for the suggestion: that's a very powerful combo that I don't feel the need to run. Kinnan, by himself, is a decent fit--it all depends on my land-acceleration to direct-to-the-pool mana-acceleration balance in the final iteration. I'll take a look at my land count: seems very likely too high, as you said. Thanks a ton!
1 month ago
My girlfriend just asked me to put Slivers back together. Anyways, as far as the land base goes I'm gunna list. Things out by cost/relevancy
duals I know eww reserved list but if you got em or can proxy em play em
Tundra, Plateau, Tropical Island, Volcanic Island, Bayou, Badlands, Scrubland, Savannah, Underground Sea, and Taiga
fetches they're getting their reprint in modern horizons 2 but still stupid expensive - but the fixing is just so good!
Flooded Strand, Polluted Delta, Scalding Tarn, Misty Rainforest, Prismatic Vista, Verdant Catacombs, Wooded Foothills, Bloodstained Mire, Windswept Heath, Marsh Flats and Arid Mesa
Utopia lands
Reflecting Pool, Cavern of Souls, City of Brass, Tarnished Citadel, Mana Confluence, Forbidden Orchard, Exotic Orchard, Meteor Crater, Pillar of the Paruns, Ancient Ziggurat, Path of Ancestry, Thran Quarry, Gemstone Mine, Aether Hub and Tendo Ice Bridge
I'm not a mega fan of the depletion lands but they're excellent if you're on a budget :)
shocks - you already got a few I'll recommend getting the rest
Blood Crypt, Temple Garden, Godless Shrine, Steam Vents and Sacred Foundry
Utility lands very overpriced cardboard but the power is definitely there
Mutavault, Urborg, Tomb of Yawgmoth and Gaea's Cradle
From there, if those cards are out of budget/you cannot proxy I'd go with the Triomes, battlebond lands Sea of Clouds, check lands Hinterland Harbor, and lastly the painlands Battlefield Forge beyond those the lands start becoming too inefficient and you will be targeted playing slivers. Even if you're not the threat having a slow land base is a death sentence. Hope this helped :)
Load more