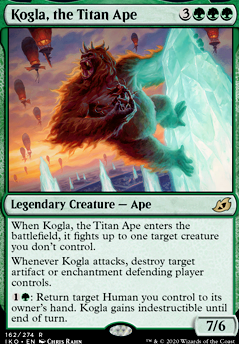 Kogla, the Titan Ape
Legendary Creature — Ape
When Kogla, the Titan Ape enters the battlefield, it fights up to one target creature you don't control.
Whenever Kogla attacks, destroy target artifact or enchantment defending player control.
: Return target Human you control to its owner's hand. Kogla gains indestructible until end of turn.
Start Commander Deck
Browse Alters
View at Gatherer
Legality
| | |
| --- | --- |
| Format | Legality |
| Standard | Legal |
| Oathbreaker | Legal |
| Unformat | Legal |
| 1v1 Commander | Legal |
| Duel Commander | Legal |
| Commander / EDH | Legal |
| Brawl | Legal |
| Custom | Legal |
| Limited | Legal |
| Tiny Leaders | Legal |
| Block Constructed | Legal |
| Gladiator | Legal |
| Pre-release | Legal |
| Casual | Legal |
| Historic | Legal |
| Highlander | Legal |
| Vintage | Legal |
| Modern | Legal |
| Pioneer | Legal |
| Canadian Highlander | Legal |
| Leviathan | Legal |
| Arena | Legal |
| Legacy | Legal |
Kogla, the Titan Ape occurrence in decks from the last year
Latest Decks as Commander
Kogla, the Titan Ape Discussion
3 days ago
I have not updated my Xenagos since exactly a year ago, so some of these suggestions do not take into account cards that have been released since then such as Jeska(i?)s will and battle mammoth which should find their way into this deck. Now onto my specific suggestions....
I couldn't suggest more than what's allowed by tappedout, but let me know what you think of each suggestion. If you want ideas for cuts, lmk
1 week ago
MagicMarc Thanks for all your tips. Both Kogla, the Titan Ape and Thorn Mammoth could work, I will probably try them out. I think in this kind of deck they are better than Feasting Troll King . The Vivien is unfortunately a little bit out of my budget.
In Search of Greatness is a really interesting tip that could actually work. I might try it out.
Right now, I kind of finished the deck with two Battle Mammoth as the top of the curve. I think they could work but i will try Kogla and/or Thorn Mammoth in its place. We'll see.
Probably the weakest place in the deck now is the 4 cmc lineup. I have Garruk and then I didn't know what els so now I'm runnning two Predatory Wurm which are okay but not great. Maybe I find a better 4 drop like a two of. That would be nice...
3 weeks ago
Sorry for the very lengthy reply. I just got swept up in this.
I've only played two games so my experience overall isn't going to tell me enough about how certain cards perform in various situations or if they're not synergizing enough with your strategy. I'm guessing you're on a budget. If your playgroup allows proxies, or money isn't an issue. Gaea's Cradle is always a great option in a deck that generates lots of token creatures, and you're already running Crop Rotation . The budget option to cradle though is Growing Rites of Itlimoc  Flip. When I began my 2nd game playing this deck I was very concerned since one opponent was running Angus Mackenzie which usually just neuters this kind of strategy. I mean I lost that game for other reasons, but if it had dragged on I probably would need a lot of luck to have instant speed removal for Angus and enough power to alpha strike or I'd just lose to forever fog. That's certainly an edge case, but a tad more removal could be helpful to rid yourself of problematic creatures or other effects. Song of the Dryads and Kenrith's Transformation are a couple of great options. The only other creature that doesn't do something like fight that shot to the front of my mind to get around Angus was Questing Beast .
=============
However, simply looking at the list and thinking about good options in general I would say the following cards should be considered for replacement:
Other cards to consider:
Some combo suggestions:
Quirion Ranger + Ashaya, Soul of the Wild to use the ranger's ability to return the ranger and untap any other creature that can tap for mana to recast the range and repeat for infinite cast triggers, creature ETB triggers for other permanents that care, and "landfall" triggers. Scryb Ranger can also work if your "lands" produce an additional green or if you have a way to give them haste like Lightning Greaves or Concordant Crossroads .
Cloudstone Curio + Kodama of the East Tree to put a land into play, bounce another land, resolve Kodama trigger to put that land back into play and bounce the first land for as many additional lands you can play per turn. This becomes infinite if you have a permanent that generates any kind of token on landfall trigger.
3 months ago
Robobro72: Fierce Empath is probably a permanent fixture of the deck. Sorry for the late response! But yeah, Fierce has been in the deck since its creation and has enables countless wins. It's always had 3 targets, Great Oak Guardian, Regal Force, and Woodland Bellower were the original three. Upon Ashaya's printing, it removed every artifact line in favor of more creature reliance, thus not needed Genesis Hydra loops, and since Genesis Hydra was ideally cast as the hidden 4th 6 cmc creature I slotted in Kogla, the Titan Ape. The Ape comes with his own line, and removal of a lot of relevant threats. It was for a brief period that Fierce Empath actually had 4 targets (Sep 22-Nov 23).
As for its usefulness in the current build post Great Oak Guardian world, same as it always was, Empath is almost always getting Woodland Bellower, unless I need gas, or removal/combo piece.
To remain current with the list and ask me questions and get responses closer to real-time join the Discord, we have an enthusiastic community with chibi Yeva emojis!
3 months ago
Might want to look into adding these cards for combat step potency. Berserkers' Onslaught, Aggravated Assault, Domri, Anarch of Bolas, Savage Ventmaw, Rampaging Baloths, Skarrgan Hellkite, End-Raze Forerunners, terrastodon, Kogla, the Titan Ape, Scourge of the Throne
And these cards for card-draw and mana ramp Beast Whisperer, Garruk's Uprising, Castle Garenbrig, Llanowar Elves, Temple of Abandon, Gruul Turf, Sheltered Thicket, Cragcrown Pathway  Flip, Return of the Wildspeaker, Elvish Mystic, Hunter's Insight, Ilysian Caryatid, Guardian Project, Bonders' Enclave, Nylea, Keen-Eyed,Lifecrafter's Bestiary
And the cuts I were thinking of could be Vivien, Champion of the Wilds, Spearbreaker Behemoth, Giant Adephage, Spidersilk Armor, Mistcutter Hydra, Shifting Ceratops, Sunder Shaman, Voracious Hydra, Rhonas's Monument, Blood Mist
This are just my first initial thoughts on the deck.
Load more