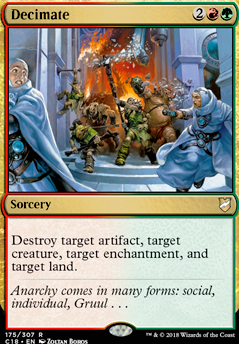 Decimate
Sorcery
Destroy target artifact, target creature, target enchantment, and target land.
Browse Alters
View at Gatherer
Trade
Legality
| | |
| --- | --- |
| Format | Legality |
| Tiny Leaders | Legal |
| Noble | Legal |
| Leviathan | Legal |
| Magic Duels | Legal |
| Canadian Highlander | Legal |
| Vintage | Legal |
| Vanguard | Legal |
| Legacy | Legal |
| Archenemy | Legal |
| Planechase | Legal |
| 1v1 Commander | Legal |
| Duel Commander | Legal |
| Oathbreaker | Legal |
| Unformat | Legal |
| Casual | Legal |
| Commander / EDH | Legal |
Decimate occurrence in decks from the last year
Commander / EDH:
All decks: 0.05%
RG (Gruul): 1.22%
BRG (Jund): 1.2%
Decimate Discussion
5 days ago
Dolphin_Jesus - Love the name
I play Xenagos but not with an MLD package. You have a low land count and a relatively high AVG cmc. If you're going to be wiping landbases and opponents wiping your creatures, you will not be left in an advantageous position. Why not add more artifact ramp such as Mana Crypt, Sol Ring, Talisman of Impulse, and The Great Henge? These will ramp you and will help you break parity.
Alternatively, you can run Collector Ouphe instead to shut down opposing artifacts as blue mages (as well as white, red and black players) will almost always be using artifacts to ramp and the small anti-synergy is worth it IMO should you choose to go that route. City of Solitude might be worth considering over or in addition to Price of Glory.
If you're still worried about blue, Veil of Summer acts as a cheap cantrip and anti-blue/black card. You're already running Pyroblast so specific color hate doesn't seem to be an issue for you.
You are trying to make deals but in my meta, if you play MLD, people will target you. There's nothing wrong with MLD, but most people don't like losing their lands so I'm curious how/if you have actually been able to politic your way out of a situation, unless the combo player is gonna win. '
Survival of the Fittest/Fauna Shaman might be worth considering with all your creatures. Not to mention the synergy with Anger and Eternal Witness. A Genesis might be worth considering should you go that route.
My honest opinion is that this deck lacks enough card draw, lands and meaningful ramp to be able to compete in a semi-competitive meta (no idea what your meta is like, but this wouldn't hold up in mine). You only run 6 pieces of ramp that allow you to get Xenagos out earlier.
Return of the Wildspeaker > Soul's Majesty - You don't want them to use removal in response to majesty, but rather, use wildspeaker in response to removal.
Rishkar's Expertise - Similar to above but with added benefit of not losing tempo
Greater Good - The most powerful card in a Xenagos deck. If you listen to anything I say, this is it.
Lifeblood Hydra - Even if it dies, you gain value. Pair it with another card you should add, Berserk (which goes exceedingly well with Malignus)
Life's Legacy/Momentous Fall - Yes, additional cost to cast sucks, but its very helpful to draw and it helps get around spot removal.
Beast Within - Good old instant speed permanent removal
Decimate - 4 for 1, amazing value
Voracious Hydra - Beater and removal in one
Dosan the Falling Leaf - Anti blue, anti spot removal if blue is a thorn in your side
Bolt Bend - Redirect removal, counter counterspells, redirect some draw as well as some extra turns. Very useful for 1
If you would like ideas for cuts or want to discuss strategy
1 week ago
I thought it was initially a budget build and you wanted any upgrade. Got you. So with budget ideas in mind....
It sucks to be budget since you lose out on so many good cards, most importantly crucible and life from the loam.
4 weeks ago
Yeah, I'll definitely look into those ramp spells, but as far as 3cmc goes I feel like Cultivate and Kodama's Reach might be enough. I may end up cutting the more expensive ramp like Skyshroud Claim , though, if it turns out to be too clunky.
I'm a little nervous about the curve being so high, but since I have cheap ramp and a lot of mana dorks, I'm hoping that it'll even out and let me play quickly enough. In the few games I played with the older list, I rarely ever got mana screwed and I usually managed to get Xenagos out before turn 4 and get to smashing.
Also yeah at some point I need to grab a Strip Mine , it's an awesome effect that basically every deck should have. Gonna have to do with Decimate for now haha.
2 months ago
+1 I read the primer, while I knew a lot of the stuff you mentioned as a Xenagos player myself, it was refreshing! I noticed you put dense folliage and plated slagwurm out of the deck, is there any particular reason? I found the reasons in the primer convincing.
As you mentioned in your primer, the worst thing that can happen in a Xenagos deck is having a blowout, getting your creature killed in response to a draw spell. Unfortunately, my meta is FILLED with interaction and spot removal, which is Xenagos's achille's heel. City of Solitude is an allstar in my list, stops blue as well. How would a Xenagos deck deal with a meta that's filled with interaction and spot removal? That's my biggest question for you. I personally don't run extra combat steps for this reason because they only help when I have a creature which sadly isn't that often despite having 31 creatures in the deck BECAUSE I become such a target. For whatever reason, people are afraid of Xenagos :D Another weakness is control decks which are just a bad time for us. While I don't run it in my list, have you considered Prowling Serpopard or even Spellbreaker Behemoth as tutorable ways to deal with blue?
Want to rack your brain regarding recursion as well. Mimic Vat is a very interesting card I never considered by will do so seriously thanks to your primer. I feel like it's exactly what I need to deal with ALL the spot removal in my meta. I added Reap the Past as well as E=wit and greenwardern. The warden might be overkill, but he works nicely with Berserk effects, that way I don't mind if they use spot removal on him.
I'm astonished you are running Thran Dynamo over Skyshroud Claim . Both can be used the same turn, but dynamo gets shut off by your own collector off and opposing null rod effects, not to mention it can get blown up. Skyshroud can color fix you as well, but thats rarely and issue for G/R players.
In your primer you mention Joraga tree speaker is like a green sol ring, but he doesn't actually "ramp" you. Play him T1, Level up T2, you have 2 green mana, no more than you would have had without him. I don't like him outside of elf-centric lists.
Voracious Hydra - Acts as a beater with trample and built in removal, or he can just get HUGE.
Decimate - 4 cards blown up for 1, huge value and can be played prior to Xenagos to clear the field. Note: You do need 4 targets, but you can always target Xenagos for the enchantment should none be on the field.
I noticed you run Return of the Wildspeaker . I think I might replace my Garruk, Primal Hunter with that. Thank you for that, I like how it's instant speed so you can use it in response to removal instead of having to pay ! Speaking of draw, have you considered The Great Henge ? Can cost just , buffs your dudes, gains you life and most importantly draw you cards. It might be better in a deck with more creatures, but I thought it worth noting nevertheless.
What are your thoughts on Shapers' Sanctuary ? Since the deck folds to spot removal, this comes down early and draws you cards. I'm going to add it to my list.
Embercleave seems weak, even with Godo tutoring it onto himself, and Xenagos + equipment buff, it becomes 8/8 trample doublestrike, so 16 damage at most for 6 mana seems weak. This doesn't take into consideration that you might draw into the equipment prior to drawing into Godo, which would suck because you would need to pay a higher cost since the deck doesn't go wide as you noted in your primer. Maybe consider Mage Slayer as well or even as a replacement? That way you're not as reliant upon Godo.
Under your section of cards you don't play, I disagree the following....
You should run Berserk ! You won't cast it unless it will kill them and most of the time, it does, at least in my experience. There's nothing better than berserking a Lifeblood Hydra which you should add as well. It provides lifegain and more importantly card draw.
Tooth and Nail - 9 mana for 2 creatures from your deck/hand? It's amazing with value creatures like E-wit or green warden although you don't appear to be running either. Another option is Archetype of Endurance (which has been an ALLSTAR in my deck) and a beater.
Kozilek, Butcher of Truth - Part of me agrees with you, your deck doesn't have that mana capacity per say since your curve is low for Xenagos. The other part of me sees a 24/24 Draw 4 Cards, Annihilator 4, it won me the last few games.
Overall, I'm very impressed by this list. This seems like a beast to play against. I made my Xenagos deck's CMC higher rather than lower to the ground because that would just exacerbate how threatening I am to the table and I choose to sacrifice speed for late game resiliency. Whenever you get a chance, I would appreciate it if you could take a look at my Xenagos list Bro, or should I say, Xenabro
3 months ago
Love the deck idea. If it were me, I'd be running Disrupt Decorum as well as Decimate . They're both great for control and DD is great for buying you a turn with no one attacking you. It feels great when you play it!
3 months ago
Hey man! I got some suggestions. Feel free to ignore any/all of them:
I think that's all I got. Good luck!
Load more