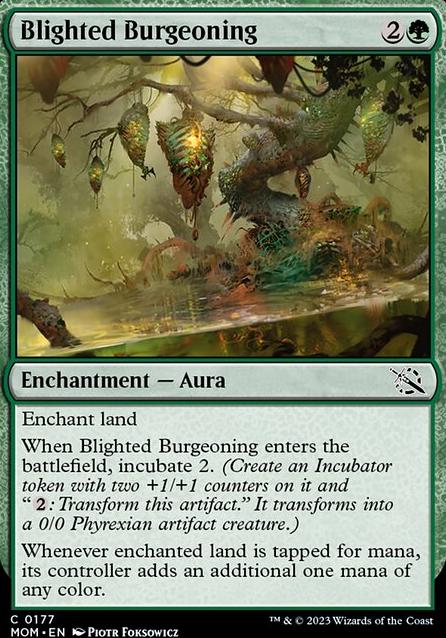 Legality
Blighted Burgeoning
Enchantment — Aura
Enchant land
When Blighted Burgeoning enters the battlefield, incubate 2. (Create an Incubator token with two +1/+1 counters on it and ": Transform this artifact." It transforms into a 0/0 Phyrexian artifact creature.)
Whenever enchanted land is tapped for mana, its controller adds an additional one mana of any color.
3 months ago
Creature removal: Beast Within, Decimate, Kenrith's Command, Mawloc, Domri's Ambush, Ground Assault, Clan Defiance, Pit Fight, Ram Through, Inscription of Abundance, Ulvenwald Tracker, Lignify, Prizefight, Cosmic Hunger, Tail Swipe, Bite Down, Rabid Bite, Master's Rebuke, Devouring Tendrils, Warbriar Blessing, Epic Confrontation, Tandem Takedown, Chaos Warp, Vow of Lightning, Meteor Swarm, Volcanic Salvo, Arni Slays the Troll
Artifact/Enchantment removal: Migloz, Maze Crusher, Hull Breach, Kogla and Yidaro, Klauth's Will, Artifact Mutation, Cindervines, Vithian Renegades, Reclamation Sage, Tranquil Frillback, Kogla, the Titan Ape, Manglehorn, Masked Vandal, Titan of Industry, Woodfall Primus, Wickerbough Elder, Vandalblast, Abrade, Fall of the Hammer
Board wipes x3: Chain Reaction, Starstorm, Blasphemous Act, Anger of the Gods, Brotherhood's End, Chandra's Ignition, Klauth's Will, Monstrous Onslaught, Mizzium Mortars
Ramp: Goblin Anarchomancer, Incubation Druid, Springbloom Druid, Sanctum Weaver, Gyre Sage, Fertilid, Kami of Whispered Hopes, Biophagus, Wolfwillow Haven, Klothys, God of Destiny, Gift of Paradise, Font of Fertility, Dawntreader Elk, Omen of the Hunt, New Horizons, Blighted Burgeoning
We'll check these out next time.
4 months ago
This is a pretty awesome list and a fresh new way to take a well trodden (and unfortunately stale), but forever cool commander. +1 from me.
Here are some suggestions:
An immediate thought I had for inclusion is Inspiring Call. It won't protect most of your non-token creatures unfortunately (unless you are going ham with Ozolith, the Shattered Spire, but it will protect all of your incubate tokens and draw you cards. Clever Concealment is another great protection spell for token based strategies.
I've personally never been a fan of Primal Vigor since it can backfire spectacularly. You might consider replacing it with a simple ramp spell since 8 true ramps spells is a little low IMO.
Also, for flavor, you could throw in Atraxa, Grand Unifier, but I know it doesn't really play with your strategy here.
Other than that you already have a few of my potential suggestions in your "maybeboard": Eyes of Gitaxias, Compleated Huntmaster, and Blighted Burgeoning.