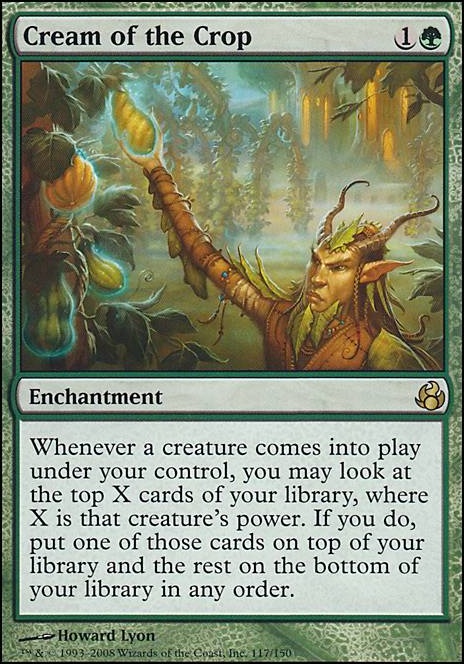 Legality
| | |
| --- | --- |
| Format | Legality |
| Tiny Leaders | Legal |
| Noble | Legal |
| Leviathan | Legal |
| Magic Duels | Legal |
| Canadian Highlander | Legal |
| Vintage | Legal |
| Modern | Legal |
| Penny Dreadful | Legal |
| Vanguard | Legal |
| Legacy | Legal |
| Archenemy | Legal |
| Planechase | Legal |
| 1v1 Commander | Legal |
| Duel Commander | Legal |
| Oathbreaker | Legal |
| Unformat | Legal |
| Casual | Legal |
| Commander / EDH | Legal |
Cream of the Crop
Enchantment
Whenever a creature enters the battlefield under your control, you may look at the top X cards of your library, where X is that creature's power. If you do, put one of those cards on top of your library and the rest on the bottom of your library in any order.
Cream of the Crop Discussion
4 weeks ago
spiral_te thanks for comments/suggestions!
I agree for point 1-7.
The original reason I put in Expedition Map is that I based the deck around the 6 flash-enablers. Theres no way to tutor for Vedalken Orrery and Leyline of Anticipation , and only Momir to tutor for Teferi, Mage of Zhalfir and Yeva, Nature's Herald . So the Map is my efficient way to tutor out Alchemist's Refuge and Winding Canyons . I would shift over to a Ulvenwald Hydra for this purpose but I do not have one.

Void Grafter is just part of the 'my creature can do what an instant can do' such as Dive Down or Mizzium Skin but I guess this is pretty situational and I would have to leave 3 mana open always.

I agree for the cuts to Kiora's follower, but not for Gyre engineer. Both were meant to be manadorks and I was guessing I need to ramp fast to be able to cast things on multiple turns. Genesis hydra was just thematic of the 'cheating creatures out'.

For Prowling Serpopard/Gaea's Herald, it's not really needed in my playgroup, since I'm the one that usually plays counterspells most of the time.

I'm looking to slot in Kederekt Leviathan for a 'cyclonic rift' effect that can be used twice due to unearth. But my considerations are that I'll need to build up my board again, so this would probably be used more when I'm behind. So i've opted to put in Profaner of the Dead and Scourge of Fleets as my AOE boardclear instead. What are your thoughts on adding the Leviathan?
Still need to cut 5 more :(
4 weeks ago
This is a cool deck. All the cards are keepable, but these are the cuts I would make. Tried to cut something from each category rather than eliminate one.
At this point, it's a matter of personal taste what to keep because the remainder are all very good. I would try cutting Kiora's Follower , Genesis Hydra , and Gyre Engineer and seeing how the deck functioned.
Suggestions: - Tidespout Tyrant becomes a value engine/backup wincon - Prowling Serpopard or his ancestor Gaea's Herald for reasons - Veilstone Amulet turns all your spells into Mizzium Meddlers. - Cream of the Crop or other topdeck manipulation lets you set up your Rashmi triggers nicely. - Brutalizer Exarch is a bit heavy manawise but has two nice modes - Sages of the Anima easily puts you into crazytown
Happy Flashing!
1 month ago
I think it would be good to decide whether you want to be more of a highly aggressive red deck or a spells-matter Izzet deck since you have elements of both right now. Going mono-red would be cheaper, allowing you to have a simple mana base and run solid commons like Viashino Pyromancer . Red wizards isn't going to be as good as competitive burn, but it should suffice for a relatively casual metagame. Soul-Scar Mage would be one wizard to add. Then, I'd supplement Lightning Bolt and Wizard's Lightning with more burn ( Lava Spike , Searing Blood , Skullcrack , etc.) For Izzet, you probably want to replace the low-impact burn and blue cards for more guys that trigger on instant/sorcery casting. Young Pyromancer is the one that jumps to mind, and Crackling Drake has been performing quite well. The remaining spells should be mainly draw or ways to trigger your creatures. The jump start cards are a great place to start. Flashback is another solid way to do this with Faithless Looting being the Cream of the Crop , but do beware of a potential banning.
1 month ago
I sort of think it could work, but you would need most slots dediated to other more importnat pieces-not scrying. A few people have tried to make Cream of the Crop work with that along with faeries. IDK, try it out!
1 month ago
Hey seshiro_of_the_orochi, both of those cards are really interesting. Cream of the Crop seems to much better when compared to Mirri's Guile because I drop creatures multiple times per turn. Sylvan Awakening is also a really spicy card because I easily get out 20+ lands in a game. I like them both, what do you suggest I cut for them?
2 months ago
Card Categorization
I've categorized the cards in your deck here: https://deckstats.net/decks/50753/1215572-animar
The following analysis is based on that categorization. Several cards are in more than one category, so I've categorized them based on their primary or common case. E.g. Ancient Animus is both "Removal" and "+1/+1 Counter Interaction", but you're going to cast it to kill something -- the +1/+1 counter is a nice bonus.
Strategy
There's no explicit or stated goals of the deck, so I can't evaluate the cards against that. If you have a goal, let me know.
The core effect of Animar is to play creatures, which grows Animar. As Animar grows, he helps you play more (and more expensive) creatures. Some notable limitations:
Animar only decreases colorless costs
Animar only cares about creatures
Animar only cares about casting creatures
Animar is cheap to cast and protects himself from most removal (due to his protection from Black and White). Because of this, we can assume that we will get him out early and keep him out long enough for him to provide benefit. We'll build the deck assuming Animar is on the battlefield at all times.
Since Animar reduces the colorless component of creature costs, we'll get the biggest benefit from colorless creatures. As with any unlimited cost reduction effect, we should look for ways to break the free case. The obvious one here is to bounce and recast colorless creatures for free.
Since we're playing all of these (hopefully free) creatures, Animar will grow quickly. Giving Animar good evasion will give us to win on commander damage quickly.
To best abuse Animar, we want:
Many creatures across a range of mid to high colorless costs
As many of those creatures in our hand as possible
An many +1/+1 counters on Animar as soon as possible
A means to make Animar unblockable
The easiest way to break Animar is to create an engine that casts colorless creatures and bounces them to your hand as many times as possible during a turn. We'll want ETB/LTB effects on those creatures and cards that care about creatures entering and leaving the battlefield. Additionally, we'll want cards that care about +1/+1 counters on a creature.
Favor creatures over non-creatures, as you get a discount on creatures. Try to keep colored costs to a minimum - avoid double or more colors in a cost.
Abusable Colorless Creatures:
Repeatable Bounce:
Synergies:
Unblockable Enablers:
We'll want to get as many creatures down as quickly as we can. Card draw and other card advantage effects are valuable.
Draw/Card Advantage:
Changes to the Existing Cards
I would consider cutting way down on the amount of ramp. Mana dorks get the deck running early, but they don't have any synergy with the core effects. I suspect that's what was leaving you feeling like you had a dead hand.
Cards that seem particularly problematic:
Load more
Cream of the Crop occurrence in decks from the last year
Commander / EDH:
All decks: 0.01%