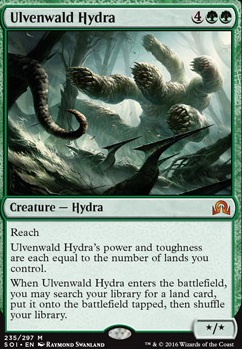 Legality
| | |
| --- | --- |
| Format | Legality |
| Tiny Leaders | Legal |
| 1v1 Commander | Legal |
| Magic Duels | Legal |
| Heirloom | Legal |
| Canadian Highlander | Legal |
| Vintage | Legal |
| Modern | Legal |
| Block Constructed | Legal |
| Leviathan | Legal |
| Legacy | Legal |
| Frontier | Legal |
| Duel Commander | Legal |
| Unformat | Legal |
| Casual | Legal |
| Commander / EDH | Legal |
Ulvenwald Hydra
Creature — Hydra
Reach
Ulvenwald Hydra's power and toughness are each equal to the number of lands you control.
When Ulvenwald Hydra enters the battlefield, you may search your library for a land card, put it onto the battlefield tapped, then shuffle your library.
---
Have (0)
Want (74)
Daynthebold , PopeJonIII , kovellen , Sky_Ward_Syndicate , Talonisnthavingit , Joos_Box , esono , angelx , MayhemAdvent331 , cybertop , magicthegatheringplayer37 , Ben773 , TheSuperDodo , cannon_Spectacle , chucklebot , Killer_Tofu , Kharuman , squirrel009 , oswrick , Gravehawk , MoxFlux ,

p

p

h

h

a

a

z

z

e

e

, adb_slayer , Red_Feathers , Limette23 , Timishue , Chebermech , 3drinks , RoninH3RO , Skullion123 , ReliableSenpai , snakekill321 , Magus_of_the_Brothels , Icywaffles , Sphaxtria , marsp44 , Apastolos , Monduck , titaniumturtlex , ztanos , mjbrown901 , swarlelion ,

R

e

d

Z

e

b

r

a

, kathor , Mordarto , aramlet , jbriedis ,

H

a

w

k

w

o

o

d

, scootamccootatang1 , snoopywashere , shinnock , grayarchon , clipkick , Kaslay , jjscaliseok , instantBuddha , D_Rizzle_Sizzle , ServerWizard , WhiteLance , fumatto , Henryen , mestizia , Xphasmatis , rewtrium , lmsmq , Flaktastick , Daulken ,

M

r

P

r

e

d

a

t

o

r

, aeonblue , twospires , 1337_Nerd , superlangbein , Thunderlump , bdehoven
Ulvenwald Hydra Discussion
11 hours ago
spiral_te thanks for comments/suggestions!
I agree for point 1-7.
The original reason I put in Expedition Map is that I based the deck around the 6 flash-enablers. Theres no way to tutor for Vedalken Orrery and Leyline of Anticipation , and only Momir to tutor for Teferi, Mage of Zhalfir and Yeva, Nature's Herald . So the Map is my efficient way to tutor out Alchemist's Refuge and Winding Canyons . I would shift over to a Ulvenwald Hydra for this purpose but I do not have one.

Void Grafter is just part of the 'my creature can do what an instant can do' such as Dive Down or Mizzium Skin but I guess this is pretty situational and I would have to leave 3 mana open always.

I agree for the cuts to Kiora's follower, but not for Gyre engineer. Both were meant to be manadorks and I was guessing I need to ramp fast to be able to cast things on multiple turns. Genesis hydra was just thematic of the 'cheating creatures out'.

For Prowling Serpopard/Gaea's Herald, it's not really needed in my playgroup, since I'm the one that usually plays counterspells most of the time.

I'm looking to slot in Kederekt Leviathan for a 'cyclonic rift' effect that can be used twice due to unearth. But my considerations are that I'll need to build up my board again, so this would probably be used more when I'm behind. So i've opted to put in Profaner of the Dead and Scourge of Fleets as my AOE boardclear instead. What are your thoughts on adding the Leviathan?
Still need to cut 5 more :(
1 day ago
Hey semsandberg,
Land recursion Sidisi, Brood Tyrant is indeed a strange way to play her.
You're gonna want a lot of creatures to hit the grave for her ability and you want a lot of hate lands in the deck, have you thought of reconsidering Muldrotha, the Gravetide as your commander, as it allows for a free land per turn as well as other benefits.
Spore Frog is great against aggro, if that's what you're struggling against, the little frog is your best hope, I would take it over Songs of the Damned anyday.
Additionally Constant Mists is perfect for fighting aggro with land recursion!
Lurking Predators is a heavy cmc card for a benefit that might not work, I would consider Multani, Yavimaya's Avatar for an extra creature that can bring itself back.
Strip Mine is needed! I would actually take out Perpetual Timepiece as it's a danger to you if you don't have 2 mana up and someone exiles your grave, additionally, if you want to keep it up, you have to play with 2 mana up at all times.
Path of Discovery is a great card, but Courser of Kruphix is a better one, and so it Oracle of Mul Daya .
I would also run more basic lands, because having 5 in total, with Yavimaya Elder that gets you 2, Sakura-Tribe Elder and other land fetches makes it them very obselete.
If you wanna run that many basics, consider adding Ulvenwald Hydra that fetches you any land into play and possibly Vorinclex, Voice of Hunger for double the mana and super hard control.
Splinterfright is cool, but Sylvan Library is cooler.
Other cards to consider are the following: Exploration or Wayward Swordtooth for more land drops.
Avenger of Zendikar is great to abuse for sac outlets and get those land drop triggers!
Last but not least: Sylvan Safekeeper a must in all land recursion decks!
Hope this helps, Flesh
2 weeks ago
Some cards I think would do well here.
Let me know if you need help with cuts.
2 weeks ago
Love the concept! gota couple suggestions, figured I'll accordian them to keep from filling up the whole page.
1 month ago
I can see that. If you're not running Hour of Promise , you probably don't need Ulvenwald Hydra . I only run him in Tatyova because he's a non-legendary creature for Rite of Replication and grabs Nkythos. The reach has been funnily relevant, though.
1 month ago
triproberts12 (above also) I think it's probably Ulvenwald Hydra for World Shaper having a quick look at it, as I don't need the tutoring and I don't think the fat body is particularly relevant, especially as it doesn't have trample.
1 month ago
Welcome to EDH. Before I begin giving you suggestions about this deck I just wanted to let you know a little about the EDH format.1) EDH decks usually have about 36+ lands and some additional mana sources. I see you are running Cultivate and Kodama's Reach as well as a few artifact mana sources, but you will probably need to up your land count. 2) Most EDH decks that use their commander use Lightning Greaves and Swiftfoot Boots as ways to protect it and to give it haste so it doesn't just dies every time you cast it.
For mana sources Ashnod's Altar and Phyrexian Altar are great in your deck.
You can add Poison-Tip Archer to the group of cards that do damage when a creature dies.
Viscera Seer is a great sac outlet.
Skullclamp is a great source of card draw, especially in this style of deck.
Since you are making tokens... Ezuri's Predation and Sprout Swarm might be fun. Primal Vigor is another Doubling Season type of effect. My personal favorite in token decks is Eldrazi Monument
As for cuts to make, to make room for 12+ lands you have some tough choices to make (more cuts if you make any changes). Here are my thoughts and reasons:
Atarka, World Render I know your general is a dragon, but not really many other things in your deck are, so this might be a bit of a win-more card.
Beastcaller Savant you can get better acceleration somewhere else 1/1 creatures don't stick around long.
Burning-Tree Emissary 2/2s get outclassed quick in EDH and you aren't trying to storm.
Goblin Bushwhacker one time effect, then not much. This wants to be a Craterhoof Behemoth or at least an End-Raze Forerunners .
Kalonian Behemoth big creatures are big, but not sure it does much in your deck. Gets some Lightning Greaves or Swiftfoot Boots and build your own.
Phage the Untouchable a great creature and a lot of fun, but probably better in another deck.
Riftsweeper I don't think this works the way you think it does.
Ulvenwald Hydra and Zendikar Incarnate , these are better served in a lands deck
Autumn's Veil situational based on your groups meta.
Tainted Strike you better make sure to kill them with the only poison you are running
Titanic Growth +4/+4 might be nice in some cases, but I'm sure it is worth the slot, most things that are trying to kill your creature will probably still kill them after the pump.
Explore up the land count to make this matter.
Mana Cylix run better fixing so you don't need to filter your mana.
Hope this helps. I like your take on Prosh with tokens looks like a lot of fun.
Load more
Ulvenwald Hydra occurrence in decks from the last year
Commander / EDH:
All decks: 0.03%
Green: 0.26%