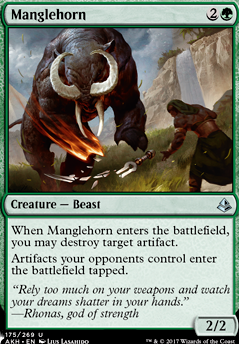 Manglehorn
Creature — Beast
When Manglehorn enters the battlefield, you may destroy target artifact.
Artifacts your opponents control enter the battlefield tapped.
Browse Alters
Trade
Legality
| | |
| --- | --- |
| Format | Legality |
| Vintage | Legal |
| Commander / EDH | Legal |
| Tiny Leaders | Legal |
| Highlander | Legal |
| Limited | Legal |
| Leviathan | Legal |
| 1v1 Commander | Legal |
| Oathbreaker | Legal |
| Modern | Legal |
| Historic | Legal |
| Block Constructed | Legal |
| Canadian Highlander | Legal |
| Duel Commander | Legal |
| Casual | Legal |
| Arena | Legal |
| Unformat | Legal |
| Pioneer | Legal |
| 2019-10-04 | Legal |
| Legacy | Legal |
Latest Decks as Commander
Manglehorn Discussion
2 months ago
@RNR_Gaming actually Yisan has become much stronger within the wake of the Flash banning, and while Demonic Consultation endgames are incredibly strong, the lists still reliant on Isochron Scepter are easily preyed on with the Caustic Caterpillar/Collector Ouphe builds, and even before then the old Ravenous Slime builds were really strong.
I'll admit, green as a midrange color has been lagging behind white, which due to Drannith Magistrate/Aven Mindcensor has been given a ton, Collector Ouphe in the command zone is still letting Yisan get free wins time and time again, as well, it's become incredibly resilient to the countermagic of the blue based consult lists with Allosaurus Shepherd and Destiny Spinner's recent releases, I mean in the last 3-4 years, Veil of Summer, Force of Vigor, Ravenous Slime (I mean, it was super big in Yisan for the age of Hulk), Kenrith's Transformation, Manglehorn, Runic Armasaur, Finale of Devastation (easily the best wincon), Castle Garenbrig, Blast Zone, Prismatic Vista, etc. all help the list in both value and consistency.
While I'd argue that it actually has been doing better than most partner powerhouses in the past (Tymna/Tana, Tymna/Kraum, Thrasios/Vial Smasher) due to new cards making the tutor effect more and more powerful, the format also homogenized around the consult+value+interactive strategy. While yes, Thrasios/Tymna, Kenrith, Najeela, Gitrog, Kess, and a few others are tier 1, Yisan is too. The reason artifact based Iso-rev strategies aren't as popular as they were pre-flash is because in the time flash was the big thing, Collector Ouphe and Force of Negation were printed. I mean, Drannith Magistrate too, but that card less-so, as that was really after the banning.
3 months ago
Interesting. I honestly think that our builds are branched far enough apart that literally any change we could make is up for debate, since we both experience very different things, mine being minmaxed for speed and resilience, and yours being valuey awesomeness.
The Gift of Immortality vs Angelic Renewal thing is up for debate tbh. Gift is a second Saffi with Sun Titan and Boonweaver Giant, while Angelic Renewal is a second Saffi with Renegade Rallier and Sun Titan. I think I prefer Renewal, because it's a bit faster and can't be fizzled by creature removal.
The argument against Fecundity is completely fair tbh. Its arguable. I wouldn't even consider it if this were a reactive, slower deck. But seeing as to how it's designed for S P E E D (so that it doesnt die to the same fate as Karador), I think itll be a great boon.
Rec Sage vs KoA is also arguable in the grand scheme. I prefer KoA for versatility, but Rec Sage for the other reasons. The biggest reasons for KoA are blocking, drawing with Greater Good and pulling out of bad scenarios. I can totally understand and accept the reasoning behind Rec Sage over it though. Might even cut Manglehorn for it, though that tapped ability is pretty monstrous in the cEDH landscape.
The main reason I have Walking Ballista in is because it's an easily tutorable outlet for infinite mana, which the deck generates casually. I've also been known to pull some shenanigans with Rector and such, but that's my secret ;).
I honestly really dislike SFM here. And it's not some huge reason either. It's mostly because I dont have a second equipment I dont care about finding. If I had a second one that I actively cared enough to find, it'd be worth playing. Finding Clamp is nice, but it being a potentially dead card is a little on the iffy side for me. Could be worth checking out though.
Anything else come to mind? Also, what would you say a snazzy name for Saffi would be? For the server ofc.
6 months ago
Hey man! Love grave decks and I'm glad people are still excited about them too! Your list looks pretty interesting, and if you wou like here's my advice: 1. I do not know what budget limitations you are under, so I'll sort my advice by price :) 2. I also do not know the mindset of your playgroup, so if anything I suggest seems too rude, unfun, or not accepted in your group, you make the judgement call and could totally just not run it. It's suggestions, not an order :) 3. Under 5$ includes: Blood Pet, Slaughter Pact, Pox, Arbor Elf, Elves of Deep Shadow, Final Parting, Commander's Sphere or Darksteel Ingot, Stitch Together, and Manglehorn. 4. 5-10$ Includes: Sidisi, Undead Vizier, Abrupt Decay, Entomb, Lightning Greaves, and Birthing Pod. 5. >10$ Includes: Grave Pact, Razaketh, the Foulblooded, and Mana Vault 6. The most exspensive commander staple since force of will and the og duals, it's Mana Crypt!! 7. Potential cards you could take out for these in my opinion: Triumph of the Hordes, Blighted Woodland, Catacomb Sifter, Thoughtpicker Witch, Elixir of Immortality, Caustic Tar, Moldervine Reclamation, Swiftfoot Boots, the guildgate, and Arguel's Blood Fast  Flip 8. Again, these are just my suggestions and you may do with them what you will, just thought I'd share because I love this archetype and want to see others enjoy it to their fullest. :)
6 months ago
Hi there. Here are some suggestions based on your description/questions:
Altar of the Brood and Blasting Station are two win-cons for when you go infinite with Melira, a persist creature, and a sac-outlet.
Manglehorn is another good Reclamation Sage type creature.
The Great Henge and Renata, Called to the Hunt are fantastic with persist and with the high amount of creatures that you are running.
You have most of the best sac outlets, but I see that you are missing Greater Good. I've also always been a big fan of Spawning Pit.
You could also try some more card advantage and ramp through creatures. Additions to consider are Sakura-Tribe Elder, Farhaven Elf, Guardian Project, The Great Henge (again...the card is serious busted), Elvish Visionary, Skullclamp, and Beast Whisperer.
Beast Within is also a staple in mono-green.
Happy deck building!
6 months ago
On Archon vs Slime: I prefer versatility over raw power in an unsure meta.
On Finale, Rec Sage, and Manglehorn: Finale never seemed to preform for me. Could be different now, worth a retest. I love the addition of Manglehorn, but Rec Sage is a strictly worse KoA so I'mma pass on it.
On Skullclamp and Open the Armory: Much as I like Clamp in a deck like this, I never seem to have time for it. 9 times out of 10 it was stuck is hand as I assembled the combo, which is a major loss in consistency that I'm just not about. No reason to play dead cards. Consequentially, I can't really play Open the Armory. Much as I want to because it cheaply finds Pattern, without a second target there's no real point. I can retest it, but let's just say I'm less than jazzed with it.
Thanks for the comment brah.
Load more