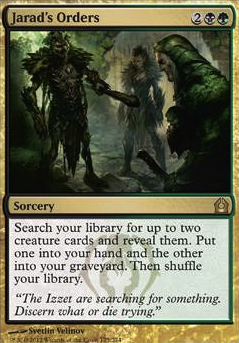 Jarad's Orders
Sorcery
Search your library for up to two creature cards and reveal them. Put one into your hand and the other into your graveyard. Then shuffle your library.
Have (31)

d

u

c

t

t

a

p

e

d

e

c

k

b

o

x

,

E

n

r

a

g

e

d

A

t

l

a

s

,

H

a

v

o

k

X

,

r

o

c

k

l

e

e

m

y

h

e

r

o

,

G

o

l

d

G

h

o

s

t

0

1

2

, brent29 , Iwasforger03 ,

C

a

s

t

l

e

S

i

e

g

e

,

T

h

e

D

e

v

i

c

e

r

, Zabaron , vaxizoq ,

j

w

e

9

4

, Explotography , MrShhh ,

p

s

k

i

n

n

0

1

, dragonbladeice ,

C

a

m

p

b

e

l

l

S

t

e

v

,

m

i

r

a

c

l

e

H

a

t

, Surferdunks , AlbinoLion , army88strong , Valentine35 , philktoken8998 , TroyMicheal ,

g

u

e

s

s

l

i

n

g

,

J

a

k

e

H

a

r

l

o

w

, x754 ,

F

A

L

L

E

N

-

X

-

A

N

G

E

L

, rooroothepirate ,

a

g

G

r

a

v

i

t

y

,

r

a

k

d

o

s

2

4

Want (0)
Jarad's Orders Discussion
7 hours ago
Hey man, awesome to see that you're getting your kid into the game! I'd have a list of suggestions which I won't name since they're $10 and more cards which you probably know of but don't want to include because of the money reasons.

First of all, I'd help the mana base: Throw in all the cheap fixing lands that exist! Golgari Guildgate, Selesnya Guildgate, Orzhov Guildgate, along the same lines I'd always play Golgari Rot Farm, Selesnya Sanctuary and Orzhov Basilica if I don't have the expensive lands yet. Sungrass Prairie might be worth a look, too, especially since


is the main topic of this deck. Along that, there's more mana fixing that exists for these colours, like Graypelt Refuge is an identical version of the sands that you run, Sandsteppe Citadel is an auto-include, even in non-budget Abzan decks. Running a Terramorphic Expanse along with the Elvoving Wilds won't hurt either, I think. Along similar lines, the temples from the Theros-Block (Temple of Malady, Temple of Silence and Temple of Plenty) should plummet pretty hard pretty soon because they roatated. Might want to pick them up, I don't see them being much higher than $1 soon. That's for the mana base.

Now, creatures is a little tough because you're just running a number of fun creatures and I wouldn't push you in any direction. If you WANT creatures in your graveyard to bring back, cards like Grisly Salvage, Jarad's Orders and Buried Alive are solid pickups.

If you want a little more controlling cards, including board wipes like Day of Judgment and End Hostilities are pretty nice, since you're mainly running big guys, Drown in Sorrow might be worth the inclusion.

Now, a general question: Did you ever consider running Karador, Ghost Chieftain as the commander? He, at least in my eyes, lends himself a little more to the graveyard strategy. Or does he? Not sure, might be though. Tell me what you think about that, in general to my suggestions, and I'll have some more for you if you care!

Best wishes from the Shire,
Me
2 weeks ago
Not sure if this thread/deck is still active, but have you considered a BUG version, so we could use Jarad's Orders as a wincon to search out 2x myr retreiver?
2 weeks ago
Commander
Land
Ramp
Card Draw
Tutor/Filter/Discard
Recursion
Removal
Extras
Wincon
3 weeks ago
Somethingtacos First off thank you for your comment. I did have Jarad, Golgari Lich Lord at one time but while playing testing I did not have the right amount of land to support his use to return him to the game. I may put him back in, in the future but I really what to wait on that. I didn't even think about Adaptive Automaton really good choice and I do have one somewhere around here. I really like Jarad's Orders but I replaced it with Buried Alive. After I play the deck against some people I know I will know if I need more creature pull. Again thank you and I will add your suggestions to the maybeboard.
3 weeks ago
Jarad's Orders is both a Tutor and an Entomb effect, without the hefty price-tag of Entomb. Life from the Loam is a pretty sick little engine. Aetherspouts is generally worse than Cyclonic Rift, because rift can bounce everything from infinite combos to planeswalkers. Sol Ring is a staple of EDH, because it gives two mana for one.
3 weeks ago
Have to say, I love Ghave, Guru of Spores.I have the same way of think as you, and I don't like to use cards that have occasional function. But when I look at yours, and miss Survival of the Fittest and Jarad's Orders, which I find very useful in a lot of situations. Since I run Elesh Norn, Grand Cenobite, Sheoldred, Whispering One and Xiahou Dun, the One-Eyed together with Loyal Retainers, which can put any on play fast. Or just call for Karmic Guide and Reveillark to get infinite sacs.
I use Blade of the Bloodchief too, on Ghave, and add any altar of mana, turns into infinite.
1 month ago
As others have said, 34 to 36 is usually plenty of land. Most standard legal cards, just don't cut it in terms of power for EDH. You want the most bang for your buck possible, as I'm just noticing that most of the deck is standard legal. Utility is key, because there are literally countless situations you can run into in any game. cards like Hero's Downfall, Beast Within, Go for the Throat, Bramblecrush, and many others like them all really shine in EDH because there are tons of possible threats that pop up in the longer games, both creature and otherwise permanent. Life is really not as important, because you now start with 40. So, anything that makes you pay life, now seems a lot more appealing, and things like Staff of the Wild Magus and Wurm's Tooth really just don't do enough to warrant the spot in the deck list. Skullbriar, the Walking Grave is a very good commander, but you need to realize that a deck built around him, wants to win with only him. Your goal then is to swing for 21 commander damage, which kills your opponent. Jarad is in a similar boat, but he also has a sac outlet and a means of dealing damage across the board without actually attacking. It's purely whatever direction you want to take the deck. I would like to point out that you only have 28 creatures in the deck, very few ways to dump cards into your graveyard, and you commander demands creature in the graveyard. So look at things like Splinterfright, Ghoultree, Boneyard Wurm, Wreath of Geists, Spider Spawning, Kessig Cagebreakers, Stinkweed Imp, Commune with the Gods, Jarad's Orders, Mulch, Cellar Door, Life from the Loam (idk how much that is), Filth, Brawn, Varolz, the Scar-Striped, Creakwood Liege (again, not sure on price), Disciple of Bolas, Buried Alive and things along those lines. Hope this helps a little.
| | |
| --- | --- |
| Cost | 2BG |
| Converted cost | 4 |
Legality
| | |
| --- | --- |
| Format | Legality |
| Legacy | Legal |
| Vintage | Legal |
| Commander / EDH | Legal |
| Modern | Legal |
| Duel Commander | Legal |