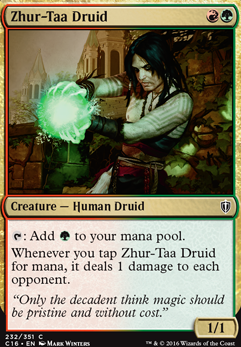 Legality
| | |
| --- | --- |
| Format | Legality |
| Tiny Leaders | Legal |
| 1v1 Commander | Legal |
| Magic Duels | Legal |
| Canadian Highlander | Legal |
| Vintage | Legal |
| Modern | Legal |
| Penny Dreadful | Legal |
| Casual | Legal |
| Pauper EDH | Legal |
| Leviathan | Legal |
| Legacy | Legal |
| Duel Commander | Legal |
| Unformat | Legal |
| Pauper | Legal |
| Commander / EDH | Legal |
Zhur-Taa Druid
Creature — Human Druid
: Add to your mana pool.
Whenever you tap Zhur-Taa Druid for mana, it deals 1 damage to each opponent
Zhur-Taa Druid Discussion
4 days ago
Biggest issue I see here is a lack of focus and not enough creatures for a creatures only matter deck.
Animar, Soul of Elements wants two main things: Cast creatures and get +1/+1 counters to cast larger creatures. Everything in the deck should be focused on those two goals.
Setting up the deck to achieve this purpose will make it efficient and powerful. All cards should therefore do one of the following:
Ramp up to Animar.
Protect Animar.
Place counters on Animar.
Cast game ending creatures for cheap or free.
Draw cards to allow us to do 1 through 4.
Priority should be given to cards that does something now > does something before your next turn > does something on your next turn > does something eventually.
Because Animar offers a discount based on creatures played, the deck shouldn't be filled with only high cmc game enders, but creatures from low to high cmc, preferably with as little colored mana symbols as possible, to give the deck a natural progression to casting free or cheap high cmc game ending creatures.
Let's split the deck into 3 parts. Pre-Animar setup, Post-Animar setup, Finale.
Note that $: (0 to 0.99), $$: (1.00 to 4.99), $$$: (5.00 to 9.99), $$$$: (10.00 to 19.99), !$!: (20.00+)
Unnecessary on a computer, very helpful on a phone.
This section will be all ramp, and protection to get Animar out quickly and make sure he is secure.
- The land base should be arranged to where there is more emphasis on , then , then since can color fix and can offer protection.
- Exotic Orchard is pretty good and cheap and can usually offer every color in multiplayer, especially if an opponent has a Command Tower out or even a Vivid Grove without even needing charge counters. - Kazoo lands such as Simic Growth Chamber, Izzet Boilerworks, and Gruul Turf are good in casual EDH where there is lack of land destruction and they artifically increase your deck ammount by posing as two lands in one. Though overall you do not want too many tap lands as you'll constantly be a entire turn behind.
This section will be about setting up our board state to win. All cards from this point onwards will be casted after Animar has been casted.
This section will be about ending the game with giant behemoths.
1 month ago
I think you might want to cut Savageborn Hydra. It's a pretty fun little card, but it dies to Fatal Push and needs to be cast for a whopping 6 mana to survive Lightning Bolt. As these are two of the most often played cards in Modern, you're gonna be a in a world of trouble. I'd consider adding something else for the early game--I'm a big fan of Sylvan Caryatid, as it both provides ramp and a pretty solid blocker.
Not really a fan of Zhur-Taa Druid either. The damage it adds is insignificant, and not worth the fact it can't be played on turn 1. I would run the stellar Birds of Paradise instead.
If you plan to play more competitively (as indicated in your forum thread), you should also build a sideboard. I'd suggest adding some artifact/enchantment hate to deal with decks with threats you can't fight.
1 month ago
Oké, kon me niet echt concentreren maar hier wat suggesties alvast. Doen wel even samen naar kijken volgende keer, dan kan ik ook wat duidelijker vertellen wat en waarom. :)
Je wil denk ik sowieso: Sylvan Safekeeper, Savage Summoning, Autumn's Veil,
Misschien ook leuk: Devastating Summons, Scourge of Skola Vale, Burning Earth, Incandescent Soulstoke, Ingot Chewer,Garruk's Packleader, Tornado Elemental, Regal Force, Soul of the Harvest, Chandra, Flamecaller, Hammer of Purphoros, Nissa, Voice of Zendikar, Boundless Realms, Fresh Meat, Blood Sun, From the Ashes, Ember Swallower, Zendikar Resurgent, Heaven / Earth, Titania, Protector of Argoth, Greenwarden of Murasa, Tilonalli's Summoner, Undergrowth Champion, Hull Breach, Decimate, Viridian Emissary, Borderland Ranger
Niet super fan van: Arbor Elf, Beastcaller Savant,Bloodspore Thrinax, Boreal Druid,Elvish Mystic,Llanowar Elves,Quirion Elves,Zhur-Taa Druid, Market Festival, Snake Umbra, Summer Bloom
1 month ago
Poidem,
The single biggest thing I could suggest is more Lands and/or a lower curve and/or a bunch more mana dorks/accelerants.
I always use the table at the bottom of this article by Hall-of-Famer Frank Karsten as a starting point, and with an Average CMC (as I type this) of 3.25 and only 7x mana dorks, something like (at least) 25x Lands or (at least) 4x more dorks/accellerants would go a LONG way towards making the deck run more smoothly. As a comparison, the three competitive-ish Gruul decks run ...
Titan Shift (Ave CMC ~2.7): 26 Lands, 10 dorks/accelerants
RG Eldrazi (Ave CMC ~2.6): 22 Lands, 6 dorks/accelerants (or 10 depending on how we count the Eldrazi Temples)
Ponza (Ave CMC ~2.7): 21 Lands, 10 dorks/accelerants
Good luck (and good skill) with the brew!
2 months ago
A few suggestions:
4 months ago
Updated my deck today. Incorporated your suggestions based on my access to these cards on paper. For my sideboard, I chose Zhur-Taa Druid over Horned Kavu for a more early direct player damage. It's also easier for me to get the former (in paper) in my area. Other than that, I've adjusted my deck based on your given suggestions. Thank you, guys! Your further inputs will be appreciated.
Load more