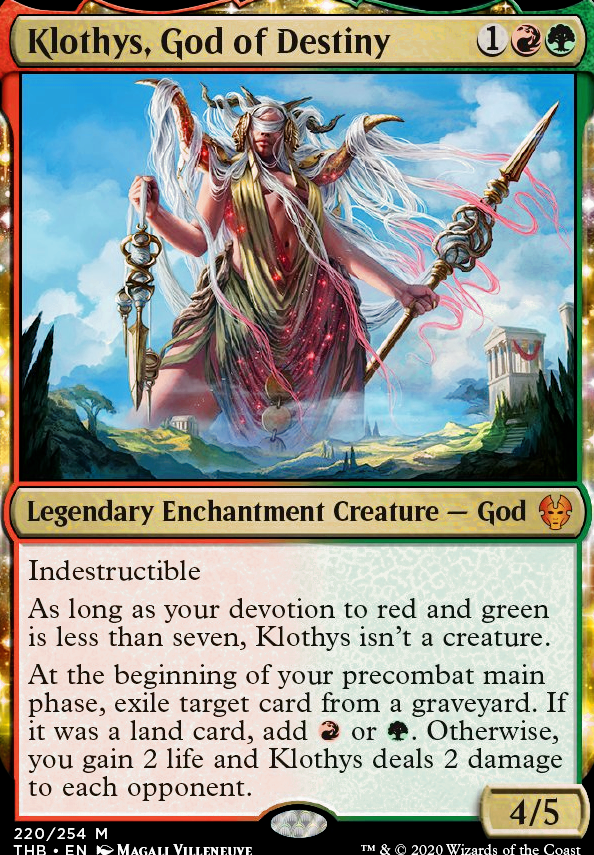 Klothys, God of Destiny
Legendary Enchantment Creature — God
Indestructible
As long as your devotion to red and green is less than seven, Klothys isn't a creature.
At the beginning of your precombat main phase, exile target card from a graveyard. If it was a land card, gain or . Otherwise you gain 2 life and Klothys deals 2 damage to each opponent.
Browse Alters
View at Gatherer
Trade
Legality
| | |
| --- | --- |
| Format | Legality |
| Leviathan | Legal |
| Highlander | Legal |
| Standard | Legal |
| Brawl | Legal |
| Duel Commander | Legal |
| Arena | Legal |
| Unformat | Legal |
| Oathbreaker | Legal |
| Canadian Highlander | Legal |
| Casual | Legal |
| Pre-release | Legal |
| Frontier | Legal |
| Block Constructed | Legal |
| Vintage | Legal |
| Historic | Legal |
| Legacy | Legal |
| Commander / EDH | Legal |
| Tiny Leaders | Legal |
| Penny Dreadful | Legal |
| Pioneer | Legal |
| 1v1 Commander | Legal |
| Modern | Legal |
| Magic Duels | Legal |
Latest Decks as Commander
Klothys, God of Destiny Discussion
1 month ago
Dear Kronhamilton
Golos, Tireless Pilgrim is my favorite commander, and I've been brewing around him ever since he was teased. Let me just say you've chosen an excellent commander.
(I've written quite a lot in an attempt to make a sort of guide for you, so if you want the short version, check out the Suggestions panel)
Golos can be tricky to build around since he can do literally anything pretty well. The easiest way to make an effective Golos deck is to lean into Golos's 7 Mana Rainbow Wheel Of Death. Before getting into that though, we need to cover some EDH deckbuilding basics.
I think the most useful advice I can give someone who is just beginning to explore the deck-building territory of EDH is to structure your deck and mind your Ratios. By this I mean it is useful to categorize the cards in your deck according to the role they fulfill.
We'll begin by looking at some core categories that you'll want to make your deck function effectively. Then I'll present the Ratios (how many of each category of card) you will want to make a generic Golos deck function effectively. Next, I'll include a detailed (but not totally complete, because I'd be here all day) catalogue of cards within some of those categories. I'll also offer up some suggestions and input about some of your specific card choices. Lastly, since I'm about to unpack a lot of information, I will include a brief list of suggestions (see the bottom) for a generically good Golos 'Shell' that should be able to support most Golos strategies.
Categories
Draw

Ramp

Removal

Sweepers

Threats

Support

Land
The art of Ratios is all about determining what combination of cards from each category makes your deck run the most smoothly.
Please note that these Ratios will not total to 99 cards. This is because you will invariably have extra flexibility to choose how your deck behaves even after establishing functional Ratios. Also keep in mind that although these Ratios do recommend you adhere to the minimum number of cards in each category, you still can choose which cards will fill those slots. The point is not to restrict your options, but instead to create a 'Shell' that is reliable enough to power your Threats cards, Support cards, and other cards. Whatever you do, make sure you have at least the minimum number of Draw and Ramp cards. THE MOST IMPORTANT CARDS IN THE DECK ARE DRAW AND RAMP!!!
While I ultimately suggest Ratios resembling the Basic Golos Shell, I will lay out the Ratios for several different Shells;
Template: a sort of baseline beginner's guide which is commonly promoted as a place to start.

Basic Golos: a modified version of the Template that suites most Golos decks.

Control: a version tailored for a slower game with many Sweepers.

Aggro: a version designed to act quickly and deploy Threats before the opponents are prepared.

Big Mana: a version invested heavily into Ramp with the goal of deploying many end-game Threats.

Mega Mana: an even more extreme version of Big Mana with extremely expensive Threats.
Please remember that any suggestions I make are because I am trying to help. Ultimately, the choices you make with your deck are up to you, and I can only provide constructive criticism based on my own experience and opinions.
Good luck :)
Ratio Fixing
The most effective change to your deck would probably be adjusting the Ratios, especially with regard to your Draw cards. Applying the most basic Template Shell, you want to have at least these three quantities nailed down for a smoother and reasonably powerful deck;
Lands – 36 --> You have 40 Lands (Cut 4 Lands)

Ramp – 10 --> You have 5 true Ramp cards (Add 5 to 8 Ramp cards)

Draw – 10 --> You have 3 true Draw cards (Add 7 to 10 Draw cards)
Ramp & Draw Additions Show
What I counted in your deck Show
Mutate
Depending on how strong your Mutate subtheme is, some of your Mutate inclusions may act as engines. However, I must state that Mutate is a VERY risky and even fragile strategy since your Mutate 'Pile' of creatures will all be destroyed at once if your opponent uses a Removal spell or a Sweeper. For that reason, I recommend leaning out of the Mutate theme (unless the Mutate card is just straight-up insane, as in the example of Nethroi, Apex of Death).
With that said, playing a Mutate theme is your decision and I totally respect that and if you want to stick to a Mutate theme then by all means do so. I just want to be sure you know that Mutate is a risky strategy that you cannot depend on to fulfill your Ramp and Draw slots (so you'll just need to supplement it with other cards).
Cut or Include?
At a glance your deck seems like something you have created using just your collection – and that's great! However, if you want to incrementally upgrade your deck, then I recommend replacing most of the cards in your deck with more powerful options over time.
Here is a list of cards you should probably keep playing: - Barrier Breach (Removal, because exiling 3 enchantments is helpful in some situations)
In my opinion, there are other, better options for all of the other nonland cards in the deck, however it is up to you to decide on how you would like to proceed so I won't intrude.
I strongly recommend cutting the Planeswalkers though – Calix, Destiny's Hand doesn't seem to synergize much with the deck and I feel that Lukka, Coppercoat Outcast is not very potent.
Lands
Just as a recommendation, I would suggest the following spread of Basic Lands;
8 Basic Forests

3 of each other Basic Land
The remainder of your lands could be either more basics (which is really, really, risky if you don't have tons of Ramp – think like 15 Ramp cards and about 12 Basic Forests) or Color Fixing Lands (see the Catalogue for more options). It is rough to have your lands enter the battlefield tapped, but unless you want to either lean into Green or spend a lot of money on lands, you will just have to live with it (I play around 5-10 tapped lands in a normal Golos deck and it isn't really that bad).
In this section, I will list out an example of the Basic Golos Shell complete with the necessary Ratios and some examples of good/fun cards in each category. I'll try to keep it relatively Budget sensitive and most of these cards will be relatively random – this won't be based on any particular theme so don't expect it to be optimal.
As a reminder:
The Shell
Ramp – 12
Draw – 13
Removal – 7
Sweepers – 2
Threats – 12
Support – 7
Land – 36
Good Luck :)
-Slashdotdash
2 months ago
Death cloud rock with Uro, Titan of Nature's wrath??? Am I missing the uro somewhere or did it get dropped from the deck? Kroxa, Titan of Death's Hunger would be a better color fit.
Nitpicking question aside, I have some legitimate questions and concerns about your build.
Arbor Elf and Utopia Sprawl: With only 7 "forests" in the deck, making use of these 2 might be problematic. Not to mention it could result in a lot of extra losses when you Death Cloud. Original cloud decks use to run things like Sakura-Tribe Elder (steve) and Solemn Simulacrum (jens) to speed up the deck and protect against aggro decks. They might do well here.

I think you need more lands. I realize you have Wrenn and Six to help build/recover your mana base, but if you aren't drawing your correct fetchlands and basics, it might make things really awkward. Not to mention that you have 25 cards that cost 3 or more mana. Plus if you ever do get to ultimate wrenn you'll want the lands for the retrace.

Klothys, God of Destiny: Are you intending to attack with this or is it here mainly for its ability? I can't see this being a creature very often.
What I do like about this deck is the use of planeswalkers and how they aren't impacted by Death Cloud. I think Liliana, the Last Hope might work better than Liliana of the Veil. It could control early game creatures and what could be played early after a cloud. Not to mention it could get back steve or kroxa if you want to go that route.
Anyhow, hope it helps or gives you things to think about. I can try to explain better down the line if what I've wrote isn't making sense.
3 months ago
In making my Sygg, Tollfolk and Governor-Goddess Ephara Decks, I became very interested in turn-related effects, and that inspire this card, as well as Klothys, God of Destiny, who switches the way usually work, whereas most Gruul cards use green's might to accomplish red's free spirit, She uses Red's fury to express nature's law which green cares about.
Based on (Gerðr)[https://en.wikipedia.org/wiki/Ger%C3%B0r] in Kaldheim.
---
Khyrteh, Goddess of Polar Winter
Legendary Snow Creature - God
Protection from instants
You may cast Khyrteh, Goddess of Polar Winter
Whenever a player casts a spell at a time they couldn't cast a sorcery, that player loses 5 life.
At the beginning of your endstep, if you cast no spells this turn, search your library for a card, then shuffle your library and put that card on top of it and you gain 5 life.
2/10
---
This deck would use Eidolon of Rhetoric, Rule of Law, Curse of Exhaustion, Ethersworn Canonist, Oppression, Uba Mask, Tainted AEther, Desolation, Angelic Arbiter, Nullstone Gargoyle, and Painful Quandary effects to force my opponents to make difficult decisions. Bloodchief Ascension, Strionic Resonator, etc. would also give you more advantage from this ability.
Tax effects, like Thorn of Amethyst, Sphere of Resistance, Trinisphere, Lodestone Golem, Trinisphere, Nether Void, Glowrider, Thalia, Guardian of Thraben, Aura of Silence, Spelltithe Enforcer, Chancellor of the Annex and Feroz's Ban
Decree of Pain, Decree of Justice, Astral Drift, Death Pulse, Dirge of Dread, Eternal Dragon, Gempalm Avenger, Gempalm Polluter, Renewed Faith, Stir the Sands, Sunfire Balm and Abandoned Sarcophagus & Archfiend of Ifnir, also Oketra's Attendant, Undead Gladiator, Bloodsoaked Champion, Dread Wanderer, Nether Spirit, Nether Traitor, Reassembling Skeleton, Bloodghast, Angel of Sanctions,Anointer Priest, Sacred Cat, Dark Depths, Thespian's Stage, Shambling Vent, etc. to avoid 'casting' spells.
grand arbiter synergizes well... yeah...
I'm a stax player who got into the deck because of Death and Taxes, especially Mother of Runes, Thalia, Guardian of Thraben (Her printing got me into standard/formal play), Gaddock Teeg, and Iona, Shield of Emeria.
I really just made a card I wish existed...
---
I'd like to see another Kaldheim God!
3 months ago
Trashcan: Sort of. Gratuitous Violence is definitely worth it, since it only doubles my creatures' damage and not everyone's. The various plinkers like Thermo-Alchemist and Lobber Crew now hit all opponents for 2 dmg per activation, and if Klothys gets devotion then her triggered ability hits all opponents for 4 each turn. Plus, Gratuitous Violence + Klothys puts devotion to 5, so I only need 2 more pips to turn Klothys into a creature and benefit from that damage doubler.
Dictate of the Twin Gods isn't so bad thanks to flash. You can flash it in on the endstep before your turn if you are properly set up to capitalize on it before anyone else get the benefit of doubling their damage. For example, in a game I played recently I was able to flash in Dictate before my turn, then on my turn I activated Klothys for 4 dmg, tapped Thermo-Alchemist for 2 dmg, cast Flame Rift for 8 dmg and untapped Thermo-Alchemist, tapped Thermo-Alchemist for another 2 dmg, cast Slagstorm for 6 dmg to players and untapped Thermo-Alchemist, then tapped Thermo-Alchemist again for 2 more damage. In that turn, I took a total of 12 dmg (14 between Flame Rift and Slagstorm, but +2 life from Klothys) while my opponents took a total of 24 dmg. I did manage to knock one player out entirely, and put the other two players into single digit life totals.
The other nice thing about Dictate of the Twin Gods is that I can flash it in as a combat trick on someone else's turn. There are a couple of Voltron decks in my playgroup, and one person has a Feather, the Redeemed deck that can put out a stupid amount of commander damage. If I flash in Dictate during a Voltron player's combat step, then they can potentially knock another opponent out of the game for me by doubling up the commander damage. By virtue of being an instant-speed interaction thanks to Flash, Dictate actually has quite a few good uses in this deck.
I admit that Furnace of Rath isn't terribly great in this deck, but doubling all the damage output makes all of the other spells and effects so much more efficient, and it does wonders for speeding up overall gameplay. As I said in the description, I built this deck with a personal "win-con" in mind, and that isn't to win the game. Ideally, my goal is to be able to deal at least 25 damage to each opponent over the course of the game, whether I win or lose. This deck seeks to punish everyone and almost become an Archenemy of sorts. The handful of games I have played with it so far I have only failed that personal goal once, and even then I was able to deal about 22 dmg to everyone before I got knocked out.
Are there better ways to build a Klothys, God of Destiny deck? Probably. Are there more fun ways to build one? Not for me.
3 months ago
A personal preference for the sake of reading, I would recommend not listing every version of a card your running and just do the x copies of card. I think it is harder to get a good understanding of a deck when constantly trying to remember how many of a card there are.
With that being said however, I am curious if you have trouble getting the 2nd red mana you need to cast a lot of your land destruction spells. I think 20 lands might be to low and would try to find room for 2 to 3 more.
Here's the changes that I think could help the most.
-2 Bloodmoon Multiples offer no benefits.
-4 Oath of Nissa you really dont have enough planeswalkers to make use of its mana fixing and just grabbing a creature seems kinda meh imo. Granted, a Bloodbraid Elf is kinda like a 2 card gain with the cascade.
-1 Nissa, Worldwaker 5 mana seems like a lot on a lower land count.
+2 Mountain more consistent land draws, plus helps you cast your Klothys, God of Destiny easier, which in turn will make it easier to keep the land killing going.
+2 Mwonvuli Acid-Moss you could potentially pull this off turn 2 for a big tempo swing.
+3 Lightning Bolt from the sb. Helps you with the early creature problem and can kill random creature lands like Dryad Arbor
Since this frees up sb space for you, you could put the cut nissa in the sb and something like 2 Carnage Tyrant as well.
Just my 2 cents anyhow.
3 months ago
They already have the: "tax noncreature spells" idea locked. They should get more equality-based taxes with upside. I think more things like: "for each card drawn past the 1st, that player may pay , or all opponents draw a card" would be a fun design space. This does not stop plays but promotes table balance. More things similar to Heartwood Storyteller but in white... Where you are punishing by gifting. That "share with the class" mentality is very white, majorly opposite of (which is a flavor win). I think should explore more advantage for noncreature permanent destruction as well. There is more creativity to be had in game design, just look at Gruuls Klothys, God of Destiny creative, but not game-breaking. has advantage for creature death in spades, I'm not sure why shouldn't gain advantage for some other destruction.
Load more