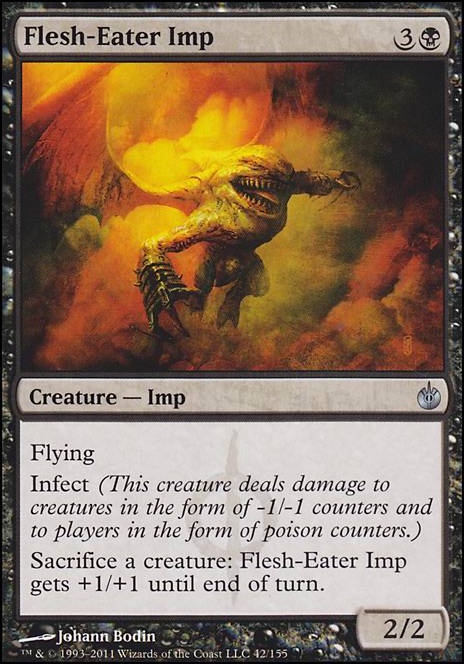 Flesh-Eater Imp
Creature — Phyrexian Imp
Flying Infect (This creature deals damage to creatures in the form of -1/-1 counters and to players in the form of poison counters.) Sacrifice a creature: Flesh-Eater Imp gets +1/+1 until end of turn.
Latest Decks as Commander
Flesh-Eater Imp Discussion
10 months ago
Good deck my only recommendation would be to add more sacrifice outlets. Here are some possible ideas Altar of Dementia , Helm of Possession , Sadistic Hypnotist , Fallen Ideal , Fallen Angel , Malevolent Awakening , Attrition , Phyrexian Plaguelord , Stronghold Assassin , Hell's Caretaker , Carrion Feeder , Carnage Altar , Vish Kal, Blood Arbiter , Flesh-Eater Imp , aaaannnnnnd if you haven't fallen asleep yet Skullclamp would go great in this deck.
1 year ago
Oh, in that case, if you aren't super set on Rakdos, but are just trying to play RBx, I'd suggest going for a Snapdax, Apex of the Hunt infect deck. Mutating up an Ichorclaw Myr, Skithiryx, the Blight Dragon Flesh-Eater Imp, Ogre Menial, Phyrexian Crusader, etc. seems awesome with double strike. Or you can just hardcast Snappy and put a Grafted Exoskeleton or Phyresis on it.
Load more