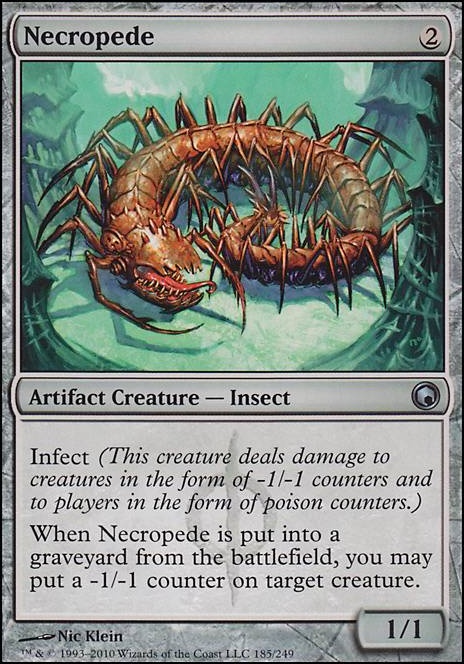 Necropede
Artifact Creature — Insect
Infect (This creature deals damage to creatures in the form of -1/-1 counters and to players in the form of poison counters.)
When Necropede is put into a graveyard from the battlefield, you may put a -1/-1 counter on target creature.
Latest Decks as Commander
Necropede Discussion
3 months ago
wallisface Love the suggestions! Brass Squire and Plague Myr are in the list because I thought the added mana utility could be a nice bonus at times, but I like your suggestion of using something with more immediate utility. Think I'll replace the Brass Squire with Necropede to keep the artifact and infect numbers up. I also like the idea of using a more tool-boxy set of equipment. Going with less than 22 lands makes me nervous, but I might give it a try. It may take a little while due to cost, but I think I'll probably incorporate most of your suggestions in some way over time. Thanks!
5 months ago
Some thoughts:
9 months ago
Decent deck. You might think about getting that average cmc below 2.5 but besides that I like it
So don't take my recommendations as me disliking your deck, but I'd suggest adding Eidolon of Blossoms,Enchantress's Presence, Fertile Ground, Sigil of the Empty Throne, Wild Growth, Overgrowth, Tuvasa the Sunlit

, Setessan Champion, Bear Umbra, Winds of Wrath, Arcane Signet, Thought Vessel. But consider which of the higher cmc ones you y like because average cmc is important
Suggested cuts would be: Charisma, Thornweald Archer, Rofellos's Gift, Grimoire of the Dead, Traverse the Ulvenwald, Predator Ooze, Revoke Existence, Rayne, Academy Chancellor, Lux Cannon, Stonecoil Serpent, Behemoth Sledge, Necropede, Wall of Denial, Spawning Grounds (as cool as it is, it's likely going to get the land it's on blown up), and think about taking out some of your etb tapped lands. Again these are suggestions and in no way am I saying these cards aren't good.
Anyways, hope it helps and I do like the deck, estrid proliferate is a good place for this commander
1 year ago
Most of my experience with infect comes from playing simic, but I have played the mechanic in all 5 colors. In terms of power, green is the most effective color to play by a very VERY large margin. You get access to the best infect creature in Glistener Elf (along with the slower and safer option of Blight Mamba), you get trample sources to push through damage with Ichorclaw Myr such as Rancor, Predator's Strike, and Larger Than Life, you get protection bundled with buffs in the form of Vines of Vastwood, Ranger's Guile, and Blossoming Defense, and you get the largest pool of very strong power boosts in the form of Mutagenic Growth, Invigorate, Scale Up, Might of Old Krosa, Berserk, Become Immense, Groundswell, Phytoburst, Noble Hierarch, and Pendelhaven. Since infect is an all-or-nothing sort of archetype, even when running the less aggressive versions, the most important characteristics that you need are speed, protection, and evasion. Green offers two of those things in spades but can struggle with evasion. This is why blue is generally considered the next best color to run. You get the insane threat of Blighted Agent, unblockable buffs with Distortion Strike and Aqueous Form, and protection from spells via Spell Pierce, Dispel, Turn Aside, and the odd Spellskite. Black is the next best. Plague Stinger's flying isn't as good as the unblockable on a Blighted Agent but it's still very powerful evasion as illustrated by the ubiquity of Inkmoth Nexus in every non-budget infect list ever made. Black also nets useful control tools like Thoughtseize, Inquisition of Kozilek, Fatal Push, Dismember, and Assassin's Trophy. White was considered the worst infect color for a very long time since its best option (Apostle's Blessing) can be used in any deck, but the recent introduction of Giver of Runes has breathed some life back into the color. Additionally, I've seen a lot of equipment lists popping up that use Colossus Hammer, Kor Duelist, Sigarda's Aid, and Kor Outfitter to see some success. Unfortunately, that leaves red as the current worst color to run in infect. It has some decent buffs but they pale in comparison to green's offerings. The result is that most red infect decks rely on gimmicks like using Razor Swine's first strike to wither enemy creatures, generating infinite mana to pump into an unblocked Ogre Menial, or putting Phyresis on something like a Spikeshot Elder to bypass combat altogether. Your instant tricks definitely fall in this category. That's not necessarily a bad thing though. If your meta is casual enough, red should still work and it will be much more interesting to play with / fun to play against than a more traditional deck. How competitive you want to be is always up to you.
To answer your specific questions, I would probably start by cutting a few creatures. Most lists run about 12 infect sources (and that's including a playset of Inkmoth Nexus). With Hand of the Praetors on your top end, running 16-20 isn't that unreasonable, at least as long as all of them are good. Infect creatures usually become "bad" when they cost more than 2. That's why I wouldn't usually recommend running Ichor Rats or Septic Rats. Both Necropede and Plague Myr are perfectly acceptable inclusions with very similar power levels. They'll rarely be better than Plague Stinger or Ichorclaw Myr but that's okay if you just want more guys to play. As for Vector Asp, it's honestly a pretty bad choice in most circumstances. While you usually won't need to activate it more than 2 or 3 times to win the game, that mana would be better spent elsewhere, and it doesn't even trigger the Hand. However, given the choice of it and a 3-drop, I'd probably take the snake, especially since it would be your only proactive play on turn 1 (barring the inclusion of Glistener Elf or Inkmoths). Better though would just be to run neither and invest in more buff spells to assist in combat and trigger Livewire Lash. I do like the idea of those spells having cycling in theory, but in practice, the mana needed to cycle can short you of the resources needed to close out the game. Plus, cycling spells tend to cost more to account for the added ability. Cycling lands on the other hand should be fine as long as they come in untapped, although it looks like that only describes Ash Barrens and Blasted Landscape. Just like with creatures, I wouldn't run any spells that cost more than 2 unless they can win you the game like Soul's Fire can. This will also allow you to run 20 lands or fewer, opening up even more slots for gas. I apologize if I'm repeating myself about the low-cost-high-speed thing but that is basically the reason the infect mechanic exists. If you prefer a slow and more controlling style, Rakdos wither built around Necroskitter is a fun option that has some overlap with infect.
1 year ago
Digging the first pass of the deck I would try to go all-in on the infect theme and ditch some of the +1/+1 counter focused cards. Would make the deck feel a lot more consistent in games played.
I also see some cards that give brokkos some form of evasion, its worth noting that brokkos already has a pseudo-evasion like effect by naturally having trample, which deters people from blocking anyways, I feel that the additional evasion effects via creatures to mutate onto seems a bit extra.
I reccomend removing these:
Cards I would consider adding:
Since you're looking for more Destroy effects, Card draw effects, and counter effects, consider the following:
There are a few different land ramp spells I may play, but those are likely out of budget. For the remainder of the cuts I reccomend taking out the worst infect creatures, and possibly some of your land ramp spells
Load more