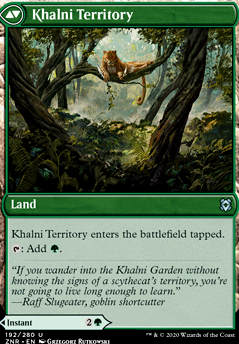 Front:
Khalni Ambush
Flip
Khalni Territory
Land
This enters the battlefield tapped.
: Gain .
Latest Decks as Commander
Khalni Territory Discussion
1 year ago
Femme_Fatale I think there was a problem with the change. The front faces of the cards don't have the Flip super text now. Also Khalni Territory for instance doesn't have it on the back, but does have it on the front. So it seems like they all still have the Flip on just one side.