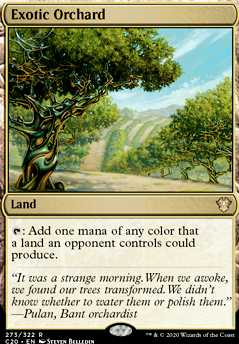 Exotic Orchard
Land
: Gain one mana of any colour that a land an opponent controls could produce.
Browse Alters
Trade
Legality
| | |
| --- | --- |
| Format | Legality |
| Unformat | Legal |
| Casual | Legal |
| Vintage | Legal |
| Limited | Legal |
| Duel Commander | Legal |
| Modern | Legal |
| 1v1 Commander | Legal |
| Canadian Highlander | Legal |
| Leviathan | Legal |
| Block Constructed | Legal |
| 2019-10-04 | Legal |
| Oathbreaker | Legal |
| Legacy | Legal |
| Commander / EDH | Legal |
| Highlander | Legal |
| Tiny Leaders | Legal |
Latest Decks as Commander
Exotic Orchard Discussion
21 hours ago
Assuming you still would like help, here are my thoughts just going off what you already have (so your mainboard and sideboard).
First of all your land situation needs to be sorted out. You have an insanely high average cmc (4.74) so you're going to be looking at about 40 lands without the very pricy ramp cards. 30 lands is in the range that decks with an average of about 2cmc or lower run. Here's a quickly made list of your lands that I'd use:
You almost always want to prioritise lands that can come in untapped over ones that always enter tapped. This is because auto-tapped lands basically set you back a turn, so it's often better to just run a basic over something like Sheltered Thicket. The exception here goes to the Triomes because they offer three colours and more importantly can be picked up by your fetchlands.
As for the rest of your cards, here's what I recommend cutting:
And add in their places, assuming you're running 40 lands:
Hopefully that helps, and let me know if you have any questions! These are just suggestions after a brief runthrough of course, so feel free to take them or leave them!
1 day ago
Hey, nice Scroll Rack Invention :)
Some budget cards to consider adding:
Sol Ring and Command Tower are some staple budget cards in Commander. At TCGPlayer you can find Sol for less than $3 and Tower for less than $1. Congregation at Dawn is a good budget creature tutor with Gishath. Cast it the same turn you want play Gishath or the turn before to tutor for and arrange the top of your library with any three Dinos to cheat onto the battlefield. Forerunner of the Empire is a Dino tutor (puts the Dino on top of your library) and a repeatable enrage enabler when a Dino you control ETB.
Quartzwood Crasher is one of the better budget Dinos since it can be a repeatable source of Dino tokens since many other Dinos have trample especially with Ghalta. Crasher combines well with Garruk's Uprising which can be a repeatable draw source and can give all creatures you control trample. Ripjaw Raptor has a powerful enrage ability to draw a card when it takes damage. Rhythm of the Wild makes all creatures you cast uncounterable and it gives nontoken creatures when they ETB the option of haste or make it bigger with a +1/+1 counter.
With Orcish Lumberjack sacing a Forest you control can make four mana since you can tap the Forest for mana before you sac it which can be a quick way to ramp into Gishath or other Dinos. Farseek is two drop land ramp that can search for a dual land such as Stomping Ground, Canopy Vista, Cinder Glade. At TCGPlayer can get Vista and Glade for less than $2 each.
---
Cards to consider cutting:
Good luck with your deck.
3 days ago
Hey, good budget version of Muldrotha.
Mystic Remora, Kaya's Ghostform, Siren Stormtamer, Crop Rotation are one drops to consider adding. These cards provide good value for only one mana. Muldrotha enchanted by Ghostform makes it difficult for your opponents to remove since it doesn't even go back to Command Zone when it dies or exiled.
Exotic Orchard, Llanowar Wastes, Yavimaya Coast, Sunken Hollow, Tainted Wood, Ash Barrens, Simic Growth Chamber, Golgari Rot Farm, Dimir Aqueduct are budget land upgrades to consider.
---
Cards to consider cutting:
Dismal Backwater
Jungle Hollow
Jwar Isle Refuge
Thornwood Falls
Traveler's Amulet
Aligned Hedron Network
Levitation
Brawn
Good luck with your deck.
5 days ago
Now about your mana-base! I would eventually consider adding some of the following lands/ramp cards!
1 week ago
Hey there! Maybe consider some of the following lands!
Less than $10:
Less Budget:
1 week ago
Hey, well done for your first deck from scratch.
Some cards within the current budget to consider adding:
Could add all these cards for about $26.
Cards to consider cutting:
---
Worldgorger Dragon is a tricky combo to assemble because Worldgorger needs to be in your graveyard to reanimate it with Animate Dead. You don't want to ever cast it from hand or cheat it onto the battlefield with Kaalia. Sneak Attack cheating it on the battlefield is fine because then it will end up in your graveyard and you get your permanents back. You want to get Worldgorger into your graveyard and the best budget card that can do that is Buried Alive.
Currently here Angel of Despair is the easy win condition with the Worldgorger combo by destroying all your opponents permanents. But what happens if Despair is disrupted or exiled? Kaalia, Zenith Seeker can be a more complex enabler with the combo needing haste for all the creatures you put into your hand and get onto the battlefield. Bogardan Hellkite can be another easy, even truer, win condition with the combo because it does damage to each player each time it ETB which will be infinite damage with the combo.
Good luck with your deck.
1 week ago
Hey, interesting version of Atla, that's a lot of creatures.
Consider cutting a few of the least good creatures for more early game ramp?
Could also replace a few other big creatures for some enablers.
Nature's Lore and Farseek are land ramp spell upgrades for Explosive Vegetation and Cultivate because you have Savannah/Taiga/Garden/Ground and Farseek can get Plateau/Foundry. These two drop land ramp spells can be quicker ramp and they ramp with a dual land.
---
I don't think I've ever seen a manabase with Savannah/Taiga/Plateau, but also Guildgates... You could improve the manabase a lot. Some changes to consider:
Good luck with your deck.
2 weeks ago
Hey there! One way to strengthen and upgrade your deck is through your mana base! Maybe consider some of the following lands!
Pine Barrens (Budget/Maybe)

Some of these are a tad bit expensive, (cough Verdant Catacombs cough) but many others are rather cheap, especially cards like Command Tower, which are even some of the best. An upgraded mana base can make a deck SO SO much faster, and it helps much more than one would believe. I would recommend trying them out and playtesting them, and seeing if they help first!

Another couple cards to consider are some upgraded ramp cards! Your average CMC is pretty low so they aren't too necessary, but its good to consider a couple at least. Maybe consider some of the following
If this helps be sure to check out some of my decks, (Double Trouble EDH *PRIMER*), give me suggestions if you have and support it if you like it- I'd appreciate it! Anyways though, good luck on your deck, hope this helps, and have a great day! Happy tapping!!!
Load more