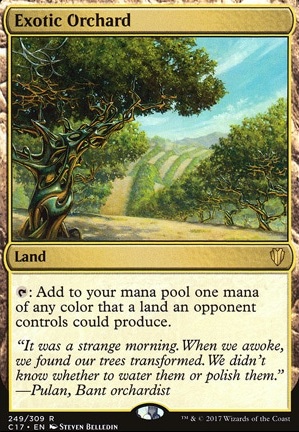 Legality
| | |
| --- | --- |
| Format | Legality |
| Noble | Legal |
| 1v1 Commander | Legal |
| Vintage | Legal |
| Modern | Legal |
| Casual | Legal |
| Vanguard | Legal |
| Legacy | Legal |
| Archenemy | Legal |
| Planechase | Legal |
| Duel Commander | Legal |
| Unformat | Legal |
| Pauper | Legal |
| Commander / EDH | Legal |
Exotic Orchard
Land
: Add to your mana pool one mana of any color that a land an opponent controls could produce.
Have (32)
Lucretian , joshw335 ,

o

r

z

h

o

v

_

i

s

_

r

e

l

a

t

i

v

e

l

y

_

o

k

a

y

8

1

9

,

j

h

T

h

e

M

a

n

9

9

, LegendDeer ,

T

h

e

R

e

a

l

P

e

a

c

h

e

s

,

V

a

s

b

e

a

r

1

, warcry02 , tragic_slip , ZombieFood , maR2307 ,

a

c

b

o

o

s

t

e

r

, xXThormentXx , Ellyreia , KipIsKosher , sonnet666 ,

N

e

m

e

s

i

s

, prass1 , theilluminaire , Famicomania , Skydra2 , mziter501 ,

V

e

n

s

e

r

_

t

h

e

_

S

o

j

o

n

e

r

,

V

a

1

m

a

r

, philktoken8998 ,

S

p

a

r

k

y

4

1

, bakunet , Clawsun73 ,

P

h

o

t

o

g

e

n

i

c

P

a

r

a

s

y

m

p

a

t

h

e

t

i

c

,

D

E

E

R

, Supremespeed ,

r

a

k

d

o

s

2

4

Want (2)

T

h

e

_

M

u

n

c

h

k

i

n

,

m

a

z

r

i

m

t

a

i

m
Exotic Orchard Discussion
3 days ago
Looking nice so far!! Here are some suggestions from my experience, fellow Kaalia player :)
Hopefully these suggestions help! I've said it a lot, but play whatever you think will be the most fun for you! Good luck in the building process- I'll be following along to see how it goes! :)
2 weeks ago
Welcome to Commander :)
A few suggestions for you:
Instant speed removal is very important in Commander. You need to be able to disrupt opponents on their turns, even as an aggro deck. Being in 5 colours you have access to all the best removal out there. Some relatively cheap options:
Utter End, Beast Within, Anguished Unmaking, Mortify, and Putrefy.
You can cut your land count back to 38 safely. I would only go higher than 40 if my deck hand some sort of land theme (like Omnath, Locus of Rage). You could cut back on some of the basic lands. Some lands you may want to consider for colour fixing that come into play untapped:
Exotic Orchard, Opal Palace, Cascading Cataracts.
I would suggest a few more card draw options. It will help keep your deck running:
Temur Ascendancy, Bident of Thassa, Rishkar's Expertise, and Soul's Majesty are cheaper options that would fit with the deck.
For ramp I would cut out Dreamstone Hedron. It is just way too expensive for what it does. Fellwar Stone, Rampant Growth or Explosive Vegetation are cheaper to cast and will get you coloured mana.
My version of the deck is at The Ur Dragon's Raging Rainbow Party Friends. It's not budget but maybe it will give you some ideas :)
2 weeks ago
Huh, thanks for pointing that out. Not sure how that happened, but it was taking up a land slot, so I changed it to Exotic Orchard.
3 weeks ago
Hello, I'm the one that you commented on my Sidisi Deck and I'm here to check out your version of Sidisi. By your deck description, it sounds like we based our decks on the same philosophy of gaining an absurd amount of value through the graveyard. I'll go over some cards that I think you should take out and add. I'm brutally honest about deck building, since there are so many potential cards to add to a commander deck and it's difficult to take out cards, especially when your deck has already been established.
I'm guessing by your card selection that you are on some kind of budget since the deck is around $200 (which is pretty cheap for a commander deck) or by what your description says, you are making sure your deck isn't too OP, so I'll only suggest cards that aren't absurdly expensive like Crucible of Worlds.
Creatures: There is a kind of secret rule w/ Sidisi that you want to have at least 33 creatures in the deck, so on average, she mills at least one creature when she enters the battlefield or attacks, so I'll try to abide by that rule when giving my suggestions.
Dungeon Geists- just a generic control creature, it doesn't have any synergy w/ the deck aside from being a creature.
Kheru Lich Lord- I think Whip of Erebos is strictly better, it costs 2 less mana, gives all your creatures lifelink, and brings back a creature w/ haste for a turn (although it doesn't get flying & trample). Whip of Erebos has less synergy w/ the deck, since it's not a creature, but I think it's sheer power out ways the potential synergy.
Mold Shambler- Reclamation Sage is a strict upgrade to this card, costing half the mana and being able to be triggered if it hits the battlefield from the graveyard, although it doesn't hit lands, if you need it to hit lands, use Acidic Slime instead.
Omnibian- A funny card, but doesn't have any synergy w/ the deck aside from being a creature.
Lands:
I personally avoid "enters the battlefield tapped" lands as much as possible (I'd rather play a basic lands over guildgates), but I'll just suggest interesting lands that are cheap price wise that you could add.
Barren Moor, Lonely Sandbar, & Tranquil Thicket- all have great synergy w/ Life from the Loam, you might think it's silly to take up three land slots for mediocre lands just for synergy w/ one card in the deck, however when you play the deck w/ these cycle lands and you can get the combo going (I usually am able to use it most games, because I mill so much of my deck) you'll see just how powerful a infinitely recurring value engine can be.
Bojuka Bog- It looks like you don't mill your opponents, so I don't think this card will be as useful to you as it is in my deck, however I usually play this card in every deck I have that runs , just so I have some way to interact w/ my opponents' graveyards.
Drownyard Temple- Being able to ramp at instant speed when you have an extra 3 mana laying around is really efficient, especially since the only cost of this card is that it only produces mana.
Exotic Orchard- This card is usually another Command Tower in deck running three or more colors of mana, it is especially true in since those colors are the most powerful and popular in commander. (It's also incredibly cheap price wise).
High Market- Protects your creatures from control magic and exile effects, seems like it's no big deal, but when every deck running has Path to Exile & Swords to Plowshares, it's usefulness begins to shine.
Sunken Hollow- Is an excellent 2-color budget land.
Alchemist's Refuge- I'm not a big fan of this card, I'd only think about running this in a heavy control deck, if you are really desperate for this ability you could use Leyline of Anticipation and/or Vedalken Orrery instead.
Other cards:
Mystic Genesis- I refuse to use counterspells that are more than 3 mana for a good reason, you can't just have 5 mana open without A. falling behind because you could of cast something to progress you board instead of keeping 5 mana up and B. making it super obvious to the other players that you have some sort of interaction, which they may play around. I thinking replacing it w/ either Arcane Denial or Counterspell will be a good choice.
Plague Boiler- Not a fan of obvious board wipes that your opponent's can play around (or could just remove w/ a Nature's Claim), I'd recommend Cyclonic Rift (which you should be automatically playing since you have in your deck) instead if your worried about nonland permanents, however if it's creatures that your worried about, I'd run a board wipe, like Toxic Deluge, Damnation, Life's Finale, Living Death, Decree of Pain, Black Sun's Zenith, or Crux of Fate.
Darksteel Plate- You should get rid of this card, this is a graveyard recursion deck, you don't care if your creatures die, it's one of the strongest assets of the deck.
Sultai Banner- The banners are awful, Commander's Sphere is strictly better, however I'd run Sakura-Tribe Elder instead since this is a creature heavy strategy.
Vraska the Unseen- She is a random planeswalker to have in this deck, personally I'm not a fan of planeswalkers in commander since the other three players will usually team up to kill planeswalkers that you have, the only good modes on her are her -3 (which if you want that just run Beast Within instead) and here ultimate, when judging planeswalkers, you can't judge them on their ultimates, they are so difficult to get to, so you almost have to assume they don't exist.
Important Cards you should add:
Eternal Witness- The best recursion on a creature in commander for .
Phyrexian Reclamation- One of the best recursion enchantments in commander.
Swiftfoot Boots & Lightning Greaves- This deck doesn't have , so haste is hard to come by, and these two cards both protect your creatures and gives them haste, a much appreciated ability in a creature heavy deck.
Sol Ring- It's Sol Ring! (I'm guessing that you don't have this card in your deck, because you think it's too OP, but I'd feel foolish if I didn't suggest it).
3 weeks ago
I've had Sliver Overlord built for a few years. I started out with a budget build (in all except the mana base, because I already had the duals/fetches), so I feel like I can help you out given what I've tried over the past 2-3 years. For reference, my deck is here: Za Warudo! (Sliver Overlord Aggro).
Cryptolith Rite is pretty reasonable in Slivers as you run a fair number of 1 drops. T1 Galerider or first strike Sliver into Rite is a pretty strong opening play, especially considering how many of your lands ETB tapped.
I'd also recommend adding around 4 more lands and possibly Burgeoning. I playtested this deck to get a feel for it, and five tests in a row I wasn't able to play Overlord until turn 6 or later in any of those cases because I continually missed land drops, and with a large number of the lands entering tapped, it slowed the deck down even a turn further. In any event, a lot of your lands ETBing tapped doesn't hurt so badly when you dump out a large number of them early, and Burgeoning would let you untap with 4 lands on your second turn fairly easily. In any case, 32 lands is the same number I run in my Arcum and Breya decks, which have a waaaaaay lower curve and lots more accelerators (like 15-20 ramp cards so I can play things out on turns 2-4)
Potential land inclusions:
Exotic Orchard. Cheap, but very powerful. Unless your meta is full of monocolored decks, this land tends to be reasonable for entering untapped. Similarly, Fellwar Stone is a nice 2 mana rock with the same ability that comes down a turn earlier than most of your other mana rocks. Opal Palace is kind of trashy, maybe try Orchard over it?
Forbidden Orchard is under $5, enters untapped, and all it does is give opponents 1/1 tokens. Typically not that big of an issue, especially in multiplayer.
Slivers that I've found invaluable over the years:
Hibernation Sliver is a real MVP. Paying 2 life to save one of your important creatures is incredible and hardly a cost, at all. I love bouncing Overlord back to hand with a Clone on the stack (because you know they're just going to try and steal your overlord), and it can protect a portion of your board state from exile wipes, and more. During grindy games, it is one of the Slivers I go for quite a lot of the time. I think it would do you more good than Ghostflame Sliver, since you're not even running the All Is Dust that combos with that card.
Frenetic Sliver is also quite good. Use its ability with a board wipe on the stack and it's a 50/50 chance to keep a Sliver you otherwise would not have been afforded the opportunity to keep. I'd run that over Unexpected Results, which has always just seemed like a bad card and a way to waste 4 mana in the game (considering you can tutor any Sliver for 3 mana + its casting cost, guaranteed).
Necrotic Sliver. Not having it is a mistake. Repeatable, instant speed, no-restrictions removal is huge in Commander and lets you bust up combos like none other. Losing a Sliver or two can make the difference between losing and staying in a game. Highly recommended. Popping Bruna with her trigger on the stack is hilarious, for example (or in response to equipping Boots or Greaves).
Load more