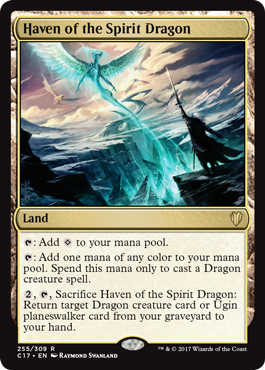 Haven of the Spirit Dragon
Land
: Add to your mana pool.
: Add one mana of any color to your mana pool. Spend this mana only to cast a Dragon creature spell.
, , Sacrifice Haven of the Spirit Dragon: Return target Dragon creature card or Ugin planeswalker card from your graveyard to your hand.
Browse Alters
View at Gatherer
Trade
Legality
| | |
| --- | --- |
| Format | Legality |
| Modern | Legal |
| Block Constructed | Legal |
| Oathbreaker | Legal |
| 2019-10-04 | Legal |
| 1v1 Commander | Legal |
| Canadian Highlander | Legal |
| Casual | Legal |
| Pioneer | Legal |
| Vintage | Legal |
| Leviathan | Legal |
| Legacy | Legal |
| Limited | Legal |
| Duel Commander | Legal |
| Highlander | Legal |
| Commander / EDH | Legal |
| Tiny Leaders | Legal |
| Unformat | Legal |
Latest Decks as Commander
Haven of the Spirit Dragon Discussion
3 weeks ago
Assuming you still would like help, here are my thoughts just going off what you already have (so your mainboard and sideboard).
First of all your land situation needs to be sorted out. You have an insanely high average cmc (4.74) so you're going to be looking at about 40 lands without the very pricy ramp cards. 30 lands is in the range that decks with an average of about 2cmc or lower run. Here's a quickly made list of your lands that I'd use:
You almost always want to prioritise lands that can come in untapped over ones that always enter tapped. This is because auto-tapped lands basically set you back a turn, so it's often better to just run a basic over something like Sheltered Thicket. The exception here goes to the Triomes because they offer three colours and more importantly can be picked up by your fetchlands.
As for the rest of your cards, here's what I recommend cutting:
And add in their places, assuming you're running 40 lands:
Hopefully that helps, and let me know if you have any questions! These are just suggestions after a brief runthrough of course, so feel free to take them or leave them!
3 weeks ago
Hey, for less than $150 you've done well with your version. You clearly know how to build a Commander deck with a low budget.
Cards that are $3 or less each to consider adding:
Scion of the Ur-Dragon is a very good Dragon as a repeatable Dragon tutor and it combos with Teneb, the Harvester + Bladewing the Risen to reanimate the Dragons you tutor for. Consider cutting some of the least good Dragons for a few creature tutors that can search for the better Dragons?
Temur Ascendancy does a lot for a three drop, haste for all creatures you control and repeatable draw when most Dragons ETB including Dragon tokens with 4 or more power. These land suggestions would add five more lands that can ETB untapped meaning they could replace five lands that always ETB tapped. Cascading Cataracts is helpful with Jodah/Fist letting you for five mana of any colors plus tapping Cataracts to cast any card.
Cards to consider cutting:
Vivid Crag
Vivid Creek
Vivid Grove
Vivid Marsh
Vivid Meadow
Even on a budget the Vivid lands are not good unless you have proliferate to put more counters on them and I don't recommend adding proliferate just for the Vivids.
Good luck with your deck.
2 months ago
I like the suggestion! I don't think it will be better than Fire Prophecy though, which is the card that it would replace. Red struggles with card draw as it is, I'm worried that switching this in would slow the entire deck down/make it more inconsistent.
However, it does combo nicely with Haven of the Spirit Dragon. And having extra graveyard play does open up options in the late game - which is when Haven of the Spirit Dragon get used. I'm very skeptical but I will give it a playtest and see what happens.
6 months ago
Uh... Im not sure you know what your commander does based on your creature pool. On a scale of 1-10, i would rate this a 1.5, but i'll help you with that. You might as well be running Golos, Tireless Pilgrim. You have a small number of Dragons in the deck, and I noticed a bunch of useless non-dragon creatures in the deck.
32 lands is wayyyy to few, and you have an awful mana base, even on a budget, having only 1 tri-land and a random af arrangement of shock and gain lands.
You have little ramp, if any, which will slow you down greatly in a format such as commander Another concern is your lack of mana rocks. Why only one signet?
Your removal is pathetic, to be honest, with only one murder. Removal is IMPORTANT in commander, being used at both utility and a rich bargaining tool in the political side of the format.
But enough with flaming the deck, here is what I would put it.
First off, let's talk about your commander. It supports a heavy dragon tribal theme, and you want nearly all of your creatures creatures that either add to this theme or ramp you to get him out earlier. If you are to be running a non dragon creature, make sure it is a utility creature such as Reclamation Sage that can either ramp you or get rid of problems on the board.
Here is what I would cut if i was building him:
Creatures:
Ajani's Pridemate - No lifegain synergy and bad creature in EDH
Brineborn Cutthroat - A 2/2 with flash wont cut it in Ur
Corpse Knight - No sacrifice theme
Dreadmalkin - cmon, really?
Empyrean Eagle - Other cards do this a lot more efficiently
Exava, Rakdos Blood Witch - No madness or counter theme
Faerie Vandal - just no
Garenbrig Carver - bad in general
Gravedigger - not a dragon
Grumgully, the Generous - not efficent
Venerable Knight - no synergy in deck
Instant:
Artifact:
Manalith - You can keep it in, but it isn't very good
Sorcery:
Compelling Argument - 0 MILL THEME!!!
Enchantment:
Here is what I would add:
Creature:
Dryad of the Ilysian Grove - Can ramp you AND fix your mana
Dragonspeaker Shaman - cuts down mana cost drastically
Dragonlord Kolaghan - Haste enabler and good beater
Dragonlord Dromoka - game winning lockdown effect
Ramos, Dragon Engine

Karrthus, Tyrant of Jund - haste enabler
Kokusho, the Evening Star - good beater with amazing ability
Birds of Paradise - great mana dork
Removal
Ramp:
Mana Rocks
ALL the signets (Emphasis on ALL)
Lands:
All tri-lands from Tarkir and Alara
Try to get all 10 fetch and shock lands if at all possible
Utility lands:
Planeswalkers:
Anthems:
This is just a few thing I think the deck could need, obviously it needs ore board wipes and wincons, however this is a good place to start. I want to be clear, I dont hate the deck, but I Think it needs improvements to become and 8. For your first commander deck, it's just fine. Thanks for reading. Cheers
9 months ago
There are some other "targets" for discard, but I don't think all of these are the best for you. I'll list each of them instead of loads of paragraphs.
These are the monored option. I also have options that would actually require you to splash for black. These are, of course, not mandatory for you to run, but it's always good to get to know more cards.
In case you consider any of these black cards or you just don't feel confortable not bein able to cast the Thralls, there are a few budget lands that can help you with the mana. Also, the Haven of the Spirit Dragon could help you cast the black dragons but not activate their abilities.
About the cuts for the Thralls, you are still above 60 cards. There are some other cuts you can also make.
11 months ago
For starters, 33 lands is low. I like to start with 36 land, 8 ramp/rocks and go from there increasing or lowering as needed. To speed it up after increasing it would be to eliminate as many tap lands/rocks as possible. Ditch the vivids for basics, City of Brass , Haven of the Spirit Dragon , and Mana Confluence are multicolor lands that enter untapped that can replace some tap lands... sure they pain, and one's limited to dragons but no pain no gain. Other than that just try to balance it for your colors... for instance if you are RG heavy, then you'd want to keep the Naya, Jund, and Temur tri lands above the others.
As for the dragons they seem all over the place. I found an interesting deck page for scion combos you could check out if you want to go that route. Hasn't been update in 3yrs but it's a start.
Ur dragon is probably best to focus on combat synergies (when dragon attacks, extra combats, etc, and tokens (i.e. Utvara HellKite). You could try a control route I suppose but idk, honestly I've been trying to piece it together for awhile but still seems weird and all over with what's in the list. I think there are a few dragons you could do without: Chromium, Niv, and Okagachi. I feel they require more dedication than you can afford for a tribal deck. I'm on the fence about a bunch: DL Ojutai could be replaced with some good card draw, Dromoka jr and Vorosh I'm not sure counters are necessary with tribal bluffs and all, and Karthus because he can be copied and well... its bad times.
Sorry it took so long, tried looking at it at work but didn't give me enough time to really focus on it. Hopefully it helps some at least.
Load more