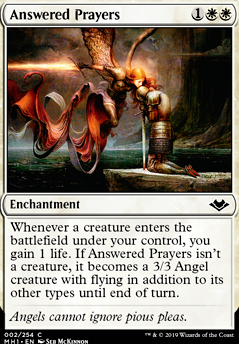 Legality
| | |
| --- | --- |
| Format | Legality |
| Tiny Leaders | Legal |
| 1v1 Commander | Legal |
| Custom | Legal |
| Magic Duels | Legal |
| Canadian Highlander | Legal |
| Vintage | Legal |
| Modern | Legal |
| Penny Dreadful | Legal |
| Casual | Legal |
| Pauper EDH | Legal |
| Leviathan | Legal |
| Legacy | Legal |
| Duel Commander | Legal |
| Oathbreaker | Legal |
| Unformat | Legal |
| Pauper | Legal |
| Commander / EDH | Legal |
Answered Prayers
Enchantment
Whenever a creature enters the battlefield under your control, you gain 1 life. If Answered Prayers isn't a creature, it becomes a 3/3 Angel creature with flying in addition to its other types until end of turn.
Answered Prayers Discussion
4 months ago
@Blue_Flame, I thought about Answered Prayers . It's only really consistent if I have a sac outlet meaning it would only work with my other wincon Bogardan Dragonheart or by chance of top-decking a creature. If I want another aerial beater I'd like it to work more independently or have a more direct synergy with my deck.
4 months ago
Your manabase seems pretty good, I don't think 6 taplands is too little, plus you have Ash Barrens to find the basics you need.
I think your deck could utilize the new Answered Prayers from Modern Horizons pretty well - you have a decent number of creatures and plenty of ways to recur it.
The Bogardan Dragonheart - Kaya's Ghostform - Ironclad Slayer / Monk Idealist package seems kind of interesting; I'm interested to see how that works out in practice, but initally it seems clunky/slow to me.
I think if you were to make room to add TortEx/Grave Scrabbler it would indeed dilute too much away from your initial strategy. Your deck currently lacks ways to fuel cards into the graveyard like typical TortEx builds like Commune with the Gods and Vessel of Nascency , which are outside of your deck's colors. Maybe if you switched to Abzan instead of Mardu it could work, but as of now it just seems kinda unrealistic.
No data for this card yet.