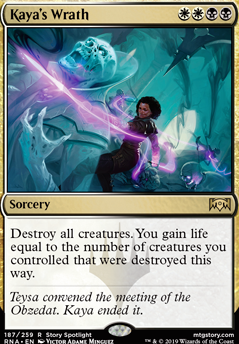 Kaya's Wrath
Sorcery
Destroy all creatures. You gain life equal to the number of creatures you controlled that were destroyed this way.
Browse Alters
View at Gatherer
Legality
| | |
| --- | --- |
| Format | Legality |
| Pre-release | Legal |
| Tiny Leaders | Legal |
| Magic Duels | Legal |
| Canadian Highlander | Legal |
| Vintage | Legal |
| Modern | Legal |
| Highlander | Legal |
| Block Constructed | Legal |
| Standard | Legal |
| Pioneer | Legal |
| Arena | Legal |
| Leviathan | Legal |
| Legacy | Legal |
| Brawl | Legal |
| Historic | Legal |
| 1v1 Commander | Legal |
| Duel Commander | Legal |
| Oathbreaker | Legal |
| Unformat | Legal |
| Casual | Legal |
| Commander / EDH | Legal |
Kaya's Wrath occurrence in decks from the last year
Standard:
All decks: 0.32%
Commander / EDH:
All decks: 0.01%
WB (Orzhov): 0.43%
Rules Q&A
Kaya's Wrath Discussion
2 weeks ago
Brevet, Murder for Hire was built in order to run synergy between Mathas, Fiend Seeker

and the new Chevill, Bane of Monsters. There is also one other creature in MTG that uses bounty counters - Bounty Hunter.
Given the three of them, you have the ability to place counters during multiple points of your turn, with Bounty Hunter also allowing you to place counters during an opponent's turn - ideally during the last player's end step so you can untap and kill the creature off when it untaps.
I decided to go the route of seeking payment. Brevet is a 3/4 for 4 colors, mirroring Saskia the Unyielding. While she has two keyword abilities (Vigilance and haste), I felt Deathtouch was strong enough to stand on its own.
The reason the triggered ability is set to and not is because you need to understand and appreciate just how often creatures enter the battlefield. Being forced to retain 4 or 6 mana for 2 or 3 creatures is a huge drawback. Additionally, you have three turns to sit through before it comes back to you which means you are already on a very tight resource management watch. Given these, I felt was fair. More on this down below, but for now remember you are paying mana to put the counter on the creature. It still needs to die and your opponent can still deny you the reward. Those factors are what justifies it, in my mind, to be reduced to .
And yes, it has to die. Bounce, flicker, tuck, exile... they all leave you empty handed.
Now, let's get to the reward. You either get two treasure tokens or you get to draw one card when the creature with the bounty counter on it dies. Yes, this means he becomes self-sustaining: You pay and you get out of it. That's entirely the point, or you get card advantage.
So let's talk about how the opponent can opt to deny you that resource by paying 3 life. This mirrors Athreos, God of Passage as well as eluding toward Mogis, God of Slaughter. But why specifically is it set to 3?
Most players are perfectly okay paying 2 life over and over again. Look at fetch lands and shocks lands as evidence. What players are not often okay with is paying 3 life. By setting it at 3 life, you force your opponent to really think about and choose if they want to deny you your resource. If they do, it will cost them dearly.
Now, you will naturally want to ask why this is even a thing? Why are we allowing our opponent to deny us resources? After all, we have to jump through several hurdles just to get there! We need to:
Wait for a creature to enter the battlefield
Pay the
Wait for it to die
Possibly be denied, regardless
The reason we are allowing opponents to deny the resource is because by doing so, they help us win the game. That's why, hence the flavor text. Mana and card advantage is great and all, but the sooner they drop to 0 life the better. It's all about strategy. Ultimately, no decision on their part is good or easy. Everything sucks for them. You get upside no matter what. You get mana, you get a card or you get one step closer to winning the game.
This deck also has several ways it can be built:
Ramp + wraths: Pay tons of mana into everyone's boardstate and blow it up for massive advantage. Sort of a "Wraths Matter" deck: Damnation, Bontu's Last Reckoning, Savage Twister, Wrath of God, Kaya's Wrath, Blasphemous Act, etc.
Aristocrats for horrendous overlapping triggers
Human / Warrior tribal synergy is possible in these colors
Cruel Control: Make every permanent you play hurt them. We're talking Manabarbs, Smothering Tithe, Mogis, God of Slaughter, Mana Web, Vorinclex, Voice of Hunger, etc.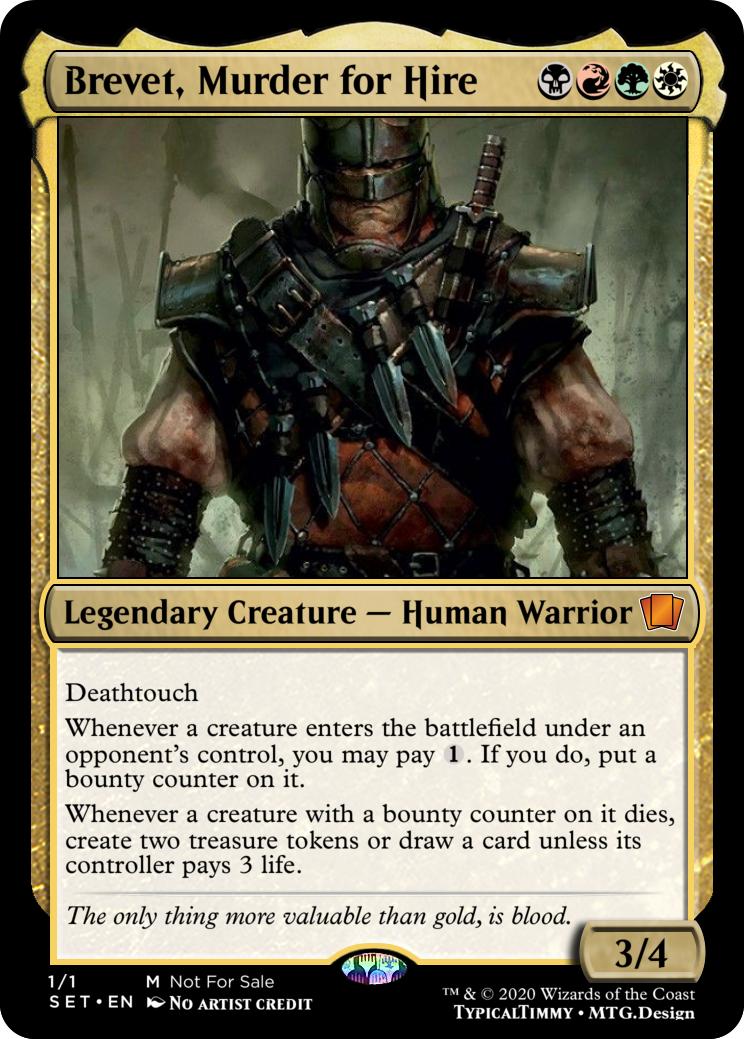 Overall, I am extremely pleased with and proud of this build. I'd definitely build this deck if I find a group that's okay with custom commanders. :)
1 month ago
hello there !
I play a budget Orzhov version with Kambal, Consul of Allocation, you can find it on my profil if you seek some ideas.
advice : Even if you are not the quickest among your play group, you'll need your Lightning Greaves or such to protect your commander as you are going to generae hate very fast.
Some ideas you may appreciate :
Bloodchief Ascension : well it speak for himself, in 1.5 round around the table it's set and everyone hate you event more.
Mindcrank : to combine with the above or you Sanguine Bond + Exquisite Blood to mill everyone out while you drink their life away like a Piña Colada.
I would personaly suggest Crested Sunmare instead of Regal Bloodlord, that's personnal thought, but well ... I rely do love my immortal poneys.
Emergence Zone : to cast your Felidar with flash just before your upkeep to ensure your victory
Painful Quandary: to help you lose your friends faster, and above all keeping them from having to much cards to plays (helping them or so).
You will need boardwipe : Fumigate, End Hostilities, Kaya's Wrath
well that's all I can think of like that, I hope it will help you !
1 month ago
Board wipes that seem "on theme" and white "ramp" to consider. Kaya's Wrath Fumigate Retaliate Austere Command Decree of Pain Martial Coup Merciless Eviction Descent of Dragons Angel of the Dire Hour Magister of Worth Sunblast Angel Boreas Charger Oreskos Explorer Surveyor's Scope Solemn Simulacrum Sword of the Animist Verge Rangers Smothering Tithe Sword of Feast and Famine Dowsing Dagger  Flip
Queen Marchesa doesn't have a clear single way to build so you have lots of options. However, I feel like said you want to play her like the Kween she is and create a royal court full of politicin' and group interaction to make all the boys whine. I don't think you want to discourgage people from taking the monarch from you, more encourage them to swing others IE: NO Ghostly Prisons, YES Teysa effects. Punish the ones who swing you only after the fact and reward the ones who swing others. There is a lot listed!
Politic theme links to Scryfall searches Monarch, Will of the Council, Council's Dilemma, Join Forces, Curses, Tempting offer, Goad
You will also want to get retake the throne each turn and lets face it, the Assasin's won't always get through Dauthi Embrace Dauthi Trapper Nether Shadow Nether Traitor Soltari Visionary Changeling Outcast Tormented Soul Break Through the Line Ferropede Gingerbrute Key to the City Whispersilk Cloak Trailblazer's Boots Zhang He, Wei General Yellow Scarves Cavalry Wei Night Raiders Wei Scout Xiahou Dun, the One-Eyed Lu Bu, Master-at-Arms Guan Yu, Sainted Warrior Shadow Alley Denizen
Finally here are some other fun interactions befitting the royal court. Crown of Doom Kor Haven Cathars' Crusade Electropotence + Pandemonium (Nasty with deathtouch) Field of the Dead Mentor of the Meek In the Web of War Mace of the Valiant Ogre Battledriver Orc Sureshot Mathas, Fiend Seeker

Master of Cruelties Anya, Merciless Angel Tree of Perdition Alesha, Who Smiles at Death Ashling, the Extinguisher Azra Oddsmaker Aurification Bloodforged Battle-Axe Contested War Zone Thaumatic Compass  Flip Dread Elbrus, the Binding Blade  Flip Iroas, God of Victory Aurelia, the Warleader Gisela, Blade of Goldnight Five-Alarm Fire Hellrider Hixus, Prison Warden Larceny Necropolis Regent No Mercy Phage the Untouchable Quietus Spike Skeleton Key Throat Slitter Varchild, Betrayer of Kjeldor Vraska, Scheming Gorgon

Scourge of the Throne Akroan Horse Captive Audience Goblin Spymaster Forbidden Orchard Clackbridge Troll Hunted Dragon Hunted Lammasu Hunted Horror
Theme directions to explore? Lifegain to stay above the swings? Angelic Chorus Answered Prayers Anointer Priest Authority of the Consuls Ayara, First of Locthwain Daxos, Blessed by the Sun Healer of the Pride Impassioned Orator Pious Evangel  Flip Soul's Attendant Soul Warden Archangel of Thune Suture Priest Ajani's Welcome Dawn of Hope Deathgreeter Exquisite Blood Epicure of Blood Falkenrath Noble Karlov of the Ghost Council Noble Purpose Righteous Cause Sanguine Bond Searing Meditation Seraph Sanctuary Serene Steward Shattered Angel Spirit Loop Sun Droplet Vizkopa Guildmage Well of Lost Dreams Alhammarret's Archive Licia, Sanguine Tribune

Ayli, Eternal Pilgrim Eternity Vessel Chalice of Life  Flip Resolute Archangel Storm Herd Felidar Sovereign Divinity of Pride Serra Ascendant
Aristocrats of the Court (slow life drain strategy)? Bastion of Remembrance Corpse Knight Impact Tremors Purphoros, God of the Forge Blood Artist Zulaport Cutthroat Outpost Siege Bontu's Monument Brutal Hordechief Campaign of Vengeance Cliffhaven Vampire Cruel Celebrant Kambal, Consul of Allocation Polluted Bonds Retreat to Hagra Vindictive Vampire revenge Sorin, Grim Nemesis Judith, the Scourge Diva Stalking Vengeance Syr Konrad, the Grim
1 month ago
That's what I was leaning toward, Dylan. Here's why:
Between all 10 Guild Signets, Arcane Signet and Fellwar Stone I have access to 12 stones that produce a wide array of colors. Now I could add in Coldsteel Heart, but this enters tapped and only allows me one color, so I'd rather not limit myself so heavily. There are about 10 or so lands I have identified that can also produce any color mana with little downside, on top of the 10 shocks and 10 fetches.
So I think I can build a robust enough mana base to pay for a 10cmc Commander relatively quick. What'd I'd need from to speed things up is draw.
Draw is the single most important aspect of this deck, because without it I'd eventually run out of cards in hand. So, for the purposes of this deck, I think high-impact draw spells such as Sphinx's Revelation are actually well worth it. There is, of course, Karametra, God of Harvests but unfortunately she seeks out basics. Between 10 shocks, 10 fetches and 10 that produce all colors, I already have 30 lands accounted for. If I go even just two of each basic, that's 40 lands in a 99 card library.
Add on top of this the 12 stones I've mentioned and I have a staggering 52 mana-producing cards, leaving me just 37 of them left available to me.
If I put in 25 Gods, this means I will be on average drawing a God every 3rd - 4th turn. This however leaves me with a mere 12 cards left to work around.
This is where the difficult part comes into play; Between the shocks and fetches, that's a staggering 30 life that could be paid into them over the course of a full game. So, naturally I'd want some cards to regain said life.
Sphinx's Revelation works really well for this, as would cards such as Whip of Erebos, True Conviction and Titanic Ultimatum. However this leaves me 8 cards left.
I want to plan for wraths, as with my Gods being Indestructible I want to blow up the battlefield and reset the game, allowing me openings to swing in for the win. I feel that in order to appropriately push this, I'd want at minimum 5 wraths or wrath-like effects. I think I have settled upon:
This leaves me with just three cards for draw. Bare in mind, Sphinx's Revelation is already listed and Karametra, God of Harvests effectively acts like draw. Something I think a lot of players miss is that there is a difference between draw and card advantage. What Karametra, God of Harvests does is give you card advantage by putting additional cards onto the battlefield. For each 1 creature you pay, you get an additional land for free. This means you remove a card from your deck, thereby increasing the percentages and chances of drawing into something better.
The same is true for fetch lands - Using one land to take another land out of your library is effectively removing 2 cards, meaning you improve percentages.
Between Sphinx's Revelation, Karametra, God of Harvests, Keranos, God of Storms and Ephara, God of the Polis there's a decent amount going on. There's also The Scarab God who I can use as an exile effect against graveyards to give me more bodies on the field, which in turn translates to scrying. The Locust God also works for draw, as well. So that's six already named in the base set. I still have 3 cards left to build into the +99.
Blue Sun's Zenith is an obvious must-have as it ensures replayability. With the insane density of mana in this deck, I'd be stupid to not play it.
I honestly feel Thopter Spy Network is a good choice as well, because not only does it give me 1/1 flyers as chump blockers while I wait on devotion to kick in, it also gives me card advantage when they deal combat damage. I think many players overlook the second ability on this card, as it rarely sees any play in any deck out there.
Finally, I think I rather enjoy the idea of Alhammarret's Archive. It gives me a guaranteed 2nd card per draw, gives me additional resources with all of the above-mentioned draw worked in by the Gods, doubles up all of the X-draw factors, and really helps me push forward the regaining of life.
Now I obviously don't "need" to run 25 Gods, however I want to ensure I am always able to put pressure on the boardstate.
So, for now, that's where I'm sitting. It's about shifting resources and honing in the design to make it both faster and more aggressive.
I know it won't be on par with Ur-Draogn, Scion, Jodah or some of the other more robust 5c Commanders out there, however it's a unique and fun design that's honestly really difficult to stop.
That's why I've settled on Progenitus. He's harder to get out at first, but he damn-near instantly turns all Gods into viable creatures. Morophon, the Boundless still needs to wait to turn them all on, and it could be several turns before any one of them come online.
---
Having said everything I did in here, the truth is I am building this deck as an excuse.
I really wanted the Stargazer Secret Lair pack so I bought it. I am in love with the artwork and the idea of it just felt so natural to me.
One of the biggest hurdles I've had getting into EDH more is the mana base. The lands in any deck, as we all know, can easily double the cost of it. So, I came to terms and bought all 10 shocks and all 10 fetches. Doing so set me back $430, but now it's a hurdle I no longer face. I can now build stronger mana bases and, therefore, play the game more confidently.
So since I have the Gods from Stargazer and I have the 20 lands, I figured why not combine them into something special and I can just move the lands into whatever deck I need later on.
1 month ago
Continuing my advice, streamlining high CMC cards becomes an important step when choosing what cards to cut. Streamlining means you cut unnecessary high CMC cards, four CMC or higher that are not vital for your deck. Some cards that are redundant, there's two or more cards that do the same thing and one/more of them are not as good as others. Tutors help to break high CMC card redundancy because you can use them to get the better high CMC card thus leaving out others. Streamlining starts at the top of the mana curve and then work your way down.
When streamlining, the cards that are not selected doesn't mean these cards are bad, they're less needed in your deck than others. For streamlining your deck I would look to decrease cards from the 4, 5 and 6 CMC spots.
You've recent update is good, other cards to consider cutting:
---
Some upgrades to consider:
Scheming Symmetry and Open the Armory are excellent cards to add for streamlining, they can do a lot here for their budget prices and low CMC. Scheming can tutor for any card and has great interaction with Bolas's Citadel since it puts the card you tutor for on top of your library. Yes, you choose an opponent and they also get to tutor for a card, but that is a cost you pay for having to use an alternative budget one drop unconditional tutor. Armory gets one of the best cards with Karlov, Shadowspear. Seriously, this card does everything you want to make Karlov a threat.
Mask of Memory is an underrated source of budget repeatable draw. It goes well with the voltron strategy of attacking with Karlov and equip 1 to draw two cards is nice. Equipment is good with Karlov and by adding Mask of Memory then Open the Armory can tutor for one of four different effects that can be repeatable with equipped Karlov: Shadowspear/Basilisk Collar for lifelink, Mask of Memory for draw, Sword of the Animist for ramp, Lightning Greaves/Swiftfoot Boots for protection.
If adding Serra Ascendant and Walking Ballista then I wouldn't cut Ranger of Eos since it can tutor for both of them and that's a powerful play for a four drop. If not adding Ascendant or Ballista then Ranger could be cut. Divine Reckoning can be a powerful board wipe with Karlov because it doesn't kill him and it can clear the battlefield of an opponent with many blockers. Yes, each opponent gets to keep their best creature, but most likely Karlov will be bigger than all the other creatures on the battlefield.
2 months ago
Shatter the Sky also seems like a better deal in mine as well since 2 black for Kaya's Wrath is abit of a pain to pull off early enough for it to count against aggro decks.
2 months ago
If you really want to power up your faeries, take a look at anthem enchantments. Glorious Anthem is a good start, but there are many others (most of which have fairly useful side-quirks) like Radiant Destiny, Force of Virtue, Gravitational Shift, Favorable Winds and Etchings of the Chosen. Cathars' Crusade isn't technically an anthem, but it can be no less hilarious if you can set up a turn of enchantment / artifact storming. If you have the budget for it, and you aren't too opposed to artifacts, The Immortal Sun is a pricey piece, but it has a lot going on, especially if you don't run any of your own planeswalkers. A fair bit of warning on this anthem route: Skullclamp absolutely will not work the way you want if you play anything that offers toughness bonuses to your tokens unless you have some kind of sacrifice outlet. Some seem to consider that alone as reason to not anthem your faeries into the stratosphere, even if it's very possible on even tight budgets. Others tend to avoid anthem spamming because it makes you look far more dangerous than you're likely prepared to be, and impromptu archenemy is no fun to be on the wrong side of.
For space, I'd take out Ancestral Blade, as I've never been a big fan of that card when you can get far faster, cheaper, and overall more robust power-ups from anthem sources. (It's more of a knight tribal / white weenie card.) Also you may want to tone down your sizable nonland permanent hate. Oblivion Ring type effects are fine in the short term, ideally if you're ready to swing for lethal if not for that pesky Ghostly Prison in the way, but eventually you could get your enchantment answered and be right back where you started. For long-term answers, you're better off with Swords to Plowshares and Mortify (or arguably even better, Counterspell) effects that can straight up remove the problem for good, especially if exiling is involved. No sense tying someone's arm behind their back when you can just shoot them in the head.
If you wanted to win on commander damage, Cranial Plating is a fairly-priced budget piece that can play well into smashing face with Alela, especially if you can spare the mana to attach at instant speed. Shadowspear is a fairly expensive piece, as you would expect from something that not only confers trample (a bit hard to come by in Esper colors), but can strip hexproof and indestructible.
You don't have a lot of ramp sources. Ramp can be tricky to come by outside of Green, so you probably want a good 8-12 artifacts, probably closer to 12. You already have the big two (Arcane Signet and Sol Ring), Heraldic Banner, and most of the Talismans. You can also look into Signets (Azorius, Dimir, Orzhov), Diamonds (Sky, Marble, Charcoal) and Myrs (Silver, Gold, Leaden). Mind Stone and Worn Powerstone aren't terribly expensive for colorless artifacts, and Everflowing Chalice, Thran Dynamo and Gilded Lotus aren't much more expensive than that. And last but not least, particularly if you're leaning more heavily into enchantments, the newcomer Nyx Lotus from TBD is a fantastic choice if you plan to have a lot of colored non-token permanents on board. Alternatively, you could lean massively into artifacts given how much Alela likes them anyway, though it's worth pointing out that (1) artifacts have some of the widest ranges of cheap and commonly played answers and (2) the vast majority of them do zilch for your color devotion.
It might seem counter-intuitive to include board wipes in a deck designed to go wide with faeries. My take is that eventually you're going to be on the wrong end of a wipe at some point, so you want to have some wipes of your own ready to go just in case someone rebuilds quickly or you start getting jumped on by the rest of the table. This is especially important as Alela decks' bodies mostly come in the form of tokens that get wrecked outright by the ever-popular Cyclonic Rift. Speaking of which, it's worth pointing out that Cyclonic Rift has a cousin card in white, Winds of Abandon. Less good admittedly, but it's a lot more budget friendly, and even overloads for less mana. Speaking of budget, Time Wipe and Kaya's Wrath are other classic wallet-friendly wipes, while the flat out best one (after Cyc Rift) seems to be Toxic Deluge. Another reason to have wipes in Esper: they have some of the strongest ones in the game.
2 months ago
I know it's minor, but I like two-drop mana rocks over three-drops when I can get them-- Talisman of Hierarchy and Orzhov Signet and Star Compass. Bontu's Monument is kind of like ramp for your black creatures and also gives you incidental life gain/drain.
Bojuka Bog is a nice graveyard-hate piece with little downside and Tainted Field comes in untapped and will usually give you colored mana. Caves of Koilos is also nice coming in untapped and Silent Clearing gives you the option for card draw when you need it.
Working in some on-theme card draw will help you find your threats and answers. Dawn of Hope synergizes nicely with what you're doing. Icon of Ancestry is pseudo-card draw that buffs your creatures. With all the life you're gaining, Underworld Connections is a nice source of card draw that doesn't really hurt. I also like Marchesa's Decree since you're already running enchantments to discourage your opponents from attacking you and the monarch is a fun mechanic.
Anything that lets you get more activations out of your commander or protect your commander--Illusionist's Bracers, Swiftfoot Boots (to use her when she comes out), and Etchings of the Chosen.
Settle the Wreckage and Kaya's Wrath are some efficiently-costed wraths if you must wipe the board.
Triskaidekaphobia could be an interesting alternate win-condition.
Suggested cuts: Arvad is kind of expensive and has payoffs with only 4 cards in your deck (including the commander) Cast Down doesn't let you deal with your opponents' commanders. Life gain that doesn't do anything but gain life like Sanguine Sacrament and Beacon of Immortality. Impale (Murder is cheaper, Mortify is more versatile, exile effects might even be more efficient)
Load more