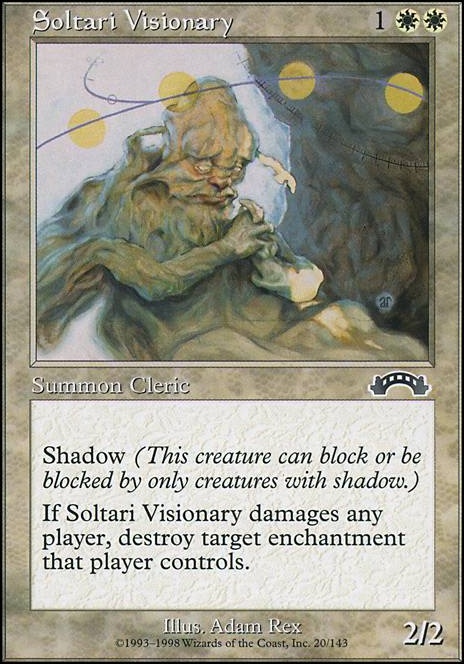 Legality
| | |
| --- | --- |
| Format | Legality |
| Tiny Leaders | Legal |
| Noble | Legal |
| Leviathan | Legal |
| Magic Duels | Legal |
| Canadian Highlander | Legal |
| Vintage | Legal |
| Casual | Legal |
| Pauper EDH | Legal |
| Vanguard | Legal |
| Legacy | Legal |
| Archenemy | Legal |
| Planechase | Legal |
| 1v1 Commander | Legal |
| Duel Commander | Legal |
| Oathbreaker | Legal |
| Unformat | Legal |
| Pauper | Legal |
| Commander / EDH | Legal |
Soltari Visionary
Creature — Soltari Cleric
Shadow (This creature can block or be blocked by only creatures with shadow.)
Whenever Soltari Visionary deals damage to a player, destroy target enchantment that player controls.
Soltari Visionary Discussion
1 month ago
Team buffs: Agrus Kos, Wojek Veteran , Hero of Bladehold , Angel of Jubilation , Spear of Heliod , Balefire Liege , Hero of Oxid Ridge , Nobilis of War , Ogre Battledriver , Glory of Warfare , Marshal's Anthem .
Singular buffs: Kusari-Gama , Sword of the Animist , Argentum Armor , Sword of Feast and Famine .
Haste & Double Strike: Aurelia, the Warleader , Captain Lannery Storm , Odric, Lunarch Marshal , Hero of Oxid Ridge , Ogre Battledriver , Assemble the Legion , Berserkers' Onslaught , Boros Charm True Conviction .
Double Damage & Extra Attack Phases: Gratuitous Violence , Aurelia, the Warleader , Combat Celebrant , Aggravated Assault .
---
Iroas, God of Victory 's 1st and 2nd abilities, aka Menace ability and suto Dolmen Gate will guide you to victory.
---
+1 Upvote
Like what you see, +1.
don't like what you see ? Check out my other deck Selvala, Explored and Returned with tokens
---
I missed this stuff too: Agrus Kos, Wojek Veteran , Hero of Oxid Ridge , and Hero of Bladehold they all buff my creatures when they attack so giving them extra attack phases to attack again, buffs them again. So its "battle cry x2" from the Hero's, and its +4/+0 form Agrus Kos, Wojek Veteran on the second attack. Angelic Skirmisher also triggers twice. Not only for my extra combat phases, but my opponents as well. you're all going "duhhh" right, but i knew this too. Didn't realize i have been missing these triggers all the time.
As you can see it works when I remove the changes you said you had to do scotchtapedsleeves
2 months ago
Esbilon thanks for the insight! I took your good sugestions to consideration as well as my personal feelings for the deck and my budget and altered as above. It's 64 cards now, I'm not happy about it but can't really trim it so I'd appreciate any suggestions on which cards to keep and which to discard.
The sideboard is not a real sideboard but some cads like Armageddon and Soltari Visionary that I think are great and would probably use in Legacy.
Please tell me what you think!
2 months ago
Pretty neat idea. One thing I like to take advantage of with double strike is capitalizing on effects that trigger every time a creature deals combat damage - which, with double strike, means twice with every attack. For instance, if your hit your opponent with a double striker equipped with Prying Blade , you'll get two treasure tokens out of the deal. That definitely sounds more attractive to me than the one extra power from Marauder's Axe! Likewise, a Beacon Hawk with double strike can untap two of your creatures.
Soltari Visionary is a card I recommend to most white pauper decks, since he's virtually unblockable and can repeatedly take out your opponent's permanents for free. There are no shortage of enchantment-based decks in pauper, as your deck helps illustrate! You might also appreciate Cavalry Drillmaster , as +2 power and double strike for cheap can be a real surprise before you attack.
5 months ago
All in all, I like the 'package' you've built here.
I don't feel like cards that only have a single keyword add a significant value to the deck. That means Adorned Pouncer, Brimaz, King of Oreskos, Silverblade Paladin, Loyal Unicorn, Odric, Master Tactician, Soltari Champion and Deftblade Elite. Out of those, the most value would come from the two 2-drops for an aggressive curve early game. I would probably add Mirran Crusader and Burnished Hart as well, and Soltari Visionary is also worth some consideration.
Collective Effort and Phyrexian Rebirth are both... pretty mediocre, in my opinion. Maybe swap those for Rout and Planar Cleansing (or maybe Unexpectedly Absent) instead? I also don't think the deck really NEEDS Tithe and could maybe play something along the lines of Mind's Eye or Surveyor's Scope if you really need the early ramp. Oblation should maybe be Crush Contraband, since you're pretty good as far as creature removal goes. I would also highly recommend running Swiftfoot Boots, since Odric radiates both Haste and Hexproof and the former is especially valuable to you, imo.
In your mana base, there's really no excuse NOT to play all of Strip Mine, Tectonic Edge and Ghost Quarter so you can handle something like Gaea's Cradle or Volrath's Stronghold. You might also want to run Scavenger Grounds so you can do something against graveyards. Maybe add Sentinel Totem or Relic of Progenitus to that list for some consistency. You could also possibly run the cycling lands for white for some extra carddraw (at least the cycling desert seems worth it so you can exile graveyards twice?), but at some point you'll hurt your chances of activating Emeria.
Recommended Changes
IN: Soltari Visionary, Mirran Crusader, Burnished Hart, Rout, Planar Cleansing, Unexpectedly Absent, Mind's Eye, Crush Contraband, Swiftfoot Boots, Sentinel Totem, Strip Mine, Tectonic Edge, Ghost Quarter
OUT: Loyal Unicorn, Soltari Champion, Deftblade Elite, Collective Effort, Phyrexian Rebirth, Tithe, Oblation, Brimaz, King of Oreskos (the tokens don't get the bonuses, so they are kind of not great), Silverblade Paladin, Oblivion Ring (outclassed by other removal in your decklist), 4x Plains
1 year ago
Nice deck. I like that you use alot of protections, what means you understand that opponents have point removals too =)
Also, i like tricky cards like Devout Harpist. This can be real headache for another voltrons.
I have some suggestions:
Load more
No data for this card yet.