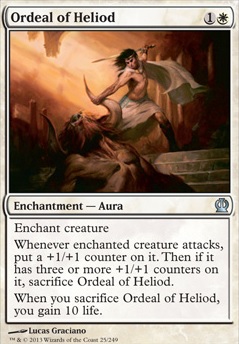 Ordeal of Heliod
Enchantment — Aura
Enchant creature
Whenever enchanted creature attacks, put a +1/+1 counter on it. Then if it has three or more +1/+1 counters on it, sacrifice Ordeal of Heliod.
When you sacrifice Ordeal of Heliod, you gain 10 life.
Ordeal of Heliod Discussion
1 week ago
One card you should get your hands on, Battle Mastery. Also Valorous Stance is very useful as both a removal spell and a save-heroic trigger. If you can get your hands on a Shu Yun, the Silent Tempest, he is very powerful in heroic decks.
I would take the Ordeal of Heliod out. It's O.K. you don't really need the life gain all that much with how aggressive you're trying to be. Try and find a way to get Gift of Immortality in your main. It's super powerful! Maybe take Cenn's Tactician out. He only applies to soldier cards which you can't guarantee will be on the field.
One more suggestion is acquire a Temple of Enlightenment. :)All in all I think the deck is solid and would be a formidable deck to play against. Check out my deck, it's somewhat similar! Shu Yun, the Silent but Deadly
1 week ago
Gift of Orzhova for flying/lifelinkers. Ordeal of Heliod for fatty life gain and free counters. Favored Hoplite or Fabled Hero for additional heroic bodies that get big, quick. Hoplite, especially, because he keeps the counters from spells cast on him and prevents damage that turn if you 'chanted him, combined with OoH for more free counters, plus Daybreak Coronet = fatty creature with mean enchantments. Just my 2 though. +1 from me.
| | |
| --- | --- |
| Color(s) | White |
| Cost | 1W |
| Converted cost | 2 |
| Avg. draft pick | 1.73 |
| Avg. cube pick | 1.36 |
Legality
| | |
| --- | --- |
| Format | Legality |
| Standard | Legal |
| Legacy | Legal |
| Vintage | Legal |
| Commander / EDH | Legal |
| Modern | Legal |
| Duel Commander | Legal |
Related Questions