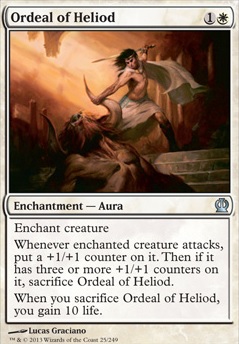 Ordeal of Heliod
Enchantment — Aura
Enchant creature
Whenever enchanted creature attacks, put a +1/+1 counter on it. Then if it has three or more +1/+1 counters on it, sacrifice Ordeal of Heliod.
When you sacrifice Ordeal of Heliod, you gain 10 life.
Ordeal of Heliod Discussion
8 hours ago
Looks alright, but Chosen of Heliod seems worse than Ordeal of Heliod. It doesn't draw a card, but it gives your creature an aggro-relevant pump.
1 day ago
I really like this idea as two colors. Keeps costs down and opens up so many more things. My biggest issue is the apparent lack of attackers. At a glance, I'd remove Hopeful Eidolon for Master of the Feast or Herald of Torment. Probably the Herald, since you can make up the life loss really easily, and he's not an immediate removal target or giving card advantage like the Master. I'd also run a full set of the Brain Maggots for removal. I'm also not sure about Ordeal of Heliod, I think other enchantments might be better, since it doesn't look like you need the life gain. Maybe get rid of the Ordeals for 2 more Banishing Light, and then one more of both the ram and the maggot.
2 weeks ago
I feel that while Snapcaster Mage is good it wouldn't really flow too well with the plans. I havent seen too much upside to running it. I've playtested and it just was lackluster. I'm already running 4 non heroic cards and I would like to have as many as possible. I still will work with it and see if it changes my mind though:)
I will however be moving Blind Obedience to the sideboard in favor of a targeting enchantment to trip heroic. I've replaced it with Ordeal of Heliod. I just feel that Obedience would be better served sided against an aggro type commander deck.
Again thanks for the suggestions! Keep em coming!
2 weeks ago
You could also consider using Ordeal of Heliod for creature pump and some decent life gain
| | |
| --- | --- |
| Color(s) | White |
| Cost | 1W |
| Converted cost | 2 |
| Avg. draft pick | 1.68 |
| Avg. cube pick | 1.36 |
Legality
| | |
| --- | --- |
| Format | Legality |
| Standard | Legal |
| Legacy | Legal |
| Vintage | Legal |
| Commander / EDH | Legal |
| Modern | Legal |
| Duel Commander | Legal |
Related Questions