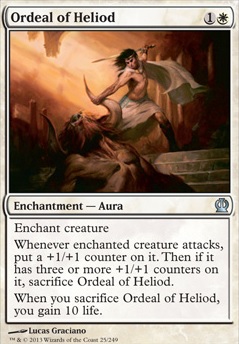 Ordeal of Heliod
Enchantment — Aura
Enchant creature
Whenever enchanted creature attacks, put a +1/+1 counter on it. Then if it has three or more +1/+1 counters on it, sacrifice Ordeal of Heliod.
When you sacrifice Ordeal of Heliod, you gain 10 life.
Ordeal of Heliod Discussion
5 days ago
How are you able to cast two Ordeal of Heliods on turn three with 3 plains?
6 days ago
Ordeal of Heliod is a no for a similar reason as Champion of the Parish. Both are strong cards on their own. However, the time to ramp up and WHAT it ramps up makes the difference. Ordeal of Heliod trades my Voltron speed and free will to attack (I want to attack when it's on my creature) for some life, which is nice, but the main focus is getting in the face of the enemy and killing them fast.
PierreThePlaneswalker I forgot about that card! Very good and has flavor in terms of the deck. I might try including it.
1 week ago
Honestly, I do think it would work better with a few less spells but if I were going to cut creatures I think it would be Hero of Iroas.
The only two Auras aren't really worth shaving only 1 off of. Ordeal of Heliod is already cheap and unless you have 3 hero's out Spectra Ward is always gonna be too expensive with only 20 lands. I would suggest taking two Hero's and both Spectra wards out for 4 Seekers. Seeker is just so useful in a deck like this.
1 week ago
Not sure what you mean by "combos" here, and a turn 5 kill is nothing worth bragging about, sadly. If you want to go Heroic, consider going into W/U instead, using things like Aqueous Form, Battlewise Hoplite, Center Soul, Feat of Resistance, etc. to gain some consistency over what you have right now. Also, Ordeal of Heliod, Ordeal of Thassa and Ordeal of Nylea all give HUGE benefits to Heroic decks, giving you a guaranteed 2 +1/+1 counters on any Heroic creature.
BTW, you don't have any combos in this deck. You have strong synergies, but no true combos. Most "combos" ultimately win the game (Pestermite + Splinter Twin , Exquisite Blood + Sanguine Bond , etc.) or provide insurmountable advantage (Derevi, Empyrial Tactician + Stasis , Bitterblossom + Contamination , Food Chain + Misthollow Griffin ). These are all examples of simple, 2 card combos, when in reality combos can stretch into many more cards. I won't go into that now, but suffice to say your deck is more aggro than combo. Keep that in mind when labeling decks, some people will treat mislabeling your decks very, very harshly (as I had the misfortune to learn when I first started on Tappedout).
| | |
| --- | --- |
| Color(s) | White |
| Cost | 1W |
| Converted cost | 2 |
| Avg. draft pick | 1.69 |
| Avg. cube pick | 1.36 |
Legality
| | |
| --- | --- |
| Format | Legality |
| Standard | Legal |
| Legacy | Legal |
| Vintage | Legal |
| Commander / EDH | Legal |
| Modern | Legal |
| Duel Commander | Legal |
Related Questions